Induction Coils Used to Charge Ferry Wirelessly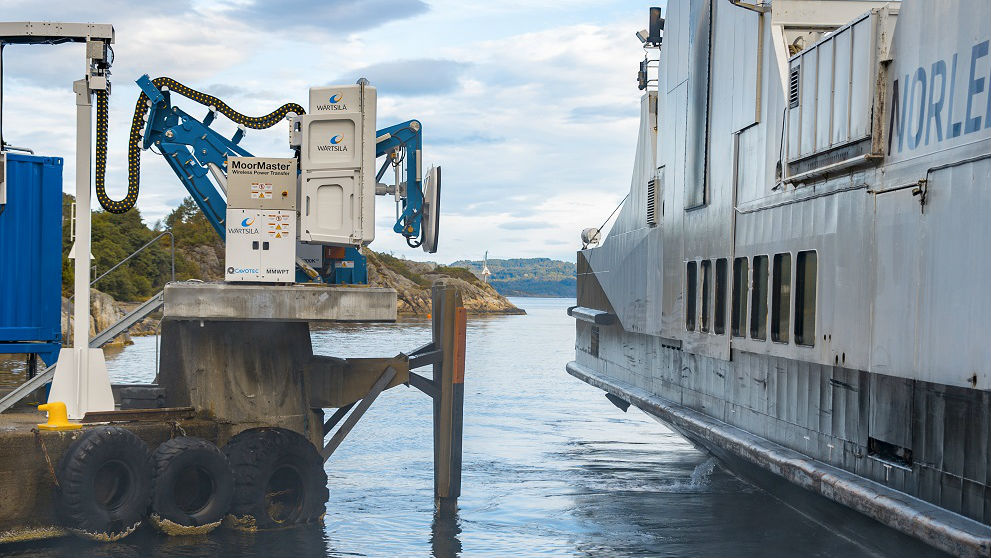 Wärtsilä has successfully tested its automatic wireless induction charging system on a hybrid powered coastal ferry. This is the first commercial ferry in the world operating with high power wireless charging capability for its batteries, and the successful project represents a notable breakthrough in the evolution of plug-in electrically operated vessels.
The tests were carried out on the 85-meter long MF Folgefonn owned by Norled, one of Norway's largest ferry operators.
Wireless charging eliminates the cable connection between the vessel and shore, thereby securing and facilitating safe connections and disconnections. It also reduces maintenance since wear and tear to physical connection lines is eliminated. The integrated Wärtsilä system is based on inductive power transfer and is capable of transferring more than a MW of electrical energy.
Inductive charging (wireless charging) uses an electromagnetic field to transfer energy between two coils. A sending induction coil is used to create an alternating electromagnetic field, and a second induction coil takes the power from the electromagnetic field and converts it back into electric energy. To manage longer distances between sender and receiver coils the inductive charging system uses resonant inductive coupling.
The Wärtsilä system is designed to maintain efficient power transfer at distances of 50 centimeters between the two charging plates built into the side of the vessel and the quay. No other wireless charging system is as powerful, or capable of maintaining the transfer of energy at such a distance.
The main benefits of the system are up to 20 percent more utilization of the available charging time, increased operational safety and greater system reliability.
"During recent years, wireless charging has been introduced for cars, buses and trains. We have now made this possible for marine vessels," says Ingve Sørfonn, Senior Technical Officer E&A, Wärtsilä Marine Solutions. "There is an ongoing trend to equip coastal ferries with battery powered and hybrid propulsion, since they are particularly affected by environmental regulatory demands. Wireless charging will, therefore, create considerable value for operators of hybrid ferries."
The double ended car ferry Folgefonn was converted from a diesel electric ferry to a complete plug-in hybrid and plug-in electrical ferry. The technology demonstration has undergone successful testing during normal operation for over a year. The vessel has energy storage capability in the form of a battery pack, hybrid control system, power transfer system and onshore energy storage system. Wärtsilä's contribution to the Folgefonn project was the concept development, including the inverter systems, the hybrid control, battery package and systems, power transfer and land-based energy storage system as well as the integration of the onboard systems.
The project has been partly funded by Innovation Norway, a Norwegian funding institution.