India Joins Search for Emerald Star's Missing Crew
The Indian Navy has dispatched a P-8 Poseidon maritime patrol aircraft to help with the search for 10 missing crewmembers of the bulker Emerald Star, which went down with a load of nickel ore off Luzon last Friday. The aircraft located a lifeboat, but the Japan Coast Guard said that it had already found and searched the same craft and had found it empty.
16 of the Star's 26 Indian crewmembers were rescued by good samaritan vessels – the Densa Cobra and the Samarinda – and they are now safely ashore in Xiamen, China and in Cagayan, the Philippines. "Officials from our Guangzhou Consulate visited the injured Indian crew of 'Emerald Star' in a Xiamen hospital. 11 crew members are in Xiamen. Search for missing 10 crew members still ongoing using aircraft and vessels," said Indian MEA ministry spokesperson Raveesh Kumar in a social media post.
On Monday, the Philippine Coast Guard (PCG) published additional details about the vessel's sinking and the rescue effort that followed. Survivors said that the ship began to list to port before she capsized and that efforts to right her were unsuccessful. Some of the crewmembers who were picked up by the Samarinda were in need of medical attention, including at least one individual with head trauma. They were evacuated from the Samarinda by the PCG at a rendezvous point and were brought to a hospital in Cagayan for treatment.

Composite image courtesy Philippine Coast Guard
The rescued crewmembers who were brought ashore in the Philippines are: chief cook Kharty Kerthikeyan, 46 yrs old; deck fitter Dasari Prakash Rao, 37 years old; chief officer Kishore Kumar, 46 years old; trainee Rama Durai Umadurai, 23 years old, and trainee Joseph Pragash, 24 years old. They will be brought to Manila, where the Indian embassy will assist them with repatriation. The full roster of the Emerald Star's crewmembers appears below.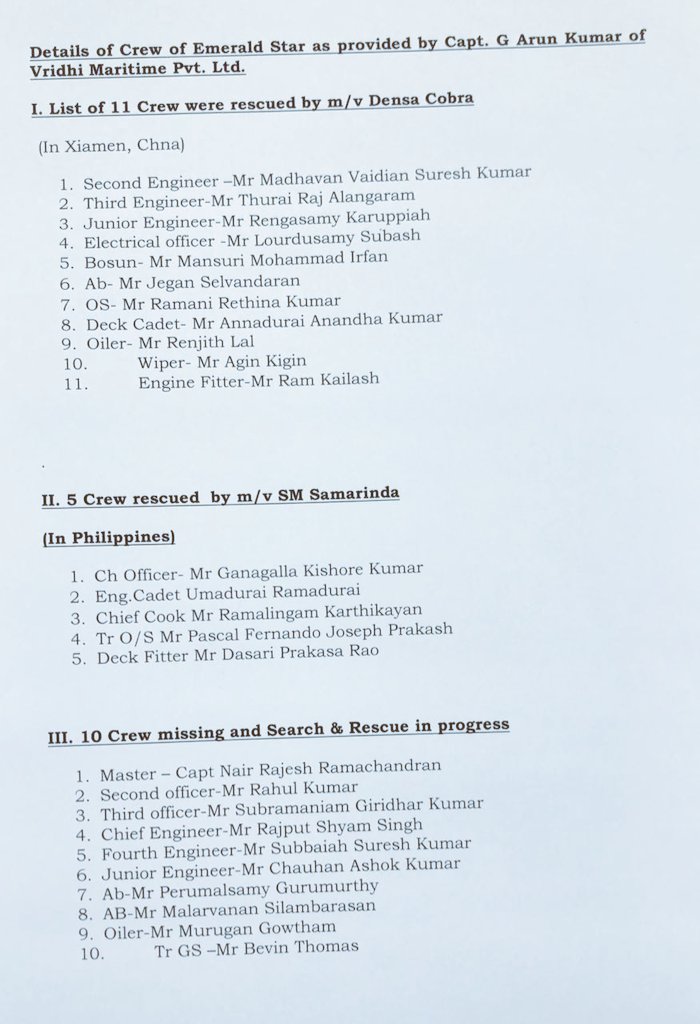 Raveesh Kumar / MEA
The Star was on a round trip voyage between Lianyungang, a key port for Chinese nickel ore imports, and Buli, Indonesia. Survivors confirmed that Emerald Star had a load of nickel ore originating at Buli on board at the time of the incident.
Leading marine insurer Gard warns that some terminals in southeast Asia continue to load dangerously wet cargoes of nickel ore, which is one of a number of commodities that can exhibit liquid-like behavior if the moisture content is too high. In the worst cases, wet nickel ore cargoes can pile up on one side of a vessel's holds when the ship rolls, leading to rapid loss of stability and capsize.