Hyundai Merchant Joins the 22,000 TEU Club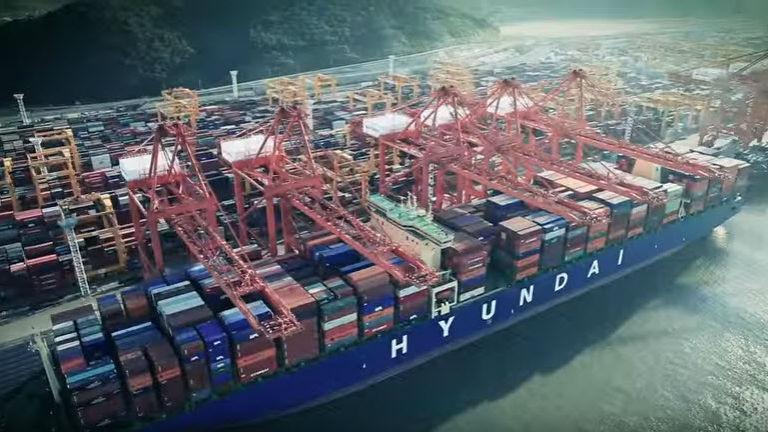 Hyundai Merchant Marine narrowly avoided receivership just last year, but now – thanks in part to significant government support – it is expanding its investments in tonnage, including a series of 22,000 TEU boxships.
At a sales meeting on Monday, HMM president and CEO C.K. Yoo confirmed swirling rumors that the 13th-largest ocean carrier would be placing the order for the world's largest container vessels. Yoo explained the rationale for the purchase primarily in terms of national ambition. "This will be the mega-ship building project in accordance with the national expectation for being a leading shipping nation," he said. "During the last year, HMM has faced many changes such as regaining customer trust, recovering profitability, and ranking #1 in service reliability . . . I would like to extend my sincere gratitude to people of Korea for supporting HMM."
STX Shipbuilding created the first design for a ship of this size in 2008, but the world's first order didn't arrive until August 2017, when CMA CGM signed for a series of nine LNG-fueled, 22,000 TEU boxships from Hudong-Zhonghua Shipbuilding and Shanghai Waigaoqiao Shipbuilding. CMA CGM said in a statement that the efficient ships would "further reduce unit transport costs, particularly on the Asia-Europe routes."
MSC quickly followed with news of an order for 11 22,000 TEU vessels from DSME. The world's number two container carrier said that the new giants would replace existing 13-14,000 TEU ships that are coming off hire. "The new order is expected to effectively replace this fleet, rather than substantially increasing MSC's overall capacity," MSC said in a statement.
In addition, Alphaliner reports that MSC and CMA CGM will be lengthening as many as 21 vessels in the 14,000 TEU size range to allow them to carry 17,000 TEU. Both lines have contracted with Chinese yard Qingdao Beihai Shipbuilding Heavy Industry (BSIC) to complete the upgrades.
These mega-ship orders follow barely one year after a period of severe overcapacity crashed transoceanic freight rates, forcing container vessels into layup and sending several shipowners into bankruptcy – notably HMM compatriot Hanjin Shipping, which has since been dissolved.
"Each of the key alliance partners is playing catch up with one another, trying to reap the mega-ship benefits," warned Xeneta CEO Patrik Berglund in August. "In doing so they're going to flood the market with new capacity and risk reversing current positive trends. This is a potential mega-problem in waiting."