Shipping Braces for Hurricane Matthew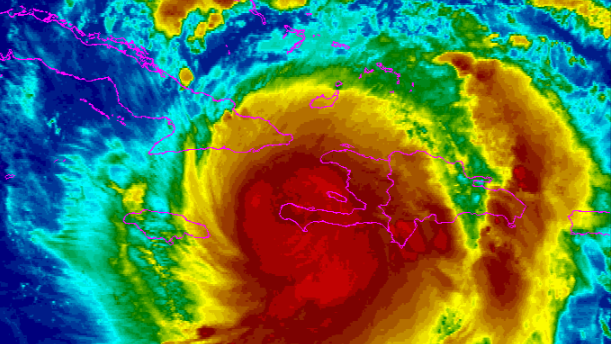 Cruise lines and merchant vessel operators are reconsidering their voyage plans to account for the arrival of Hurricane Matthew, the strongest storm in the Caribbean in a decade.
Matthew made landfall over Haiti Tuesday morning, bringing 20 to 40 inches of rain and a storm surge of up to 10 feet near the epicenter. Its wind speeds were in the range of 150 mph.
About three feet of rain is forecast to fall over hills that are largely deforested and prone to flash floods and mudslides, threatening villages as well as shanty towns in the capital Port-au-Prince, where heavy rain fell overnight. Life-threatening flash floods and mudslides were likely in southern and northwestern Haiti, the U.S. National Hurricane Center said. The center expects Matthew to remain a powerful hurricane through at least Wednesday night.
After Haiti, the storm is expected to track north-northwest past Cuba and along the coast of Florida, passing the world's busiest cruise ports at Miami and Fort Lauderdale.
Carnival Cruise Line said that it would be rerouting ships accordingly. "Given the unpredictability of tropical weather systems, and with guest and crew safety as our foremost priority, we are taking a prudent course of action to keep the ship out of harm's way and provide our guests with a safe and enjoyable vacation experience," the firm said. It added that Carnival Elation, Ecstasy, Pride, Victory and Splendor will all have altered routes to account for the storm.
Other leading cruise lines are also making changes. Disney's Disney Dream will go to Cozumel rather than the Bahamas, and Disney said that "we are always prepared to visit alternate ports or spend days at sea to ensure the safety and comfort of our guests." Royal Caribbean's Freedom of the Seas will call San Juan instead of Coco Cay in the Bahamas, and its Majesty of the Seas will go to Key West instead of Nassau.
One cargo vessel operator has no public plans to alter its sailings. Jacksonville-based TOTE Services – whose con/ro vessel El Faro went down with all hands during Hurricane Joaquin last year – told local news in Florida that it trusted its officers to make the right decisions regarding weather.
In a brief statement, TOTE did not mention any formal, company-directed plan to cancel or reroute Tuesday's sailings of the newbuild container vessels Isla Bella and Perla del Caribe. On their regularly scheduled routes, both ships would pass through the region of the forecast storm track (not necessarily at the same time as the storm).
In investigative proceedings regarding the sinking of the El Faro, TOTE Services managers emphasized that weather routing decisions are ultimately the responsibility of each vessel's master. TOTE reiterated that position Tuesday in a statement to NBC News, saying that "our Captains have control and authority to alter course for any purpose, weather, crew illness, or to assist another ship at sea."
The Perla del Caribe departed Jacksonville at 1630 hours local time, bound for San Juan. The Isla Bella remained moored in Puerto Rico as of 1900 hours.
Crowley Maritime, which operates a competing liner service, announced that it would instruct its vessels to remain in port or change course as needed to stay clear of the storm. It published a notice warning of disruption to shipments in the Caribbean – including cargo on its runs to Puerto Rico – as it takes steps to reroute or cancel sailings.
"Safety is Crowley's No. 1 core value and as such we are taking all appropriate steps to ensure the safety of Crowley personnel, including our mariners, vessels and your cargo. Vessels are being directed to either remain in port or take routes that would steer them clear of the storm," Crowley said.
In addition to effects on its Puerto Rico runs, Crowley also expects disruption to services to Jamaica, the Dominican Republic, Cuba, Haiti, Central America and the Caribbean islands. The firm included an image of the storm's forecast track to illustrate its decision.
On shore, state officials in Florida are bracing for the effects of Matthew, which is not currently forecast to make landfall in the United States, but would strike Florida if its path shifts slightly to the west. "Hurricane Matthew is a life-threatening category four hurricane and we must all take it seriously. If Hurricane Matthew directly impacts Florida, there could be massive destruction which we haven't seen since Hurricane Andrew devastated Miami-Dade County in 1992," said Governor Rick Scott.