HMS Dragon Sets New Record with $190M in Seized Drugs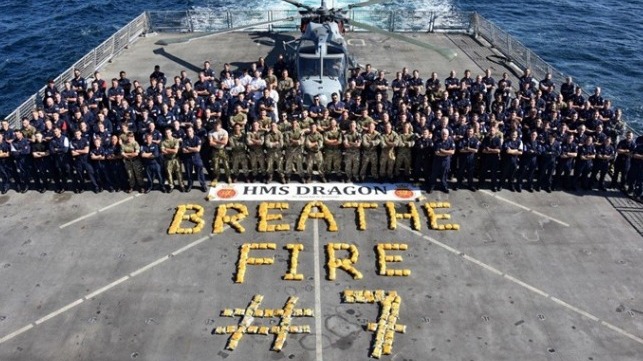 Royal Navy warship HMS Dragon has sailed into the record books after making her seventh drug bust in the Middle East, bringing her total deployment haul to $190 million.
The Type 45 destroyer now holds the record both for the number of successful busts and the total weight of drugs seized by a Royal Navy ship in the Middle East. Since deploying last September, HMS Dragon has racked up 15,246 kg of hash, 455 kg of heroin, and 9 kg of crystal meth. The sale of these drugs is a known source of funding for terrorist organizations and criminal networks.
On Thursday, Dragon completed her seventh bust, a shipment of 224 kg of heroin hidden aboard a dhow. She was beginning her transit home to the UK, and was passing through the Arabian Sea for the final time when her crew spotted a suspicious-looking fishing vessel.
From the ship's Wildcat helicopter, a Royal Marine sniper kept a close eye on the suspect craft as Dragon's two fast boats launched in darkness towards the vessel and boarded it. After a brief search, the boarding team found a haul of heroin worth $74 million.
Working in temperatures in excess of 35 degrees Celsius, HMS Dragon's determined crew found the drugs hidden beneath a fuel tank on the small fishing boat.
"I was searching the engine space when I noticed a sack underneath one of the fuel tanks. We removed the sack and exposed more sacks, all containing small packages. It was hard work in a hot and small compartment but when it was confirmed it was heroin inside it felt like a job well done," said Engineering Technician (Marine Engineering) Thomas Jones Leah, a member of HMS Dragon's boarding team.
"Once again the Dragons have prevented a significant quantity of drugs reaching the streets of the UK," said Commander Michael Carter-Quinn, the ship's CO. "Our sailors have worked exceptionally hard in the Gulf. They have done themselves, their families, and the country proud."
As HMS Dragon heads home for the UK, she hands over the watch to the Type 23 frigate HMS Montrose, which will soon begin her own time on patrol in the Middle East.