Genting Deploys Cruise Ship to House its Shipyard Workers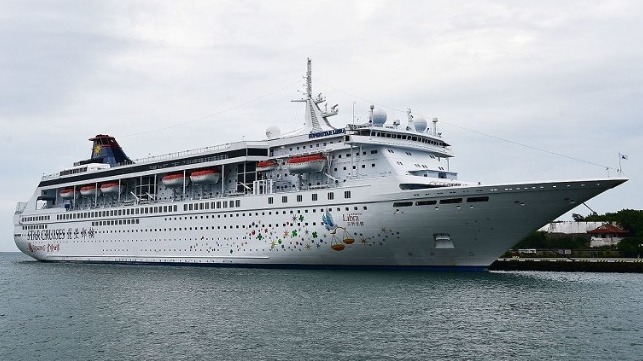 Genting Hong Kong is redeploying an older cruise ship to one of its own shipyards in order to provide staff accommodations during the construction of its next-generation vessels. The 1988-built SuperStar Libra, owned and operated by Genting's Star Cruises brand, will be moored at Genting's MV Werften yard in Wismar beginning in August.
"It's a clever idea to use the SuperStar Libra for us as a living ship. The accommodation situation is so much more relaxed and the paths are significantly shorter," said MV Werften CEO Petter Fetten.
Earlier this year, MV Werften's Wismar and Warnemünde sites began work on Genting's new 5,000-passenger Global Class ships, with the first due for delivery in 2020 and the second in 2021. In a statement, Genting said that MV Werften's booming business means that its payroll is expanding dramatically. At one of the yard's three sites in Wismar, the number of employees will rise to 1,500 people, plus an equivalent number of contractors. The SuperStar Libra's 700 cabins will provide enough capacity for all of them, and the commute will be quick, as the vessel will be docked at the facility's own quay. The yard is also building more accommodations at the Old Wooden Port in Wismar, including units constructed by its own cabin module division, Fertigmodule GmbH.
"It is good and right that the shipyard also takes responsibility for the temporary housing of the temporary employees," said Wismar's mayor, Thomas Beyer.
Genting formed MV Werften in 2016 after acquiring Nordic Yards' facilities in Wismar, Stralsund and Rostock-Warnemünde. These Baltic Sea shipyards have given Genting the unique capacity to build its own ships, and the acquisition is already paying off: MV Werften recently delivered four luxury vessels to Genting's Crystal River Cruises over an eight-month span. Genting also owns Bremerhaven-based Lloyd Werft, which focuses on cruise ship repairs and superyacht construction.