Futuristic Destroyer Heads Out for Acceptance Trials
The Zumwalt, the Navy's newest and most expensive destroyer, departed the Bath Iron Works shipyard on Wednesday morning to conduct acceptance trials with the Navy's Board of Inspection and Survey. Key systems including navigation, propulsion, auxiliary systems, habitability, fire protection and damage control capabilities will be tested to make sure that they meet the Navy's requirements.
Weapons tests are not on the agenda for acceptance trials, as the ship's mission systems have not yet been activated. That work will commence after the Navy has taken delivery and the vessel has been relocated to San Diego.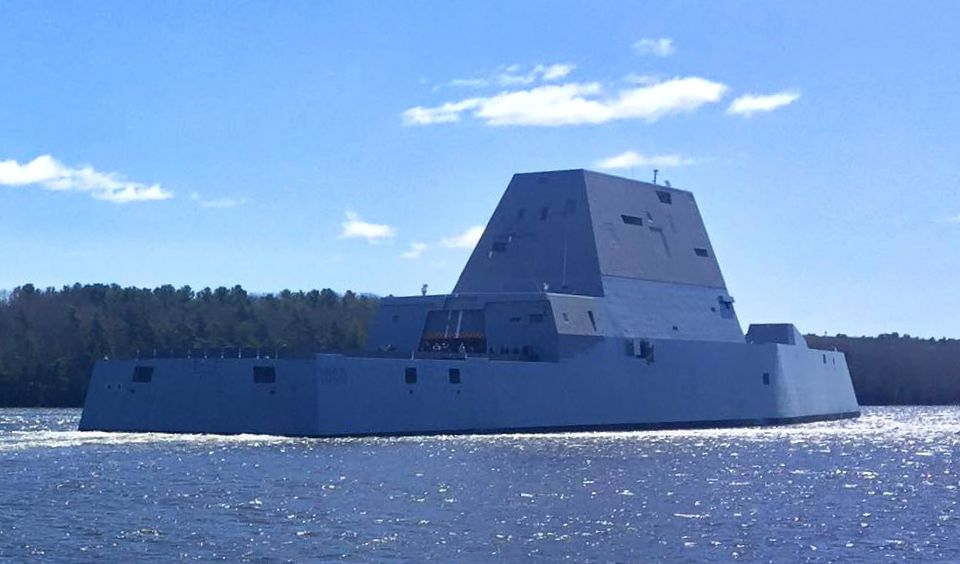 The Zumwalt departing Bath on Wednesday (image courtesy USN / NAVSEA)
The Government Accountability Office (GAO), commenting on Department of Defense data submitted to Congress, reported in March that "the DDG 1000 Zumwalt Class Destroyer [experienced] a delay of 26 months over the past year due to technical risk, shipyard performance, and shipyard workforce constraints." When activation and commissioning of combat systems are taken into consideration, the Navy does not expect an initial combat capability for the vessel until the end of 2019 – more than four years later than planned.
The reasons behind the delays (and corresponding increases in unit cost) were primarily manpower and technical difficulties. "Program officials said delays were initially driven by production challenges, particularly a shortage of labor to complete electrical work. The program also encountered significant technical issues related to the integrated power system . . . due, in part, to the Navy's decision to not fully test and validate the performance of the system in a representative environment prior to installation on the ship."
"The Navy conducted land-based testing of the integrated power system with a configuration representing only half of the system," GAO said. "As a result, the Navy reported that numerous issues with the power conversion and distribution system were discovered during land-based testing but not resolved before ship installation. Because land-based testing did not include testing to replicate shipboard power loads, power disturbances were discovered during shipboard testing."
Navy program officials were consulted in the preparation of the GAO's report, and their responses were incorporated into its findings, the agency said.