French Navy Responds to Thorco Lineage Grounding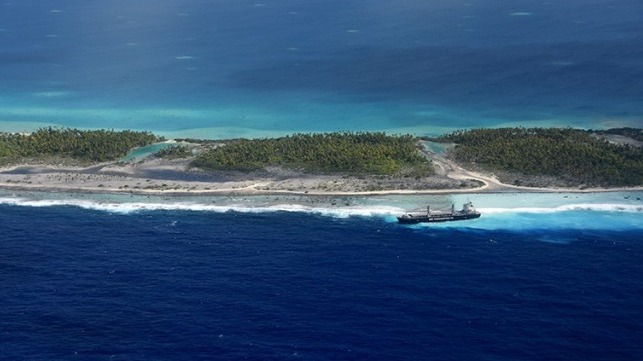 Authorities in Papeete have announced that the French Navy multimission tug Bougainville will attempt to tow the grounded freighter Thorco Lineage off the shoals at Raroia Atoll, an island in the remote Tuamotu chain.
During a voyage from Baltimore to Hobart, Australia, the Lineage lost power, and she drifted ashore on Raroia on Saturday. She is carrying about 20,000 tonnes of powdered zinc and 500,000 liters of fuel oil. No pollution has yet been reported, and High Commissioner for French Polynesia Rene Bidal told media that the vessel's crew has not detected any signs of flooding.
Image courtesy Flotille 25F
According to local media, salvage experts and French Navy advisors believe that the Lineage must be removed as quickly as possible in order to minimize hull damage. Raroia is only 400 nm northeast of Tahiti, the home base of the Bougainville, and a contracted salvage vessel based in San Diego would not have been able to reach the remote archipelago for 10 days. Authorities in Papeete are also finalizing arrangements to provide a second tug for the response effort.
For the time being, the Lineage's 18 crew will remain on board, according to the High Commission of French Polynesia.