Former President George H. W. Bush Passes at 94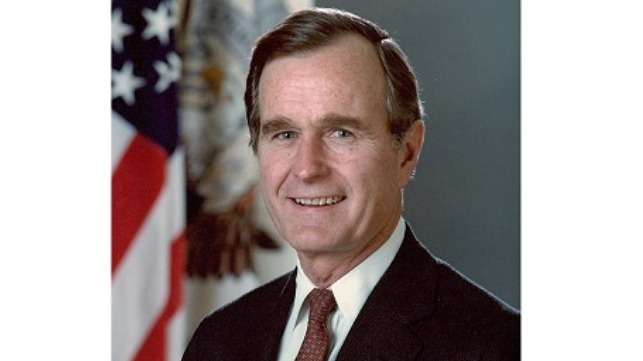 Former U.S. President, naval aviator and Texas oil pioneer George Herbert Walker Bush died at age 94 on November 30.
He was the 41st president of the U.S. (1989-93) and father of the 43rd president. He is survived by five children, 17 grandchildren and eight great-grandchildren.
President Donald Trump President has declared December 5 as a national day of mourning.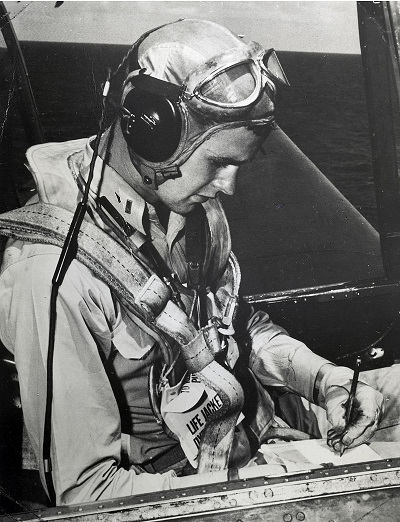 "Bush led a great American life, one that combined and personified two of our Nation's greatest virtues: an entrepreneurial spirit and a commitment to public service. Our country will greatly miss his inspiring example," said Trump.
On the day he turned 18, six months after the attack on Pearl Harbor, George H.W. Bush volunteered for combat duty in the Second World War. Bush graduated from Phillips Academy and became a naval aviator, taking training for aircraft carrier operations aboard USS Sable. After completing the 10-month course, he was commissioned as an ensign in the United States Naval Reserve at Naval Air Station Corpus Christi on June 9, 1943 (three days before his 19th birthday), which made him the youngest naval aviator to that date.
In September 1943, he was assigned to Torpedo Squadron 51 (VT-51) as the photographic officer. The following year, his squadron was based in USS San Jacinto as a member of Air Group 51. During this time, the task force was victorious in one of the largest air battles of World War II: the Battle of the Philippine Sea.
After Bush's promotion to lieutenant (junior grade) on August 1, 1944, San Jacinto commenced operations against the Japanese in the Bonin Islands. Bush piloted one of four Grumman TBM Avengers of VT-51 that attacked the Japanese installations on Chichijima. On September 2, 1944, the Avengers encountered intense anti-aircraft fire; Bush's aircraft was hit by flak and his engine caught fire. Despite the fire in his aircraft, Bush completed his attack and released bombs over his target, scoring several damaging hits. With his engine ablaze, Bush flew several miles from the island, where he and one other crew member bailed out; the other man's parachute did not open.
Bush waited for four hours in an inflated raft, while several fighters circled protectively overhead, until he was rescued by the submarine USS Finback, on lifeguard duty. For the next month, he remained in Finback and participated in the rescue of other aviators. Several of those shot down during the attack were executed, and their livers were eaten by their captors. This experience shaped Bush profoundly, leading him to ask, "Why had I been spared and what did God have for me?"
In November 1944, Bush returned to San Jacinto and participated in operations in the Philippines until his squadron was replaced and sent home. Through 1944, he flew 58 combat missions for which he received the Distinguished Flying Cross, three Air Medals, and the Presidential Unit Citation awarded to San Jacinto.
Bush was then reassigned to a training wing for torpedo bomber crews at Norfolk Navy Base, Virginia. His final assignment was to a new torpedo squadron, VT-153, based at Naval Air Station Grosse Ile, Michigan. Bush was honorably discharged from the U.S. Navy in September 1945, one month after the surrender of Japan.
After the war, he returned home and started a business. In his words, "the big thing" he learned from this endeavor was "the satisfaction of creating jobs."
The same unselfish spirit that motivated his business pursuits later inspired him to resume the public service he began as a young man. First, as a member of Congress, then as Ambassador to the United Nations, Chief of the U.S. Liaison Office in China, Director of Central Intelligence, Vice President, and finally President of the United States, Bush guided the Nation through the Cold War.
"Even with all he accomplished in service to our Nation, President Bush remained humble," said Trump. "He never believed that government — even when under his own leadership — could be the source of our Nation's strength or its greatness. America, he rightly told us, is illuminated by 'a thousand points of light,' 'ethnic, religious, social, business, labor union, neighborhood, regional and other organizations, all of them varied, voluntary and unique' in which Americans serve Americans to build and maintain the greatest Nation on the face of the Earth. President Bush recognized that these communities of people are the true source of America's strength and vitality.
"It is with great sadness that we mark the passing of one of America's greatest points of light, the death of President George H.W. Bush."
Michael R. Pompeo, Secretary of State, said: "Devoted husband, loving father, steadfast friend, exemplary patriot: this is how I will always remember President George H. W. Bush. Whether he was serving in the skies over the Pacific during World War II, protecting America at CIA headquarters, or leading our nation in the Oval Office, President Bush was one of America's most consequential and dedicated public servants. In his private life, he was a devoted family man who exuded kindness and respect to everyone he met.
"I am privileged to have known him as a friend, and I will always treasure the special bond we shared of having led the world's finest intelligence service. Though our hearts are heavy today, we take comfort in knowing he is no longer apart from his beloved wife Barbara. My thoughts and prayers, as well as those of my State Department colleagues, are with the entire Bush family."
Secretary of Defense, James N. Mattis, said: "President George Herbert Walker Bush, naval aviator, decorated in his youth for valor in combat, took his experience in war to build a better world as our commander in chief. His service to our nation demonstrated how we as a people can draw on our humility, diversity and devotion to our country to meet every challenge with fortitude and confidence. We will miss him, but at the going down of the day, his example will long guide our Sailors, Soldiers, Airmen and Marines for how to live life without regret."