Fire Destroys Trawler in Cape Town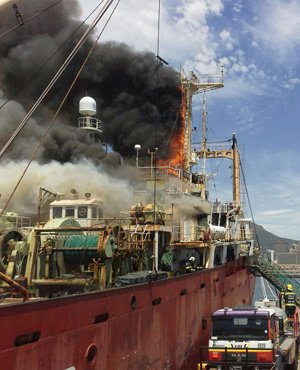 In Cape Town, South Africa, salvors have finally extinguished a fire on board the Russian stern trawler Verano, fully one week after it began.
The 3,500 dwt trawler contained 800,000 polystyrene containers and 40,000 gallons of fuel oil – providing plenty of flammable material to sustain the fire.
Local media reported that the fire had subsided Tuesday but smoke still emanated from the trawler's holds. She had taken on a starboard list due to flooding from firefighting water, forcing responders to evacuate from the ship, but her stability is not presently thought to be a concern.
As of Wednesday, "all boundary cooling activities are discontinued' though fire services have been placed on standby for any emergencies. The vessel is still listing to starboard but remains stable'" said the Transnet National Ports Authority in a statement.
Chances are slim that the vessel will be repaired and redeployed.
"The vessel will in all probability be declared a total constructive loss," said Captain Gustav Louw of the South African Maritime Safety Authority, speaking to local News24. "They could either sell it as scrap, tow it to a scrap yard, or scuttle the wreck, provided the environment department gives a dumping permit and position at sea."
The 1975-built Verano (exnames Apollo, Viento Del Sur and Shinkai Maru) was most recently flagged in Russia. She has no Equasis record.
Inset image courtesy Cape Town Fire and Rescue / twitter