Finnish Border Guard Saves Bulker from Flooding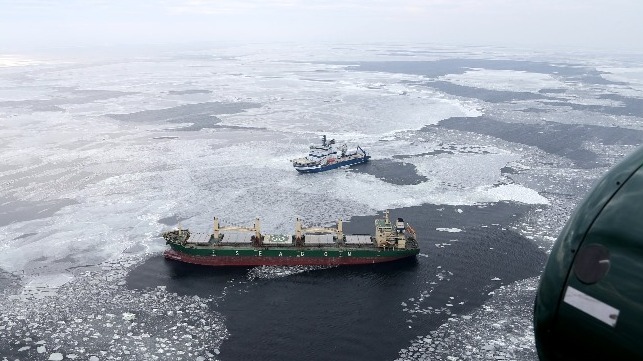 On Thursday, while under way off Hogland Island in the Gulf of Finland, the freighter Glory Hongkong began taking on water. Her crew sent a distress message reporting flooding of about five meters deep in the engine room, and the Finnish Border Guard launched a rescue mission.
The Border Guard tasked the good samaritan icebreaker MSV Nordica to assist. She was the first vessel on scene, and she took on-site mission control, according to operator Arctia. "We concentrated on maintaining a clear operational picture and conveying that to the responsible authorities. This was made harder by the limited English skills of the distressed vessel's crew," said Capt. Matti Westerlund, the Nordica's master.
The leak was brought under control the same evening evening. At 19:30, the patrol vessel Tursas arrived in the site and released the Nordica from on-scene mission control. "MSV Nordica's role on the site was significant. It prepared to evacuate the crew and assist the distressed vessel in limiting the damage. Necessary pumping equipment was moved by helicopters to the Nordica, from where it was easier to move to the vessel in distress," said rescue coordinator Tommi Karppi of the Finnish Border Guard.
MSV Nordica was released from the scene at midday on Friday to continue her normal icebreaking duties. "Without the expert and prompt action by the Nordica, the situation would have been considerably more challenging," said Karppi. "In addition to support in actual rescue tasks, the food supply on board MSV Nordica was excellent."
In an update Friday, the Finnish Border Guard said that the shipowner had contracted for towing services, and the Glory Hongkong will be brought into Tallinn, Estonia. As of early Saturday, her AIS showed her under way towards Tallinn at five knots, with the tug Atlas just ahead.