Ex-U.S. Philippine Red Cross Ship Operational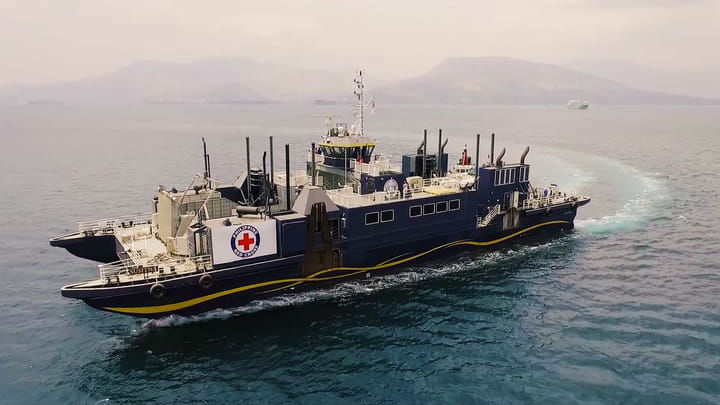 The Philippine Red Cross has commissioned its first humanitarian vessel, the M/V Amazing Grace.
The humanitarian vessel is a 195-foot military prototype vessel originally meant to transport military vehicles. The ship was designed and built in 2010 by the U.S. Navy and was never used. The original plan called for the then M/V Susitna to be donated to Alaska's Matanuska-Susitna Borough where she would be used to provide ferry service between Anchorage and Port Mackenzie as the Office of Naval Research assessed the design. However, lack of funds and landing terminals prevented the Susitna from entering service.
Upon approval from the State of Alaska, the ship was sold to the Red Cross for only $1.75 million, a fraction of her actual value of $85 million.
The twin-hulled vessel arrived from Alaska last December and is officially the country's largest ambulance and disaster response vehicle. She can hold up to 120 passengers, 20 vehicles and has a 35-ton overall freight capacity. She also has a main deck that can be lowered to debark equipment and can land on beaches in as shallow as four feet. In the event of a large-scale disaster, the ship can evacuate up to a thousand people.
The need for a ship came from the Red Cross' experience during Typhoon Yolanda, where the temporary closure of the Tacloban airport (which was then heavily damaged) and seaports became a hindrance to the Red Cross' relief attempts.
According to a 2015 report by the United Nations Office for Disaster Risk Reduction (UNISDR), the Philippines ranks fourth in the world among countries hit by the highest number of disasters over the past 20 years. The Philippines is also currently the fifth most vulnerable country in terms of disaster risk implications for development capacity, according to the UNISDR 2015 Global Assessment Report on Disaster Risk Reduction.
The Philippine Red Cross has signed an agreement with the Maritime Academy of Asia and the Pacific to train and provide crew and maintenance for the ship.
President Rodrigo Duterte led the commissioning of the newly named and now operational, Amazing Grace.