El Faro's VDR Battery May Have Expired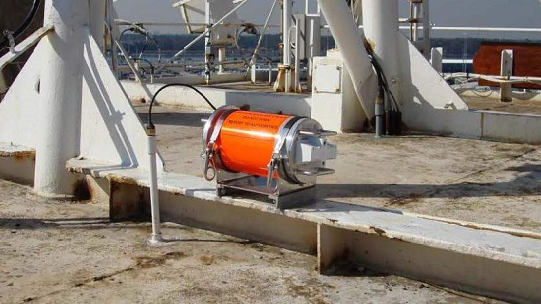 John Fletcher, Global Service Manager for Northrop Grumman Sperry Marine, told investigators today that the battery for the El Faro's voyage data recorder (VDR) may have passed its expiration date prior to her sinking. The unit was serviced in May 2015, but the firm was not sure whether or not the battery had been replaced at that time; if not, it would have been past its due date. Sperry did not find out about the inspection uncertainty until after the El Faro went down.
By SOLAS requirements, the VDR unit would have recorded date and time, position, speed (through water or over ground), heading, bridge audio, comms audio, selected radar data, and AIS data – information considered valuable to the investigation into her loss.
A search crew on the salvage tug Apache, working for the NTSB, were unable to find the VDR in an initial examination of the wreck site; the agency has said that it is launching a second seafloor survey beginning in April. The VDR recording unit was fitted with a battery-powered underwater acoustic beacon, which would have emitted detectable sonar pings to assist the search team.
Separately, Petty Officer Second Class Matthew Chancery testified regarding events at the USCG regional command center on the day of the El Faro's loss. The board replayed his phone call with TOTE official John Lawrence, in which the two men were under the impression that she was not in danger of sinking.
The alert sound for the command center's receipt of the El Faro's EPIRB signal could be heard in the background of the call; Chancery said that he had acknowledged the receipt of the distress signal. It did not contain GPS information.
Chancery said that he had reached out to the cargo vessel Emerald Express, which was sheltering near the El Faro's last known position, to see if she might be able to provide assistance or make radio contact. The Express was unable to go to the El Faro's aid – and ended up going aground herself shortly thereafter.