DSME's Workers Vote to Strike Over HHI Takeover Bid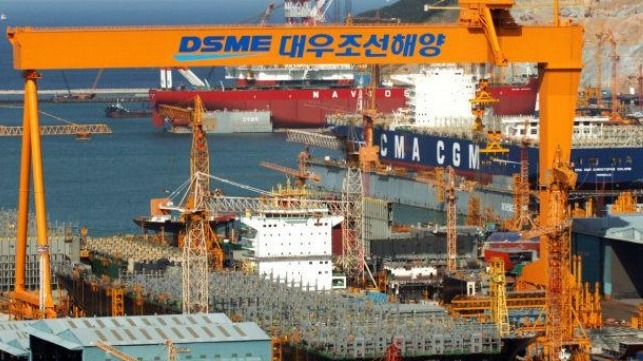 Shipyard workers at Daewoo Shipbuilding and Marine Engineering have voted to strike in protest of Hyundai Heavy Industries' proposed takeover of their firm. After a two-day polling process, more than 90 percent of the union's members voted in favor of industrial action. HHI's union is set to take a vote on a similar measure soon.
Last month, HHI signed a conditional agreement to take over DSME from the South Korean government-owned policy bank KDB. The merger would join two heavyweights to create a shipbuilding giant with a the world's largest orderbook and a global market share of about 20 percent.
Samsung Heavy Industries, the third member of Korea's "Big Three" yards, has said that it will not bid for ownership of DSME. With HHI left as the only bidder, the deal could be finalized as early as next month, though the completion of the merger would still be subject to review by anti-trust regulators in multiple jurisdictions.
"The agreement between Hyundai Heavy Industries Group and Korea Development Bank is a solution for the recovery of the domestic shipbuilding industry," said HHI in announcing the agreement. "We will pursue maximum synergy effects from the consolidation while still maintaining competition." For the government's part, KDB chairman Lee Dong-Gull hailed the merger's potential to "eliminate the inefficiency" of investment patterns in Korea's shipbuilding industry.
These synergy effects and efficiencies are concerning for unionized workers, who fear that the merger could lead to further job losses in an industry that has already suffered deep cutbacks. In a joint message, the CEOs of the two shipbuilders sought to reassure workers that the merger is intended to stabilize both yards, not downsize one or the other. The two pointed to HHI's last major acquisition, its purchase of Halla Heavy Industries in 2002, as an example of this model. Halla prospered and grew rapidly in the 2000s under its new name, Hyundai Samho Heavy Industries, and it continues to win contracts for large tankers and LNG carriers today.