DP World Starts Construction at Port of Berbera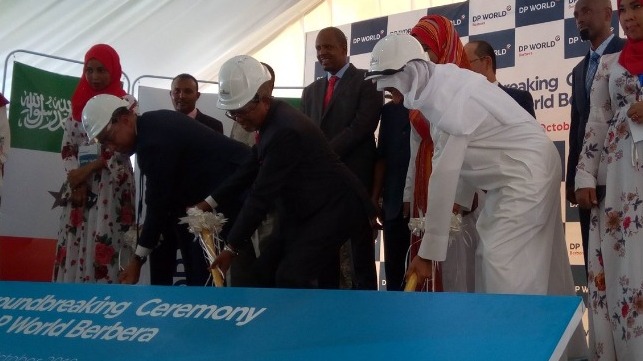 Dubai-based port operator DP World has inaugurated its expansion of the port of Berbera, Somaliland, in a deal that could take cargo traffic away from neighboring Djibouti.
"Our aim is to make this an important regional hub for the maritime industry in the Horn of Africa," said DP World head Sultan bin Sulayem at a signing ceremony in Berbera Thursday. "We are delighted that construction work has begun and over the next few years we will see a transformation in the capacity of this major infrastructure asset."
Phase One of the Berbera expansion will see DP World and its partners invest about $100 million in building a 400-meter quay, adding about 60 acres to the terminal yard and constructing a large "free zone" for international businesses. Phase two would involve an additional $320 million in construction and equipment, and would expand Berbera's containerized cargo capacity to about 450,000 TEU per year. The plan also calls for a $100 million roadway to connect Berbera to the border with landlocked Ethiopia - a key inland market in the Horn of Africa. In a sign of the port's importance to the Ethiopian economy, Addis Ababa is taking a 20 percent stake in the expansion project.
The development of a deepwater container port at Berbera raises the prospect of new competition for the port of Doraleh, Djibouti, which was until recently a DP World facility. Djibouti's government unilaterally terminated DP World's lease at Doraleh in February and assumed control, sparking an acrimonious legal battle over the contract. An arbitration court in London sided with DP World in the dispute, but Djibouti has refused to reverse its stance.
DP World says that it has not been offered any compensation for the loss of its investments at Doraleh, and it has made no secret of its opinion of Djibouti's business climate. "Investors across the world think twice before investing in Djibouti," DP World warned in a recent advertising campaign.