Dong Energy Enters Virginia Offshore Wind Partnership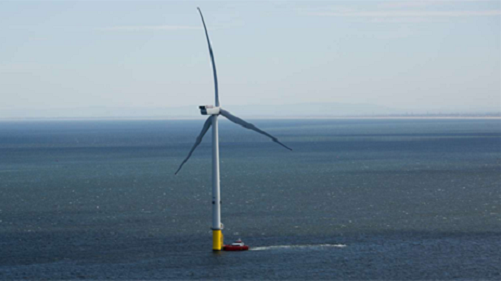 Dominion Energy Virginia is moving forward on the mid-Atlantic's first offshore wind project in a federal lease area and has signed an agreement and strategic partnership with Dong Energy to build two 6-megawatt turbines off the coast of Virginia Beach.

Dominion Energy remains the sole owner of the project. Dong Energy is expected to start the engineering and development work on the newly named Coastal Virginia Offshore Wind project immediately to support the targeted installation by the end of 2020. The timing for construction depends on many factors such as weather and protected species migration patterns.
Phase one development of two wind turbines will be built approximately 27 miles off the coast of Virginia Beach on a 2,135-acre site leased by the Virginia Department of Mines, Minerals and Energy. The project opens the door to long-term commercial wind development. It will provide the critical operational, weather and environmental experience needed for large-scale development in the adjacent 112,800-acre site leased by Dominion Energy from the Bureau of Ocean Energy Management (BOEM). Full deployment could generate up to 2,000 megawatts of energy – enough to power half a million homes.
The project continues what previously was called the Virginia Offshore Wind Technology Assessment Project (VOWTAP). Dominion Energy began work on the project in 2011 as part of a Department of Energy grant to develop and test new wind technologies that could lower the cost and withstand hurricanes.
The project will be only the second offshore wind project in the nation and the first owned by an electric utility company.
"Today marks the first step in what I expect to be the deployment of hundreds of wind turbines off Virginia's coast that will further diversify our energy production portfolio, create thousands of jobs and reduce carbon emissions in the Commonwealth," said Gov. Terry McAuliffe.
"Hampton Roads has the ideal port assets and talented workforce to attract and house the offshore wind business supply chain to support not only Virginia's commercial wind area, but also wind farms under development in Massachusetts, New York and Maryland. Today's announcement advances our efforts to build a new Virginia economy that is cleaner, stronger and more diverse."