Destination: Turkey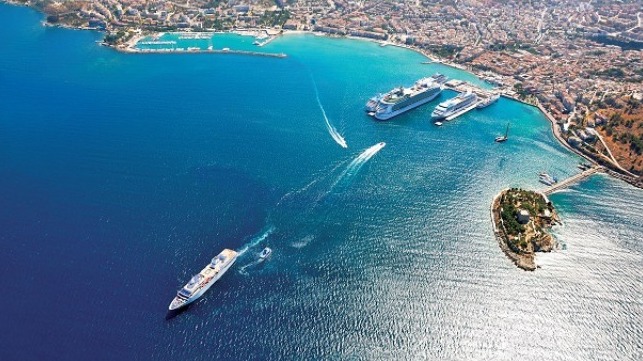 The cruise season has begun in Turkey, with tourist numbers for the first quarter of 2018 up 26.4 percent over the same period last year.
The Turkish government has offered an incentive program for cruise ships with over 100 passengers calling at Turkish ports in 2018 and 2019, and Ege Port- Ku?adasi, Antalya Cruise Port and Bodrum Cruise Port, each operated by Global Ports Holdings, will each receive some inaugural calls over the course of the cruise season. In total, the ports expect around 165 calls, with Ku?adasi once again Turkey's busiest cruise port.
Situated on the west coast of Turkey, the cruise port and beach resort town of Ku?adasi is the gateway to Ephesus, which is among the most visited ancient cities in the Mediterranean and is also close to House of Virgin Mary. The Greco-Roman world comes alive at Ephesus. The actual excavation of the ancient city of Ephesus began in the latter half of the 19th century and recovered structures have made Ephesus Europe's most complete classical metropolis – and that is with the 82 percent of the city still to be unearthed. Excavations are ongoing, with new surprises popping up as archaeologists continue to dig. In 2007, a gladiator's cemetery was discovered near the Stadium, and Roman-era synagogue remains reportedly lie behind the library. At the one of the current excavation sites, the terrace houses have rooms that were lavishly decorated with frescoes, mosaics and very thin marble panels. Many of these panels have been smashed into tiny fragments over the passage of time, but they have now been painstakingly restored in what was once the world's biggest jigsaw puzzle.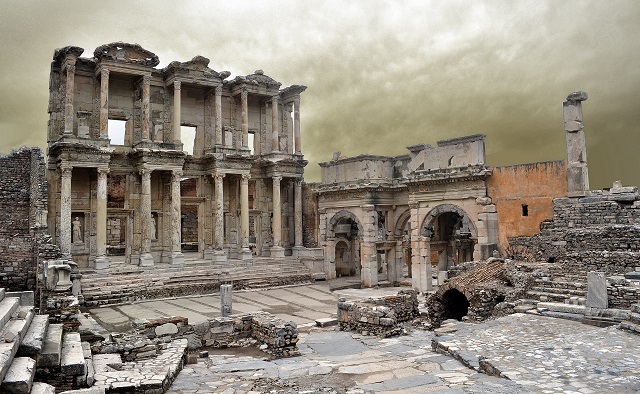 Ku?adasi can berth up to four large vessels at a time. The renovated Scala Nuova Village is located across from the terminal offering exotic and colorful shops, cafés and restaurants tailored exclusively for cruise passengers.
Bodrum Cruise Port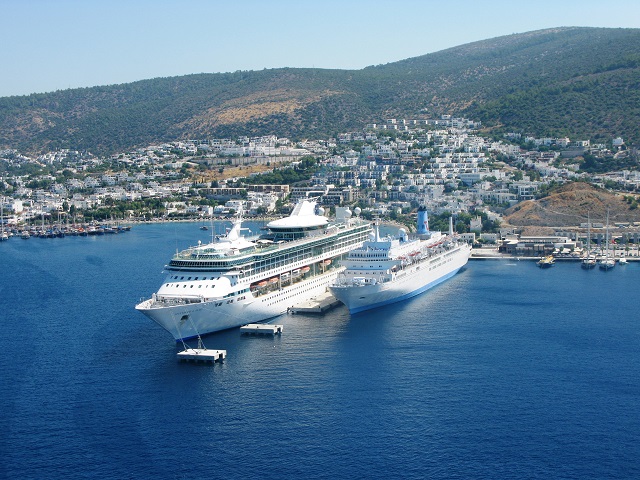 Bodrum Cruise Port, situated in the heart of the popular vacation city, is also set to be busier this year with a number of inaugural calls. These include Thomson Cruises' TUI Discovery 2, Mein Schiff 4 (TUI Cruises) and Ponant's La Perouse. Bodrum is located on the Aegean coast of Turkey, and in addition to its luxury tourist destinations, it boasts several major historical sites, including The Castle of St Peter & Mausoleum, Myndos Gate and the Museum of Underwater Archaeology. The Port is located a brief stroll from the city center and 36 kilometers from Milas International Airport.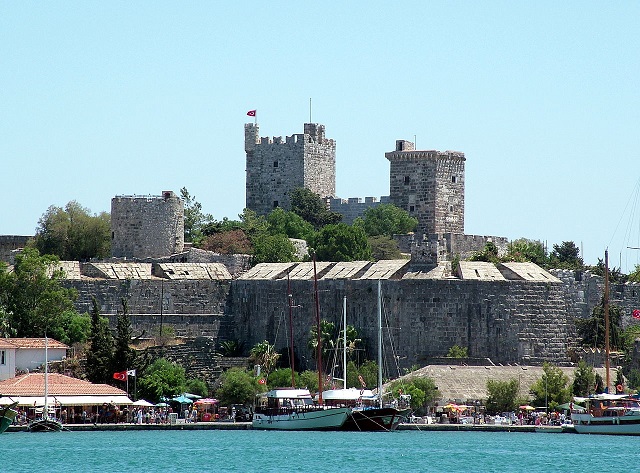 Antalya
Antalya Cruise Port welcomed its first cruise ship of the season, Serenissima, which was followed by Mein Schiff 1. The popular city has a major international airport, a wide range of hotels and a variety of important archaeological sites such as Aspendos, Perge and Side. Antalya is the number one holiday destination in Turkey and attracts 39 percent of all tourists visiting the country. Among the city's most popular historical sites are Hadrian's Gate of the Roman era and the Broken Minare, which was once a church but has since been transformed into a mosque.
Other cultural and tourism highlights from Turkey include:
HERITAGE
Following an eight-year restoration project, the 1,600-year-old Theodosius Cistern officially opened to the public in April. The Cistern is believed to date to the reign of the Byzantine emperor Theodosius II and formed part of a 250 kilometer system which brought fresh water to the ancient city. Located in Istanbul's Çemberlita? neighborhood, the fifth century structure will periodically host art exhibitions and other cultural events.
12 pieces of the world-famous Zeugma mosaics are to be returned to Turkey, following the signing of an agreement between the Ministry of Culture and Tourism of Turkey and Ohio's Bowling Green State University. The pieces, forming part of the frame for the infamous "Gypsy Girl" panel, have been held by the university since 1965. On their return, they will be exhibited at the Zeugma Mosaic Museum in Gaziantep.
TOURISM
The Ministry of Finance announced incentives to boost medical tourism in Turkey, with the aim to bring 1.5 million health tourism visitors to the country by 2023. Incentives include new investment subsidies and value-added tax exemptions for non-resident foreigners using medical institutes accredited by the Ministry of Health.
Istanbul Modern, Turkey's leading contemporary art museum, will move to a new location on Istanbul's historic waterfront. Designed by the celebrated Italian architect Renzo Piano, the three-year construction project is part of the city's initiative to restore cultural and historic sites in the Galataport district. The Istanbul Modern will temporarily move to the Union Française building until construction is complete.
HOSPITALITY
The first Six Senses resort in Turkey opened on May 1 in Kaplankaya. On the banks of the Aegean Sea, Six Senses Kaplankaya includes 141 guestrooms, six suites and 66 private villas. The hotel's secluded location offers a range of activities, such as watersports, hiking and nature trails, and cultural experiences. State-of-the-art spa facilities incorporate high-tech science with high-touch therapies, providing a range of pioneering health and wellness regimens.
The Galata Istanbul Hotel – MGallery by Sofitel recently opened its doors. The new luxury establishment boasts 83 different rooms and suites, as well as a selection of bars, restaurants and spa facilities, including a traditional Turkish Hammam.
EDITION Hotels is launching its new hotel in Bodrum. Overlooking the Aegean Sea, the Bodrum EDITION offers 102 rooms, suites and villas. Facilities include an infinity pool, garden lounge, night club, Turkish Hammam and fitness center. Food options will include an all-day casual dining venue, two bars and a gourmet specialty grill.
GASTRONOMY AND NIGHTLIFE
Istanbul's newly renovated Ulus 29 restaurant reopened in April. An eclectic menu, blending traditional Turkish cuisine with international food trends, makes this stylish restaurant and bar popular with both locals and visitors with views over the Bosporus.
The recently-opened MSA Restaurant can be found in Istanbul's Sakip Sabanci Museum. Owned by the Culinary Arts Academy of Istanbul, instructor chefs and students provide an extensive menu, ranging from local Istanbul street food and Turkish cuisine to popular international dishes.
The Populist has recently opened a new branch at Bebek Mahallesi, Ne?e Sokak, No: 1. Dating back to 1890, the craft brewery and restaurant remains a firm favorite with locals and tourists alike. Spread over three floors, the décor comprises a unique blend of prohibition-era U.S. with modern day Istanbul.
Rana by Topaz is a new restaurant in the up-and-coming Gümü?suyu area. The causal tavern-style feel offers a comfortable dining experience, while the ambitious menu combines international and Turkish cuisine.
Inspired by the Rolling Stones' song, Angie is an intimate bar located in Istanbul's trendy Bebek neighborhood. Offering both live music and DJ performances, its classic feel brings a new dimension to Istanbul's eclectic nightlife.
Hypnos Hall is a new addition to Istanbul's electronic music scene. The venue will host international DJs and producers, as well as featuring artistic and visual shows.
The Ruby night club has recently opened its doors, providing a glamorous nighttime experience in Istanbul. The restaurant boasts a unique range of Turkish and Japanese dishes, to be enjoyed on the garden terrace with panoramic views of the Bosporus. The Ruby's nightclubs stay open until the early hours, offering both live music and DJ performances with selection of award-winning cocktails.