[Photos] Cunard Marks 175th Anniversary
Queen Mary 2 sounded her ship's whistle (foghorn) at 1400 hours in Liverpool on Saturday to signify the time exactly 175 years earlier that Cunard's first ship Britannia left the city's Coburg Dock and inaugurated the first ever scheduled Transatlantic service.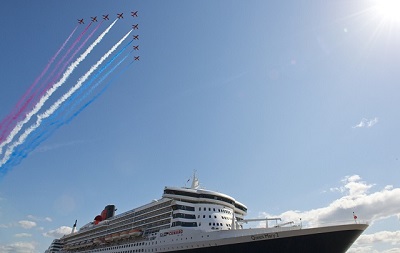 That first crossing changed the face of ocean travel, establishing the first permanent link between the Old World and the New – a link that has remained unbroken for 175 years as Cunard's ships have crossed and re-crossed the Atlantic every year since, in peace and war, without fail.
Britannia was Cunard's first flagship but at just 1,154 tons and carrying just 115 passengers, she could fit inside the Britannia Restaurant of today's 150,000 ton flagship Queen Mary 2, which accommodates 2,600 guests. But the little ship's departure heralded the start of passenger shipping sailing from Liverpool.
History was also made in the city today when 400 Cunard passengers embarked Queen Mary 2 bound for Halifax, Boston and New York. This was the first time in nearly 50 years that passengers have set out on a Transatlantic crossing from Liverpool since Cunard's Franconia's last crossing from the city in 1968.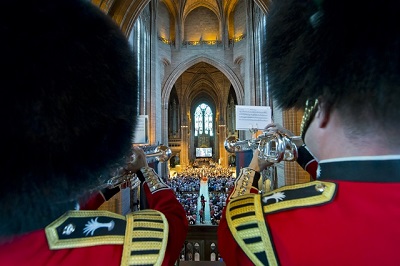 The exact day of the company's 175th anniversary was celebrated in style by Cunard with two concerts for the flagship's passengers and region's dignitaries. Held at Liverpool's Anglican cathedral, Cunard's story was told in words and music with noted speakers from the worlds of politics, TV and beyond introducing musical interludes representing key periods in the line's 175 year history, performed by the Royal Liverpool Philharmonic Orchestra conducted by Anthony Inglis, The Royal Liverpool Philharmonic Choir, The Liverpool Cathedral Choir, The band of the Welsh Guards and highly-acclaimed soloists Laura Wright, Jon Christos and Jenny Williams.
Working in partnership with the city and its 175 Transatlantic themed activities at Pier Head, which included a Food and Vintage Festival, Classic Car cavalcade and world record Catwalk bid, Cunard's 175 year celebrations culminated in a dramatic firework display fired from a mid-river barge as Queen Mary 2 prepared to set sail.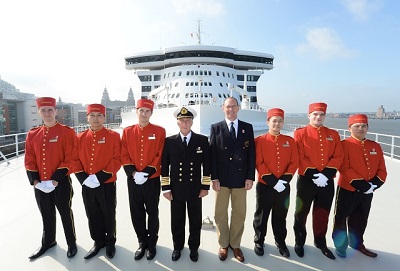 Angus Struthers, Cunard Director said: "It's just six weeks since the Three Queens Liverpool Salute made news around the world and the city has once again given Cunard the warmest of welcomes. The atmosphere in the city is still amazing and the support for Queen Mary 2 has been fantastic on this, the exact day that Cunard's first ship set out on her maiden crossing from Liverpool, 175 years ago.
"Queen Mary 2's departure today on a special crossing from Liverpool to Halifax and Boston re-creates that first voyage, and on board talks by historians, ship designers and Cunard specialists will bring fresh new perspectives to the Cunard story, just as our two concerts in Liverpool's Anglican cathedral today have really brought the company's history alive in such a resonant way.
"Today has also been the first time in nearly 50 years that we've been able to welcome transatlantic passengers aboard in Liverpool and those 400 people have each made a little bit of history.
"This has been such an extraordinary year for Cunard but it has been the strength of the partnership with Liverpool, our spiritual home which has made our 175th anniversary so special. Thank you Liverpool for celebrating with us today!"