Crowley and TOTE Continue Puerto Rico Recovery Effort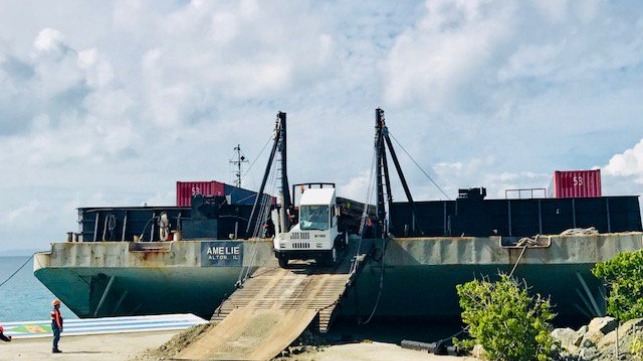 Crowley Maritime is shipping several consignments of special cargo to help restore power in Vieques, an island about eight miles off Puerto Rico. Crowley's service divisions are providing ocean transport, trucking, delivery coordination, port services and freight forwarding of breakbulk supplies and utility-related equipment from San Juan to the island.
The first shipment included the delivery of power poles, cables, platforms, utility reconstruction equipment and vehicles. The cargo was received at Crowley's San Juan warehouse and Crowley coordinated its loading onto a chartered flat-deck barge, the Amelie. Together with Vieques officials, Crowley organized terminal services on the receiving end, including stevedoring personnel and preparations at the pier.
"This project demonstrated our ability to provide a total supply chain solution, including breakbulk and specialized cargo transport and delivery," said Ayesha Diaz, general manager, Crowley Logistics in Puerto Rico. "Puerto Rico is home for many of us at Crowley, and it is humbling and gratifying for us to be able to help with the island's recovery from the storm."
Crowley has transported more than 24,300 commercial container loads and more than 6,600 government container loads for relief and recovery since hurricanes hit Puerto Rico in September. The firm is providing FEMA with trucking, deconsolidation and cross-docking at facilities on the mainland and in Puerto Rico. Crowley has served the Puerto Rico's shippers since 1954, longer than any other Jones Act carrier, and it has about 300 employees on the island.
El Faro family supports Puerto Rico relief
After Hurricane Maria hit Puerto Rico, Deb and Robin Roberts of Wilton, Maine began a drive for relief goods in honor of their son Michael Holland. Holland was one of the 33 crew members who perished when the TOTE Maritime cargo ship El Faro sank in October 2015.
Holland spent considerable time on the island, as the El Faro was dedicated to the Puerto Rico trade lane, and the Roberts said that they wanted to support the people and communities who played such an integral role in their son's life. In December, the Roberts traveled to Puerto Rico to distribute 30,000 pounds of goods to local families. TOTE Maritime helped with logistics and with distibution.
"Partnering with the Roberts to bring goods to the island has been a gift," said Anthony Chiarello, president and CEO of TOTE. "There are still so many families and communities struggling to survive after Hurricane Maria – these goods will be invaluable to people throughout the island."