Coast Guard Rescues Haitian Migrants from Island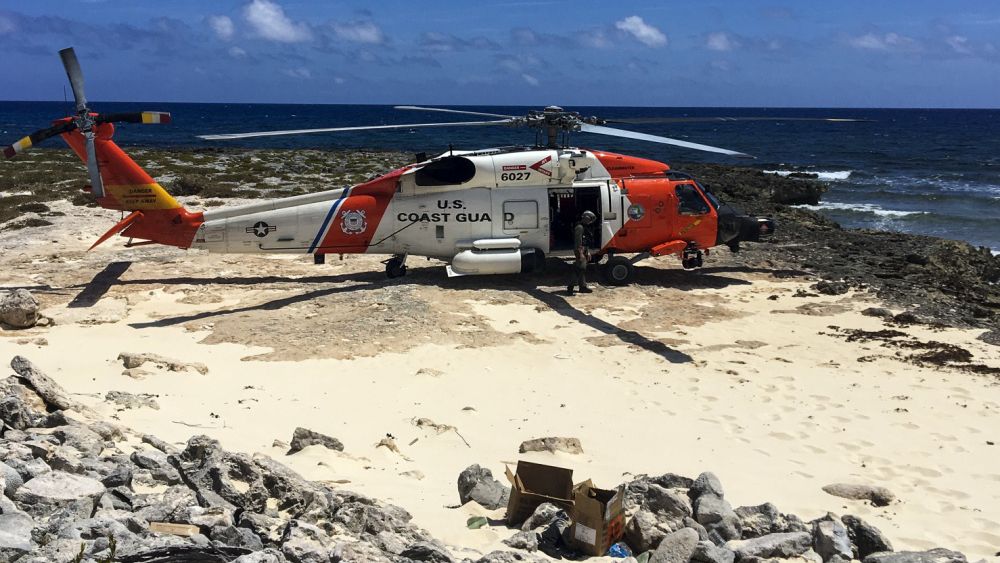 On Friday, the U.S. Coast Guard and the Royal Bahamas Defence Force (RBDF) rescued 88 Haitian migrants Friday from the uninhabited island of Little Inagua, Bahamas.
A Coast Guard MH-60 helicopter crew based on Great Inagua received a request to assist the migrants from the Bahamian government. The crew located the Haitian migrants, took 15 individuals on board for medical treatment and transported them to Matthew Town for further care. The RBDF sent a boat crew to carry the remaining migrants to Great Inagua.
The Coast Guard, the U.S. Drug Enforcement Agency and the Royal Bahamas Defense Force (RBDF) maintain a presence on Great Inagua and Andros Island in support of OPBAT – an agreement between the U.S., Turks and Caicos and U.K. governments to combat drug smuggling in the Caribbean. Coast Guard personnel from Air Station Clearwater, Florida rotate through these forward bases.
"Illegal migration ventures, such as these, all too often end tragically. Thankfully our Coast Guard and RBDF crews were able to locate and perform this rescue seamlessly," said Capt. Aldante Vinciguerra, chief of response for the USCG Seventh District.
"I am grateful for the continued support of the U.S. Coast Guard and Operations Bahamas, Turks and Caicos (OPBAT) in preventing loss of life at sea and in the continues fight against illicit trafficking in our waters," said Cmdr. Clarence Dean, commander of operations for the Royal Bahamas Defence Force.
Haitian migration routes into the United States have shifted since the great earthquake of 2010, when Brazil began to allow Haitians to enter for humanitarian reasons. The preferred route now begins in Brazil and traverses Central America to the United States' border with Mexico, avoiding the dangerous 700-mile sea crossing from Haiti to U.S. shores.