CMA CGM Orders Ten New Container Ships from China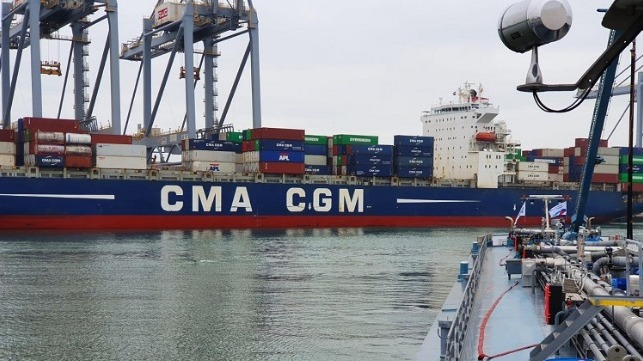 CMA CGM has ordered 10 15,000-TEU container ships, five fueled by LNG and five with scrubbers, from China State Shipbuilding Corporation (CSSC).
The 366-meter (1,200-foot) ships will be delivered from 2021 in replacement of 10 other vessels and will be used on the Asia-Mediterranean lines.
Rodolphe Saadé, Chairman and Chief Executive Officer of the CMA CGM Group, signed the agreement on Monday with Lei Fanpei, Chairman of CSSC, in the presence of French President Emmanuel Macron and Chinese President Xi Jinping. They also signed a cooperation agreement to develop more efficient and environmentally-friendly vessels.
Saadé said: "Through this strategic partnership with the China State Shipbuilding Corporation, we once again opt for LNG propulsion, and we reinforce our efforts to develop ever more efficient and environmentally-friendly vessels. We thereby reassert our leading role in the energy transition of the shipping industry."
In November 2017, the Group announced an order for nine 22,000-TEU container ships powered by LNG, becoming the first shipping company in the world to choose this energy source for vessels of this size.
Also this week, CMA CGM's 5,095-TEU White Shark successfully refueled with sustainable marine bio-fuel oil in Rotterdam trial.
The trial is being conducted by IKEA Transport & Logistics Services, CMA CGM, the GoodShipping Program and the Port of Rotterdam. The sustainable marine bio-fuel oil was developed by GoodFuels. The second-generation bio-fuel oil is completely derived from forest residues and waste cooking oil products. It is expected to deliver an 80-90 percent well-to-propeller CO2 reduction versus fossil equivalents, and virtually eliminates sulfur oxide (SOx) emissions - without any requirement for engine modifications.
The trial was facilitated by the GoodShipping Program, a sustainable initiative dedicated to decarbonizing ocean freight.