CMA CGM and Ikea Trial Bio-Fuel Replacement for HFO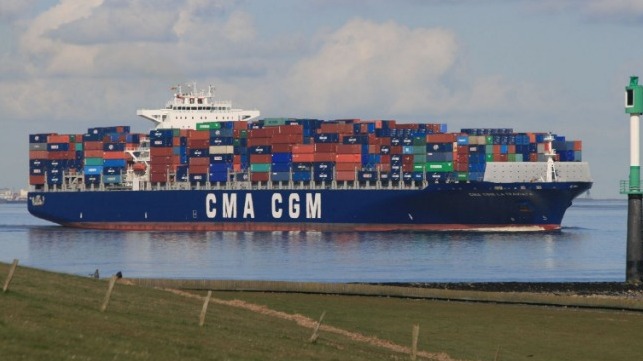 On March 19, a CMA CGM container ship will bunker for the first time with an HFO-like biofuel blend at the Port of Rotterdam. With sponsorship from shipper Ikea, and the approval of the main engine OEM, the vessel will take on an undisclosed quantity of "drop-in" non-petroleum bunker fuel.
"In a few days, we will be testing second-generation biofuel in one of CMA CGM's vessels for the first time," said Xavier Leclercq, VP at CMA Ships. "Having an HFO-equivalent solution in biofuel oil available with no engineering or operational changes required to our vessel offers a safe, manageable and innovative opportunity to facilitate shipping's wider transition to new fuel solutions."
GoodFuels claims that its fuels offer substantial emissions reductions, and the project is expected to deliver a 80-90 percent "well-to-propeller" CO2 and to virtually eliminate sulfur oxide (SOx) emissions - without engine modifications. If successful, Ikea intends to scale the program to "put the equivalent of at least all [its] containers out of Rotterdam on biofuel."
"It's clear that shippers play an important role in decarbonizing the industry," says Port of Rotterdam CEO Allard Castelein. "This bunkering shows that decarbonization of sea trade is well achievable."
As in all biofuel production, scalability would require large sources of feedstocks. GoodFuel's feedstocks include bio-oil (a pyrolysis product derived from wood wastes) and waste cooking oil, both sourced in Europe. Hydrogen is used to upgrade the feedstocks in a manner similar to the hydrotreating process used in petroleum refining.
Waste cooking oil is available in finite quantities, and is already in high demand in Europe for the production of conventional biodiesel for road transport. According to Reuters, waste collectors as far away as Thailand are seeing improved pricing of up to $600-700 per tonne for unrefined restaraunt fryer grease. The premium comes from the desire of end-users to avoid impacts on croplands, human food supplies or undeveloped land, all problems associated with first-generation biofuels from agricultural feedstocks.