CMA CGM Agrees to Buy Mercosul from Maersk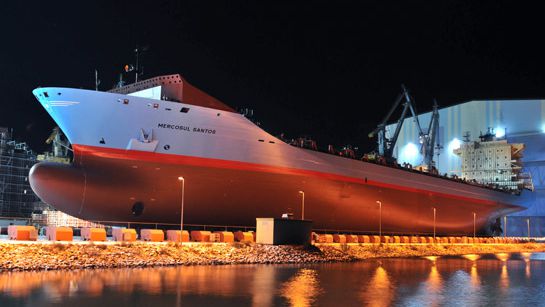 On Tuesday, CMA CGM announced that it has entered into an agreement to buy Brazilian-flag operator Mercosul from leading ocean carrier Maersk Line. CMA CGM said that the purchase will allow it to strengthen its South American offerings, especially in the Brazilian cabotage market, and will further its strategic goal of developing intra-regional networks and complimentary logistics services.
CMA CGM did not disclose the terms of the deal, which is still subject to approval by Brazilian regulators. The agreement is also contingent on the successful conclusion of Maersk's acquisition of Hamburg Süd. CMA CGM expects that it will begin integrating Mercosul at the same time as Maersk begins integrating Hamburg Süd, sometime towards the end of this year. Mercosul Line will continue its normal operations until then.
"The acquisition of Mercosul represents a milestone in CMA CGM's development strategy in South America. It is a well-managed company and we will leverage this platform to expand our footprint and service offerings to and from Latin America, seizing opportunities linked to the high growth prospects in this region," said CMA CGM CEO Rodolphe Saadé.
Earlier this year, Maersk agreed to sell Mercosul in order to satisfy Brazilian anti-trust regulators. Hamburg Süd controls Aliança, a Brazilian flag subsidiary that holds about 60 percent of the nation's total capacity by TEU. Mercosul holds another 20 percent, and the merged company would have controlled an overwhelming majority of Brazil's coastwise shipping industry. CMA CGM was on the short list for potential buyers, along with MSC, NYK, COSCO and Hapag Lloyd.
EU regulators approved Maersk's bid for Hamburg Süd in April on the condition that the latter line withdraws from five trade routes. "The commitments offered by Maersk Line and HSDG will maintain a healthy level of competition to the benefit of the very many EU companies that depend on these container shipping services," said EC commissioner Margrethe Vestager in a statement.