Clarksons Sees "Pivotal Moment" For Offshore Wind Vessel Orders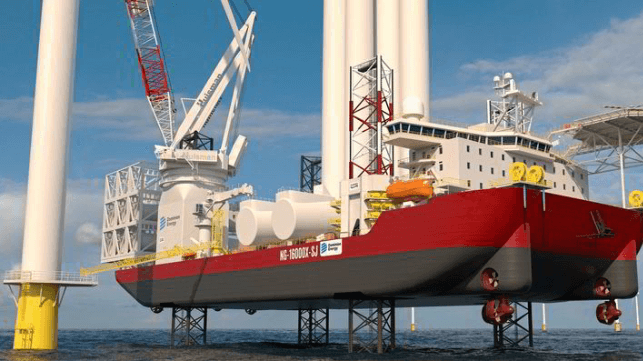 As more countries across the globe prioritize investments in offshore wind to anchor their energy transition, industry experts are warning that a huge gap in the availability of wind logistics and service vessels could impede the effort to hit capacity targets by 2030.
UK shipbroker Clarksons believes that with offshore wind set for an unprecedented growth over the next seven years, a staggering $20 billion of investment is required globally to build 200 new ships if the wind industry is to meet its 2030 targets for offshore wind production.
Going by projects currently in the pipeline, 30,000 bottom-fixed turbines and foundations will be installed by 2030, excluding the domestic Chinese market and floating wind. This means that the wind turbine generator (WTG) installation rate per year is set to double from 700 - 1,000 WTG per year to more than 2,000 WTG per year from 2025.
In addition, by 2030 turbine capacity will range between 15 to 18 MW, and the components will be much larger and heavier than today's 10-12 MW units. This means next generation offshore wind vessels must be bigger, capable of handling turbines with a capacity of around 20 MW.
Clarksons believes that the coming decade is likely to bring unprecedented demand for vessels to service offshore wind projects, with every new wind farm project requiring a whole new group of vessels to look after it over the course of its lifetime. This reality has created a huge surge in demand for new service operation vessels, construction support offshore vessels, crew transfer vessels and jack up vessels.
Currently, the offshore wind vessel supply cannot keep up with demand even if some projects are not developed as planned. This has created a huge gap in the market that is bound to have major consequences in wind projects, including delays and high day rates, according to the study.
"It is clear that we are at a pivotal moment in time for vessel development for offshore wind projects. Right now is the sweet spot for offshore wind vessel development; we're at a point where there are opportunities for ship owners and investors, the likes of which have rarely been seen before," said Frederik C. Andersen, Managing Director of Renewables at Clarksons.
The push for offshore wind to anchor the energy transition is gathering pace, with several new countries, including the U.S, Taiwan, Poland, France, South Korea and Japan making commitments to build wind farms, joining early pacesetters like Norway, Denmark, the Netherlands and the United Kingdom.
Though gaps in the supply of vessels is great news for ship owners and yards, it is becoming a major bottleneck for developers, something that is causing prices to rise and making it difficult to secure favorable terms and conditions for projects.
The recent resurgence of oil & gas is also complicating the situation for offshore wind as vessel owners who had decided to utilize their tonnage in wind following the oil & gas price crash in 2014 are now once again using the vessels for their original purpose.
According to Clarksons, governments must step in and support investments in vessels, akin to what is happening in the U.S. where MARAD is offering financing for offshore wind vessel development. Wind farm developers must also commit to long-term contracts to support construction of new vessels, and green funding schemes can play a role by creating more favorable finance terms.