Carrier USS Nimitz Celebrates 50 Years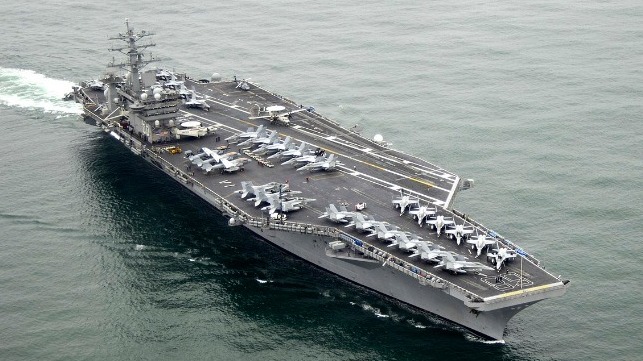 The USS Nimitz (CVN 68), the oldest U.S. Navy carrier in active service, is celebrating 50 years since her keel laying. She has completed 28 deployments, over a quarter of a million catapult launches and arrested landings, five homeport changes, and countless operations and missions.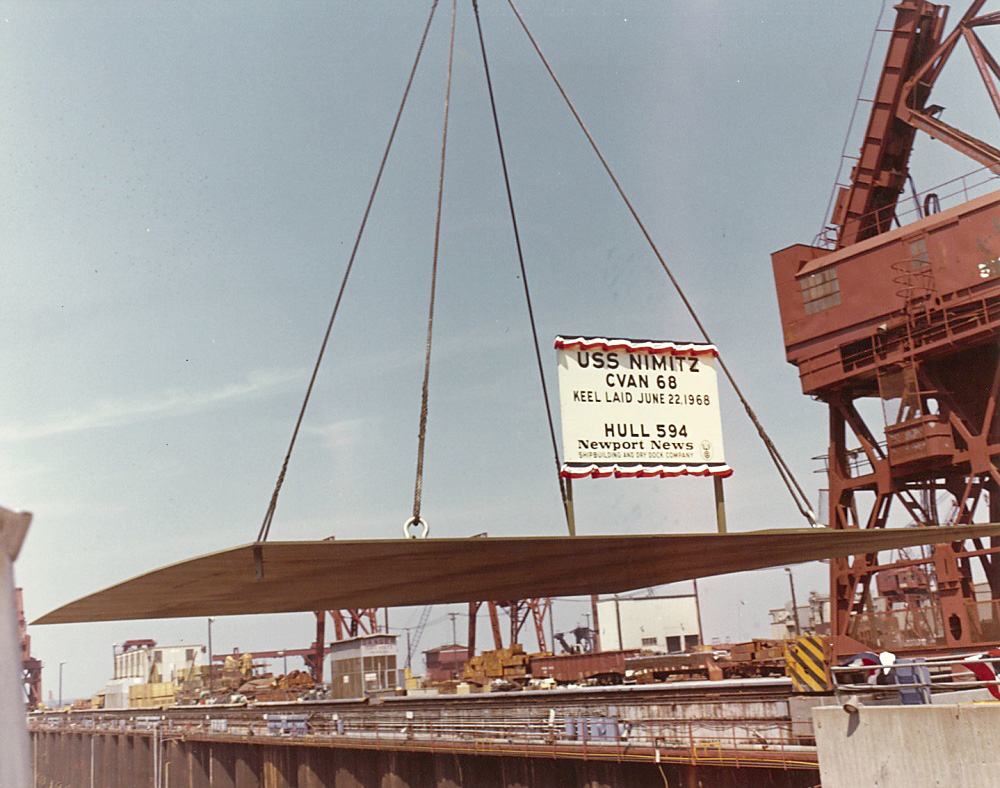 After building the first nuclear powered aircraft carrier, USS Enterprise (CVN 65), the Navy decided to create an entire class of aircraft carriers powered by nuclear reactors. CVN 68 was the first of them, and Congress authorized her construction during FY1967. The Navy contracted with Newport News Shipbuilding and Dry Dock Co., in Newport News, Virginia, to begin building the following year. CVN 68's keel was laid down on June 22, 1968 (left), and the ship was commissioned on May 3, 1975, by President Gerald R. Ford at Naval Station Norfolk.
The first-in-class carrier was named USS Nimitz, after Fleet Adm. Chester W. Nimitz, the commander of Pacific Fleet during the Second World War. Adm. Nimitz oversaw U.S. Navy strategy in the Pacific from just after the Pearl Harbor attack until the end of the war. Nimitz was also a leader in nuclear submarine technology and in the development of underway replenishment (UNREPS), a technique that helped the Navy extend its reach and endurance during the battle for the Pacific.
Since USS Nimitz was commissioned into active service, she has spent years out to sea, and has been an instrumental part of the success and longevity of the Navy's mission. Tens of thousands of sailors have spent formative years of their naval careers as Nimitz crewmembers, some spending multiple tours onboard.
Cmdr. Chuck Jones, from LaCenter, Washington, is currently on his third Nimitz tour. He served as a chief electricians mate and leading chief petty officer of a division in reactor department from 1995 to 1997. On his second tour, from 2010 until 2013, he was a lieutenant commander serving as the ship's maintenance manager. His current tour began in April 2017, and he serves as the ship's chief engineer.
Cmdr. Jones recognizes the importance of the proud history and heritage of the ship the crew calls home. "It's a big deal for a ship to reach close to 50 years and have people say she looks like she can do many more. We have done a very good job of taking care of her over the years," Jones said.
Scott Telecky, from Wenatchee, Washington, was a plankowner on the Nimitz. Telecky served as an electronics technician first class on board from 1975 until 1978, and he looks back on his time on Nimitz with fondness. "Being a plankowner creates a special bond with the ship. Watching the president of the United States actually commissioning the ship is a moment I'll always recall with great clarity," he said.
Telecky also spoke warmly about the long-standing friendships he made with his fellow Sailors. "After 43 years, I still keep in touch with many of my shipmates. The camaraderie is still there whenever we start reminiscing about the old days. It's a bond we'll always have," he said.
With the arrival of the new Gerald R. Ford-class of nuclear-powered aircraft carriers, the legendary career of the USS Nimitz is projected to end in the coming years. However, the legacy of this renowned ship will never be forgotten, and the tradition of teamwork will continue to live on.