Carrier USS Ford Passes Key Test in Preparation for First Deployment
Deployment of USS George H.W. Bush extended in the interim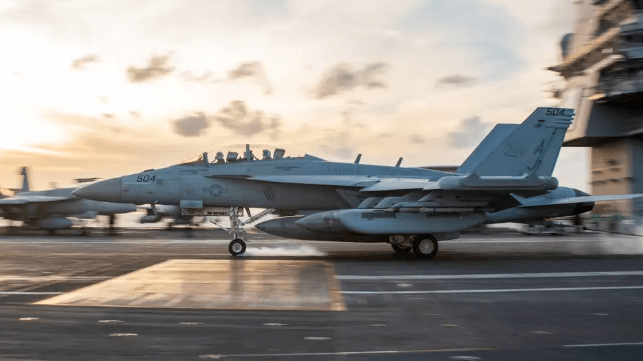 The carrier USS Gerald R. Ford has completed a strike group carrier exercise in preparation for her first full-scale operational deployment, U.S. 2nd Fleet announced Monday.
Ford, delivered to the Navy in 2017, has undergone a gradual process of commissioning, training and repair over the past six years as the service works through kinks in her first-of-a-kind mission systems - some of which were not developed to maturity before installation. That extended period of work is finally beginning to pay off, and she is now ready to go to work, according to 2nd Fleet.
In early March, USS Ford and her escorts began a workup exercise to prepare for deployment. The standard Composite Training Unit Exercise (COMPTUEX) tests the ability of the strike group and its sailors through simulated combat situations, including aircraft, submarine and missile attacks, ship casualties and comms drills. The exercise's scenario was designed to "mirror the real-world geopolitical environment" for an upcoming deployment to the Mediterranean, where USS Ford is scheduled to eventually relieve USS George H.W. Bush.
Throughout the work-up process, the Navy has emphasized human factors rather than Ford's engineering. "It comes down to people. We can talk about technology day in and day out," CO Capt. Ray Lanzilotta told Navy Times before the exercise. "But the things that make this [work] happen to be humans with beating hearts."
After the exercise, the strike group's leadership stressed the readiness of their sailors. "Throughout COMPTUEX, the Gerald R. Ford Carrier Strike Group team demonstrated a learning mindset and focused on continuous improvement," said Rear Adm. Jeffrey "Caesar" Czerewko, commander of Carrier Strike Group 4. "I am confident that this strike group is adaptable, capable and lethal."
As Ford gets ready to deploy, the Department of Defense has signed off on extending the tour of carrier USS George H.W. Bush, which is in the Mediterranean awaiting relief. In a development first reported by Reuters, the Pentagon confirmed that USS Bush and her escorts will stay in 5th Fleet past the seven-month mark, the limit beyond which the Secretary of Defense must sign off to extend deployment. The Pentagon cited recent attacks on U.S. forces in Syria for the extension, saying that USS Bush would remain in theater in order to give regional combatant commander options to respond to events on the ground.