Canada's Arctic Offshore Patrol Ships to be Operational by 2025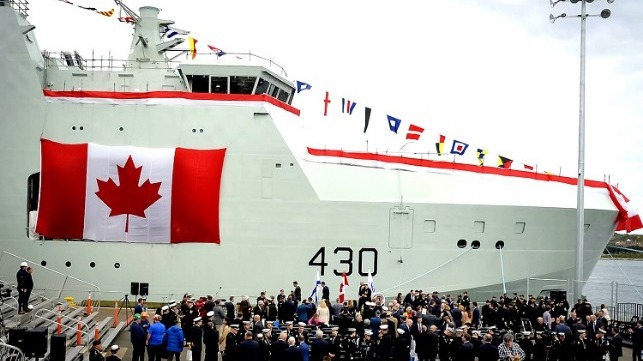 Canada's Department of National Defence has announced that the nation's fleet of Arctic Offshore Patrol Ships will be operational by 2025.
The six ice-capable Arctic and Offshore Patrol Ships (AOPS) will be used by the Royal Canadian Navy to conduct sovereignty and surveillance operations in Canada's waters as well as to conduct a wide variety of other operations. They can respond to search and rescue and humanitarian missions anywhere in the world, along with the capability to operate in Arctic waters in sea ice up to one meter thick. The ships will also be compatible with the Royal Canadian Air Force's new maritime helicopter, the CH-148 Cyclone.
With the official cutting of steel, the lead ship in the class, the future HMCS Harry DeWolf, entered full production in September 2015. She was officially named in October 2018 and is anticipated to be delivered delivered to the Royal Canadian Navy this year but won't be operational until 2020. The future HMCS Margaret Brooke, entered full production in August 2016 and is also expected to be delivered this year. Jetty infrastructure projects that are needed to support the new fleet in Esquimalt, Halifax and Nanisivik are underway.
The vessels, being built by Irving Shipbuilding, were announced in 2007 by then prime minister Stephen Harper. They were anticipated to be operational by 2013, but the project has suffered delays. Critics have also questioned why Canada is paying around $400 million per ship when Denmark received similar vessels for $70 million each, reports the Ottawa Citizen.
In November 2018, the government announced it was building a sixth Arctic patrol ship to add to the five originally commissioned from Irving Shipbuilding. But it acknowledged that ship will cost $800 million, double the price of the other vessels.
Major subcontractors for the newbuildings include Gibbs & Cox, Lockheed Martin, General Electric, Fleetway Inc., Lloyds Register, BAE Systems and L-3 MAPPS. In-service support will be provided by Thales Canada Inc. and Thales Australia Inc.