California Bill Would Make Stores Liable for Drayage Labor Abuses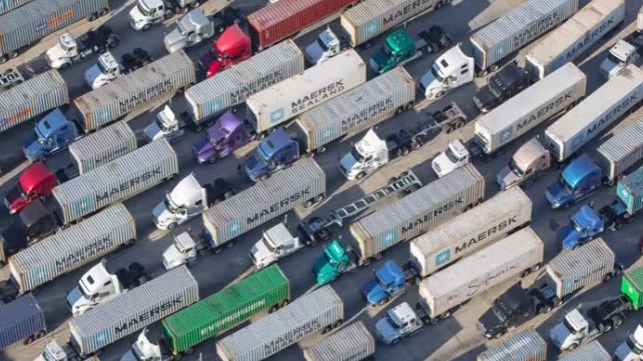 On Wednesday, a state senator from Los Angeles introduced legislation that would make retailers liable for labor violations at the port trucking companies they hire. The bill has received endorsements from the mayors of Long Beach, Los Angeles and Oakland, California's three biggest port cities.
"While we have some great trucking companies working at the ports, we need to fix our system to make sure all truckers are treated fairly," said Long Beach Mayor Robert Garcia. "We need to raise standards, and wages, in the industry while increasing efficiency to make sure our ports continue to be engines of growth."
The bill, introduced by State Senator Ricardo Lara, would create a list of trucking companies that have a history of unpaid final judgments for failure to pay wages, imposing unlawful expenses on employees, failing to remit payroll taxes and other violations. A retailer hiring a company on this list would be jointly liable for any future state employment law violations by the trucking company.
"Port truckers are driving the global economy and delivering for the biggest brands but they can barely afford to buy clothes for their families," said Senator Ricardo Lara, who represents the Port of Long Beach and surrounding neighborhoods. "These used to be good jobs, and they can be good jobs again if retailers join us in improving labor conditions here in California and putting dignity back in the driver's seat."
Sen. Lara noted that drayage drivers in California are a largely immigrant workforce, and are often forced to lease their own trucks in order to work - an arrangement that may leave them owing money rather than receiving wages. Under California law, Sen. Lara said, drayage truckers are employees, but they are routinely misclassified as contractors to circumvent labor regulations. An enforcement effort is well under way: the California Labor Commissioner's Office has won in excess of $45 million in judgments against port trucking companies, and none of these awards have been overturned on appeal.
In a release issued Wednesday, Sen. Lara quoted a local trucker who was concerned about the costs he would be forced to pay for his own new semi truck as a condition of employment. "I live near the harbor and my family wants clean air as much our neighbors do. But laws need to be passed so misclassified drivers like me are not forced to pay for expensive new zero emissions trucks that I do not own," said Manuel Martines, a port truck driver from Los Angeles. "If something isn't done, drivers will have to go on strike again."
The Harbor Trucking Association, a trade group backed by Total Terminals, APM Terminals, Long Beach Container Terminal and regional transportation businesses, said Thursday that Sen. Lara's legislation was misguided. "This is another example of a California politician who doesn't understand the drayage . . . industry," LaBar told USA Today in an emailed statement. "This assault on the trucker's right to choose their business model needs to stop."