British Port Groups Diverge on Post-Brexit Customs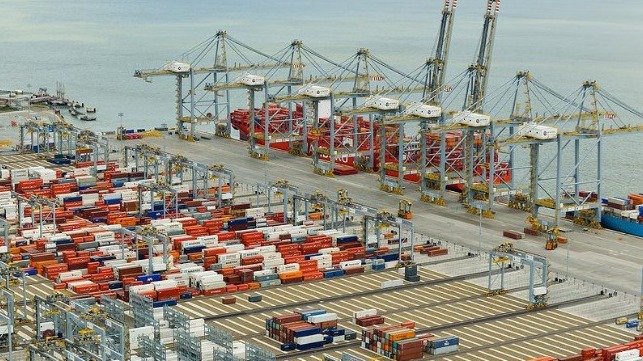 The UK's two ports associations are sounding different notes on Britain's post-Brexit customs arrangements with the European Union. The British Ports Association - whose members include ro/ro ports handling over half of all UK-EU trade - is in favor of retaining the benefits of the EU Customs Union in some form. BPA has endorsed Prime Minister Theresa May's plan for a "customs partnership," which would see the UK collect EU tariffs in exchange for "business as usual" customs protocols for goods traded between the EU and UK.
"The Customs Partnership . . . would appear to be the only proposal where freight is not subject to new customs controls at those ports dealing with EU traffic," said BPA CEO Richard Ballantyne in a statement Wednesday. "This would also create a framework where goods crossing the Irish border could continue uninterrupted and allows the UK to negotiate new trade deals with countries outside the EU." The other option under consideration - "streamlined customs" - would require declarations for each vehicle crossing the pier in Britain's ro/ro ports, Ballantyne warned, which could lead to traffic congestion, slowdowns and delayed deliveries due to new inspections.
The UK Major Ports Group, which represents the nation's top container terminals but not its top ro/ro ports, has a more ambivalent stance on the details of post-Brexit customs. In recent announcements, it has emphasized its members' readiness to implement customs checks if required - so long as the government gives clear guidelines on what those requirements will be.
"UK Major Ports Group members have the systems and processes in place today that successfully handle up to 95 percent of trade coming through their ports from outside the Customs Union. Ports operators have proved time and again that they can adapt successfully to major change – but to do so they need clarity on what changes are needed," outgoing UKMPG CEO Tim Morris wrote in a statement last month.
UKMPG's new leader, Forth Ports CEO Charles Hammond, told the FT last week that Britain's seaports are "ready and prepared" for Brexit. He indicated that port operators are already investing in inspection areas and warehouses in order to be ready for new customs requirements.
Open Irish border guaranteed
Irish Prime Minister Leo Varadkar has refused to endorse any Brexit withdrawal or transition period agreements unless the UK guarantees that there will be no reimposition of a "hard" land border with Northern Ireland, which is part of the UK. Britain, Ireland and the rest of the EU all want to avoid creating a customs border on the island, since it could separate communities, impede trade and resurrect memories of past violence. The border area was a militarized zone during the 30-year conflict between the IRA and British security forces.
Under a "backstop" deal agreed by the UK cabinet on Thursday, Britain will match EU tariffs after 2020 if it cannot make another agreement with Brussels within the next two years. The plan guarantees free-flowing trade across the Irish border, but without creating a difference between customs in Northern Ireland and in the rest of the UK, as envisioned in a previous EU proposal.