BHP Deploys Drones to Speed Port Operations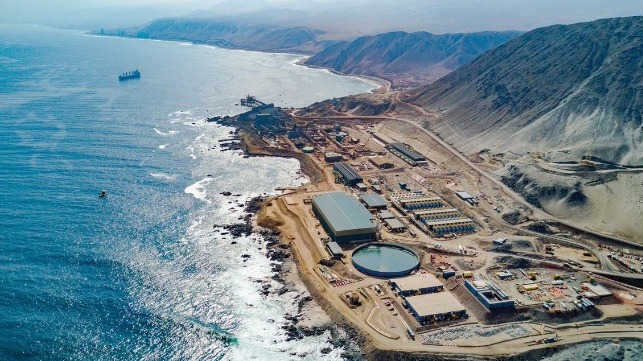 Mining and energy giant BHP Billiton is trialing the use of drones to speed up its port operations. The firm intends to deploy small unmanned aerial vehicles to take draft readings and inspect holds on giant bulkers as they wait to load rather than dispatching human inspectors for the purpose.
BHP VP of marketing freight, Rashpal Bhatti, is a prominent technological evangelist in shipping, and he believes that information collected by drones will one day feed into the BHP-supplied tablets that bulker captains use at BHP terminals. "All of our chartered ships receive a tablet when they berth. And on the tablet they can read the tension of the mooring line which has major safety benefits," Bhatti says. "It's all a bit futuristic but that is the direction we are going.''
BHP charters about 1,500 dry bulk voyages for 300 million tonnes of cargo every year, giving it an outsize position in the market. The volume of its business means that small optimizations in each loading process - like reducing inspection times - could translate into large savings.
"The hold inspection process involves ships which have five to nine holds which a person checks by climbing down ladders. The inspector has to be physically fit, use fall protection, and carry [an oxygen meter] to make sure there is enough air in the hold. And it takes a lot of time,'' Bhatti said. BHP expects that inspecting a ship's holds using drones instead could cut the time required by as much as three quarters. In addition, Bhatti suggests that drone-mounted sensors could detect things that humans could not, like "cracks or other specific parameters that cannot be seen with the naked eye.''
Drone-based inspections have also been trialed by class societies and third-party contractors, especially in the offshore sector, where they can greatly simplify the process of checking on complex rig structures. In the ports sector, Maersk's APM Terminals division recently deployed drones for safety and security monitoring at two inland terminals in Chile, where they keep tabs on facility operations and watch out for unsafe behavior. Maersk says the trial shows strong potential and drones are likely to make an appearance at other APM sites as well.
BHP already has extensive experience with drones in its shoreside operations. It uses aerial drones at its coal mines in Queensland, Australia for aerial site surveys; blast zone safety checks; traffic monitoring; and stockpile measurement. It also deploys drones in its oil and gas processing facilities for inspections.
Drones are not the end point of Rashpal Bhatti's vision for change in the maritime industry: he is also a noted supporter of autonomous vessel technology. "Safe and efficient autonomous vessels carrying BHP cargo, powered by BHP [natural] gas, is our vision for the future of dry bulk shipping. We believe that future could manifest within a decade," Bhatti announced last year.