Australian Offshore Production Ramps Up as FPSO Prepares for Restart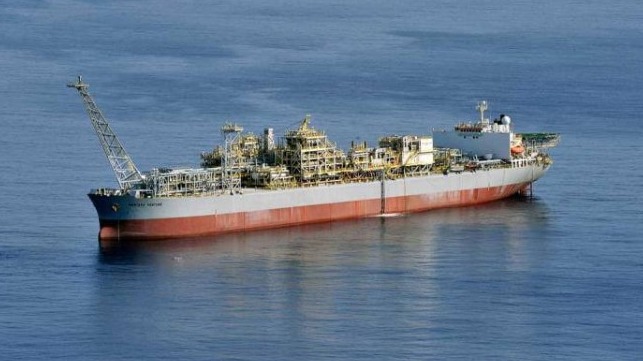 Operations in Australia's offshore energy sector are ramping up at the start of 2023 after both Jadestone Energy's Montara Venture FPSO and Shell's Prelude Floating Liquified Natural Gas (FLNG) facility experienced a series of problems that took them offline in 2022. Shell reported in January that its giant Prelude facility had resumed shipments and today Singapore-based Jadestone said that it is on track for a restart later this month for its facility.
The Montara Venture FPSO is located in a field approximately 420 miles northwest of Darwin. The company had previously said it could expect to operate at a range between approximately 11,000 and 13,000 boe/d when production was restored. The facility spent the second half of 2022 offline. First, in June they discovered an oil leak and despite initial repairs and a brief restart, the company in August reported that an additional internal defect in a water ballast tank was also detected, which would also require repair.
Australia's National Offshore Petroleum Safety and Environmental Management Authority (NOPSEMA) issued a prohibition notice following the oil spill in June and then in September slapped the company with a more wide-reaching general direction order. NOPSEMA's order required that Jadestone engage an independent reviewer to undertake a gap recognition review, and assure Jadestone's remediation plans and operational readiness before the restart of production operations. The regulators said they would also review the independent reviewer's report before the restart of production through the FPSO.
Jadestone engaged DNV for the independent review of the remediation plans and operational readiness of the Montara Venture FPSO. The company now reports that the report was completed and submitted to NOPSEMA on January 18. The review has been completed and the regulators informed the company that the General Direction is now closed.
"The closing of the General Direction is a very important step towards restarting production at Montara," said Paul Blakeley, President and CEO of Jadestone. "As previously reported, we have elected to carry out most of this year's planned annual shutdown work in parallel with the tank work to maximize efficiency during this period. The combined work scope is making good progress and when completed, we will declare operational readiness and deliver a safe restart of production, which is still targeted before the end of this month."
The company said that both hull and tank repair activity and the scheduled 4-yearly planned topsides maintenance activities on the Montara Venture FPSO are progressing well. Also, during the prolonged shutdown, Jadestone reviewed its strategy reporting that it planned to increase efficiency and uptime at Montara in part by keeping key spare parts on site. At the beginning of 2022 production at the facility was also running at reduced rates following an engine failure in the gas reinjection compressor. The engine was replaced and the gas lift was reinstated at the beginning of March.
Shell's Prelude FLNG, the largest floating plant for natural gas liquefaction in the world, has already come back online with the company reporting the first shipment on January 19, 2023. Like the Montara, the Prelude had a series of outages in 2022. A power outage in December 2021 uncovered issues that limited production till April 2022, and then in June a union contract dispute started with wildcat strikes that lead to a full shutdown. The strike lasted 76 days with the facility resuming shipments in September. Production was again suspended in December 2022 after reports of a small fire and Shell saying that technical maintenance was required.