Arrest in Bomb Threat Against MSC Containership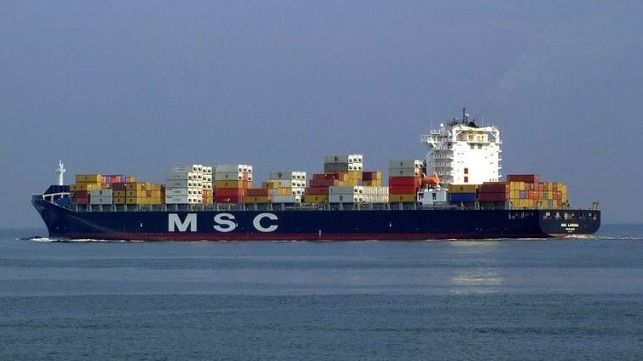 Update: Two days after arresting the first suspect (reported below) the Dutch police arrested a second suspect. The second person is a 24-year-old male from Delft. The police said the intention is to recover financial damages from the two individuals because the fake bomb threat delayed the ship for a week. In addition, they said they are taking into account the scenario that the incident is related to international drug trafficking. The investigation is ongoing.
Dutch police are reporting that they have made an arrest in a bomb threat three weeks ago against an MSC containership shortly before it arrived in Antwerp. The vessel was ordered to reverse course as it was navigating into the port and held for a week at an anchorage off the Dutch coast while the investigation was ongoing.
The Dutch National Police reported the arrest on January 10 of a 22-year-old man from The Hague. He was being held on charges of having made a threat in a terrorist crime. No additional details were provided on where the arrest was made or how they were able to find the individual. The report only said that the Infrastructure Service of the National Police had tracked down the individual and that the investigation is ongoing.
The MSC Lorena, a 59,587 dwt containership, was inbound to the Port of Antwerp on the night of December 22 when the Belgian police received a telephone threat against the ship. The caller reportedly told the police that the vessel would explode shortly after docking at the port. The 902-foot vessel, which has a capacity of 4,870 TEU, had completed most of the transit along the River Scheldt reaching a point just west of Antwerp near the town of Rilland when the threat was received. The police ordered the vessel to reverse course and proceed to the Vlissingen anchorage.
The police held the vessel until December 29 with the crew remaining aboard and the ship in the Dutch anchorage. The police determined that the threat was a hoax and released the vessel which then proceeded back on course to Antwerp. She departed Antwerp on January 4 bound for Lome, Togo where she is due to arrive on January 14. The ship operates on a route that includes calls at the African ports of Lome; Lagos, Nigeria; Abidjan, Cote d'Ivoire; and Dakar, Senegal, where she had departed on December 16 bound for Antwerp.
The police told the local media in the Netherlands that they would not rule out additional arrests in the case. Several departments are currently continuing the investigation.
Top photo of MSC Lorena on a prior voyage by Alf van Beem (public domain photo CC0 1.0)