On Tuesday, global insurance conglomerate Allianz released its review of maritime casualties for 2016. 85 large ships were lost worldwide last year, down 16 percent compared with 2015 and the lowest number in a decade. Human error remains a leading cause of accidents, with $1.6 billion in losses due to mistakes and negligence over the past five years - and economic challenges are an increasing concern.
"Crew negligence and inadequate vessel maintenance are two potential areas of increasing risk, particularly if ship-owners opt to recruit crew with less experience and training, or choose to stretch maintenance work to the longest possible intervals in order to save money," says Duncan Southcott, Allianz Global Corporate & Specialty's head of marine claims.
Overall casualties (including machinery and engine damage) were down four percent compared with the prior year. "While the long-term downward loss trend is encouraging, there can be no room for complacency," said Baptiste Ossena, Allianz's head of hull and marine liabilities. "The shipping sector is being buffeted by a number of interconnected risks at a time of inherent economic challenges."
In particular, Allianz highlighted the risks stemming from the combination of human error and cybersecurity threats. An estimated 80 percent of cybersecurity breaches in the offshore sector stem from employees' mistakes, making crew training an essential component of any plan to combat hacking. The agency warned that cybersecurity should not be neglected even though training and maintenance budgets are under
pressure.
Breakdown of casualty statistics
Cargo vessels accounted for about one third of the losses last year, followed by fishing vessels, passenger vessels, ro/ros, tugs and product tankers. Foundering was the leading cause of loss, and foul weather was a predictable complicating factor. Fire and explosion losses were up slightly year-over-year.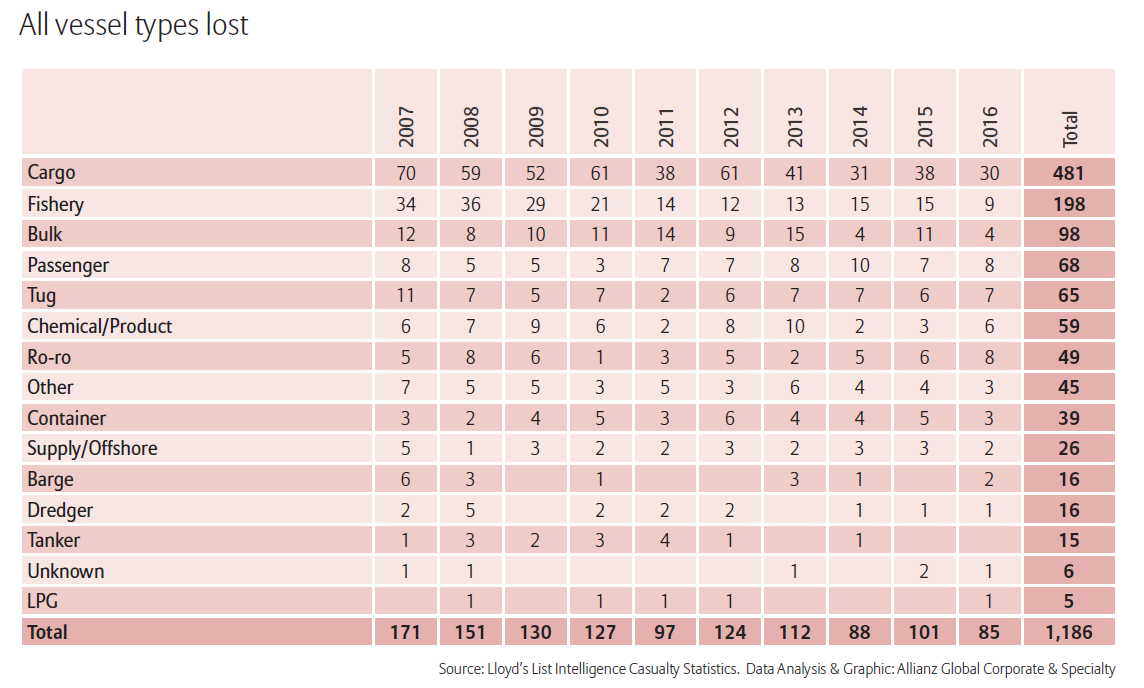 In terms of tonnage, the largest loss of the year was the 160,000 dwt bulker New Mykonos, which went aground January 29, 2016 south of Madagascar. She ultimately broke up and sank, spilling part of her cargo of coal.
Allianz highlighted the great strides that the crude tanker industry has made in recent years thanks to self-regulation and high safety standards. There have only been 15 tanker total losses over the past ten years, and none at all for the past two years. "Coastal passenger, cargo and fishing vessels could learn from its safety culture, benefiting from a more proactive approach to investment in safety management systems, training and spare parts," Allianz wrote.
Geographically, Southeast Asia maintained its lead for number of total losses with 23 casualties, about a quarter of the total, followed by the Mediterranean. The East Mediterranean maintained its lead for total casualties of all kinds, including machinery damage.