Alaska Cruise Market Rebounds
Alaska's cruise market is heating up: more cruise lines are adding Alaska to their schedules while others expand their presence with newer and larger ships. As a result, Alaska is poised for record years in both 2018 and 2019.
"Historically, the global industry and Alaska as a destination have seen steady and impressive growth," says John Binkley, president of Cruise Lines International Association (CLIA) Alaska. "Alaska diverted from this trend following the implementation of significant tax increases in 2007, but turned around that decline after the industry and the State of Alaska reached an agreement on lowering tax levels."
In 2010, the cruise industry had cut capacity in Alaska by about 14 percent, but with the repeal of the head tax, the market has been steadily rebuilding. As a result, Alaska achieved a record number of out of state visitors in 2016, a four percent increase to nearly 1.86 million tourists, with the cruise industry contributing 55 percent of the total. It was the first time since 2009 that the cruise industry topped one million passengers and the momentum is continuing. CLIA Alaska projects that 1,089,700 passengers cruised in Alaska in 2017 and that it will grow another seven percent to a projected 1,165,500 passengers in 2018.
Evolving Market
Known for its natural beauty, wildlife and recreational activities, Kristin Nawoczenski, Marketing Manager at Bosco's Travel in Pennsylvania, explains the state's popularity saying, "Alaska is perceived as a safe, stable destination, and travelers who experience it rave about it to their friends and family."
It is that ability to generate some of the highest passenger satisfaction ratings in the industry, along with strong yields, that prompts the cruise lines to prioritize Alaska as a destination. While it is a seasonal market, they also have been able to extend the season to approximately 20 weeks, and the addition of more adventurous excursions is attracting younger and more active passengers.
The cruise industry reports that about 30 percent of passengers in Alaska are first time cruises, but the market is evolving according to Lori Sheller, Vice President of Cruise Development at Tourico Holidays. "An Alaska cruise was once perceived as a 'one and done' experience," says Sheller. "We are finding that customers are now repeating two, three or even four times."
Gloria Price, Director of Marketing at iCruise.com, is seeing a similar trend. While she notes that first-time cruisers make up over 40 percent of the customers at their AlaskaCruises.com site, she says, "People go back for new experiences and new ships."
Larger Ships, More Cruises
The cruise lines' schedule for the 2018 and 2019 seasons reflects these trends. The two oldest and largest firms in the market are each adding tonnage. Holland America Line added a seventh ship in 2017 as it marked the seventh anniversary of the first tours run by Chuck West, an Alaskan bush pilot who helped invent the modern Alaska market. In 2018, they will increase capacity a further three percent moving the Amsterdam on to seven-day cruises and another eight percent in 2018 for over 255,000 berths in total.
Similarly, Princess Cruises, which ran its first cruises in Alaska in 1969, will increase capacity by nearly 20 percent in 2018 adding a seventh ship to the market for its largest ever deployment in Alaska. In 2019, Princess also joins the trend of sending the largest ships to Alaska when its 141,000 gross ton, 3,560-berth Royal Princess joins the market.
Norwegian Cruise Line will be the first to bring the newest and largest ships to Alaska, as it introduces the brand new 167,800 gross ton, 4,000-berth Norwegian Bliss in June 2018. The largest cruise ship to ever sail in Alaska, it is also the first time in many years that a brand new ship has debuted in Alaska. Despite shifting the smaller Norwegian Sun away from the market, Norwegian will still increase its total capacity in Alaska by 18 percent in 2018.
Royal Caribbean International, which previously had the largest ship in Alaska with the 137,308 gross ton, 3,286-passenger Explorer of the Seas, will respond to the competition by moving the three-year old 168,666 gross ton, 4,180-passenger Ovation of the Seas to Alaska in the 2019 season. This reflects a change in strategy for Royal Caribbean, which had positioned this ship year-round in China and Australia. Royal Caribbean's sister brand Celebrity Cruises, which also has a major presence in Alaska, plans to replace the smaller 2,170 passenger Celebrity Infinity with the 2,850 passenger Celebrity Eclipse in 2019.
Other cruise lines are joining in. For the first time in 15 years, Seabourn Cruise Line returned to Alaska in 2017. Windstar Cruises returns to Alaska in 2018, and Cunard Line will send the Queen Elizabeth on four cruises to Alaska at the beginning of the 2019 season. Among the luxury smaller cruise lines, both Azamara Club Cruises and Viking Cruises will launch their first Alaska cruise programs in 2019.
CLIA Alaska highlights that between 2015 and 2018 average cruise ship tonnage has increased 18 percent and capacity will have grown by about 14 percent. The strong demand for Alaska cruises is expected to continue to shape the market over the next few seasons.
Celebrity Millenium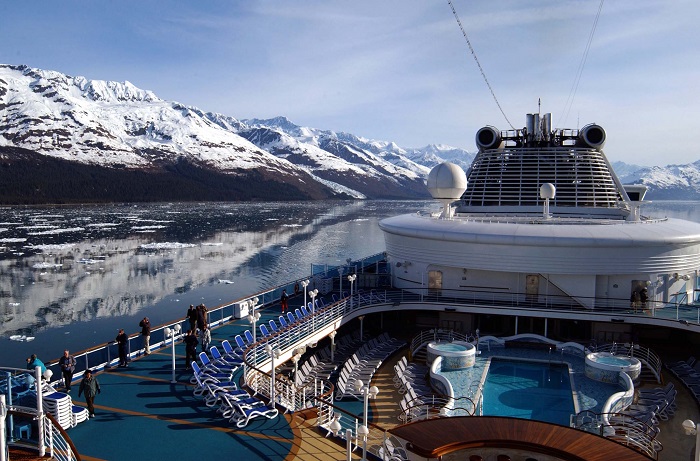 Diamond Princess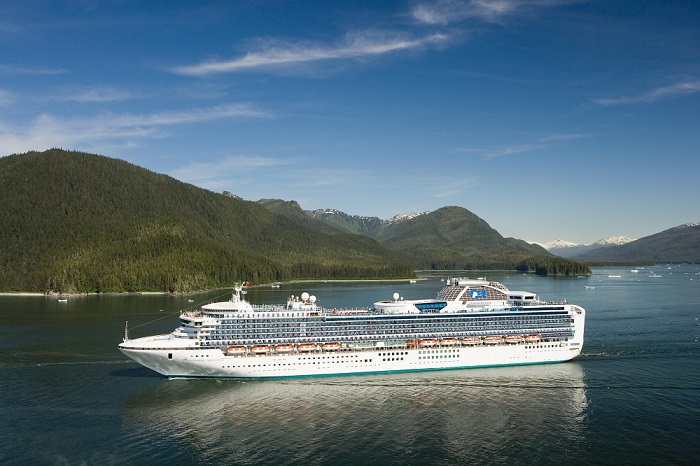 Saphire Princess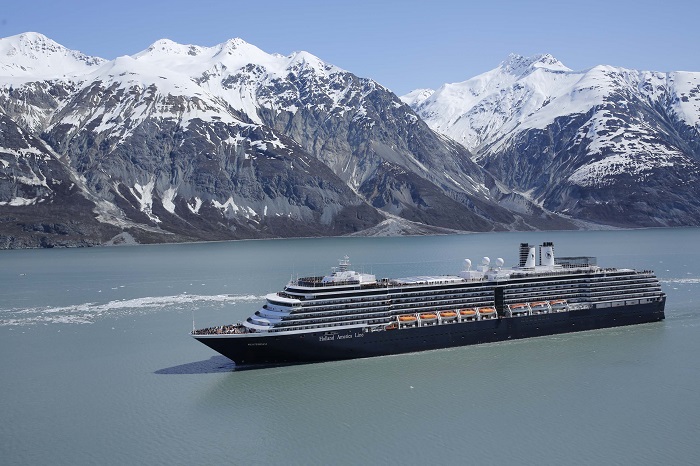 Westerdam