Acapulco To Become Cruise Homeport
Acapulco, long known as one of Mexico's premier resort destinations, is going to become a cruise homeport. The Mexican Tourist Board in conjunction with British-based cruise operator CMV Travel & Leisure Group announced the new program due to start in February 2019.
CMV is launching a new group called Cruceros Maritimos Vacacionales aimed exclusively at the Mexican domestic market and will position its cruise ship the 46,052-gross ton Magellan in Acapulco for an initial 10 week program of seven-night round trips from Acapulco. Sailing on Sundays, the cruise will call at Cabo San Lucas, Mazatlán, Puerto Vallarta and Manzanillo. CMV is also exploring offering three and four-day portions along with hotel packages in Mexico.
While Mexico has developed a strong domestic tourist industry and Mexicans are cruising on ships around the world, no cruise ships are currently based in Mexico dedicated to the domestic market. CMV views Mexico, a country with a population of 130 million and a growing economy, as a natural extension of its national programs. They believe that Mexico can be developed as a sustainable market. CMV's goal is to operate a longer program in the winter of 2019-2020. As the market is developed, they also believe it would be possible both to base the ship year-round in Acapulco and attract international passengers. The target would be to source 80 to 85 percent of the passengers domestically.
The Mexican Tourist Board highlighted Acapulco as a natural homeport for the cruises because of its well-developed tourist business, variety of attractions and water sports and events such as the recently concluded Acapulco Tennis Open. They expect there will be a market for sail and stay programs in Acapulco and will be investing in the port to support the new program as well as with advertising.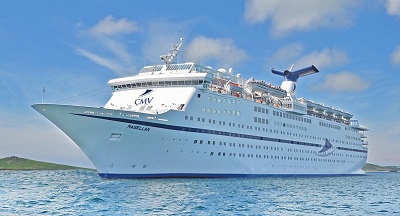 Previous attempts to build a domestic Mexican cruise market were unsuccessful as the ships were older and did not up to the quality expectations of the market. Those previous efforts also suffered from bad timing and under developed management and operations.
"Mexicans can feel proud that this is a ship of quality," says John Dennis Vice President of Sales and Marketing of the CMV Fort Lauderdale-based sales office and who will oversee the management of the Mexican operation. Built in Denmark for Carnival Cruise Lines, she was launched in 1985 as the Holiday and between 2010 and 2014 sailed in the Spanish market as the Grand Holiday. The ship was refurbished and relaunched in 2015 as the Magellan sailing primarily in Europe for CMV. For the Mexican cruises, CMV plans to adjust the operations to reflect Mexican preferences in food and activities, and onboard the primarily language will be Spanish. The Magellan accommodates 1,250 passengers in 726 cabins including 14 balcony suites.
Magellan will begin her repositioning to Acapulco with a trans-Atlantic crossing that will be marketed internationally followed by cruise departing Cozumel, Mexico that will transit the Panama Canal arriving in Acapulco in January 2019. She will then preform a private charter serving as an accommodation ship for the World Youth Organization meeting before launching her Acapulco cruise program.