AAL Executes Australia's First Vacuum Pad Pipe Lift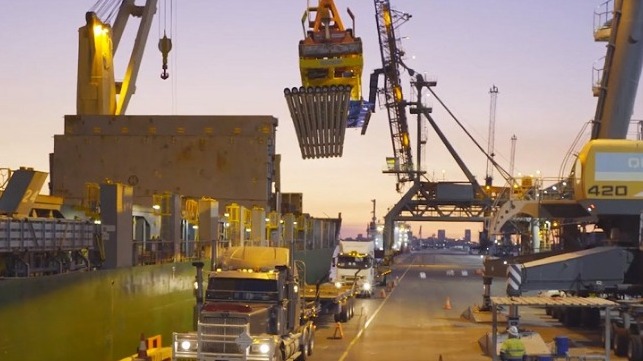 Breakbulk operator AAL has used a multi-lift vacuum system to discharge a cargo of pipes - a first use of the technology in an Australian port.
The cargo of 24,996 steel coated pipes (18 meters in length and weighing a total of 13,386 tons) was loaded in Baoshan China and discharged in Darwin from the multipurpose heavy lift vessel, the AAL Bangkok. The cargo was delivered for the Bao Australia pipeline, for which logistics provider Qube has been contracted for cargo discharge and landside operations.

Traditionally, pipeline handling operations have involved hooks and cranes.

Head of Transport Engineering at AAL, Nicola Pacifico, said the vacuum pad system improved the safety of the operation by eliminating the use of hooks and that data analyzed before, during and after the operation demonstrated increased productivity.