Odense, Denmark's third-largest city, is one of the country's few commercial centers that was not founded by the coast, and access from the fjord and sea beyond was poor. But one of the country's largest-ever state-funded projects successfully established a harbor at the end of a man-made canal – an 8.5 km sea lane.
From the 1880s it was extended with a new basin, deepened and geared to trade with Britain. The Odense docklands became densely built up with warehouses, coal sites and silos – and one of Denmark's largest steel shipyards, founded in 1918 by shipping magnate A.P. Møller.
Odense Steel Shipyard was best known for building container ships including the Maersk E-class in 2006 which at the time were the biggest container ships in the world. The global financial crisis led to Maersk announcing its closure in 2009 and the last new ship was delivered in January 2012.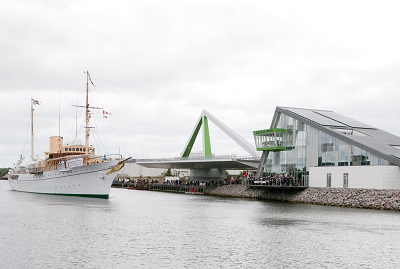 This has not signaled the decline of maritime life for Odense. It remains the fourth largest port in Denmark and is home to a top class industrial area Lindø Industrial Park recently purchased by the Port of Odense. "The potential is bigger yet, and the Port of Odense does not stop at the acquisition of the industrial park," says CEO Carsten Aa. "We will continue investing in cranes and other necessary equipment and infrastructure. At any time, we will act proactively to maintain our leading position."
All up, Aa believes that the port area will ultimately have a floor space of around 700,000 square meters so there will be vacant floor space for building for the next 20 years.
Companies that have recently moved in include the shipping company Stema which supplies aggregates and rock for the concrete and asphalt industry and Bladt Industries that produces wind farm foundations. Electrical provider Trefor Enterprise established there in April. Offshore engineering firm Flindt-Kristensen moved in February and electrical company Intego in January. Industrial painter J. Drud, started business just as the last ship left Lindø Shipyard, but owner Jesper Drud always believed that work would come back to the area. He is now back.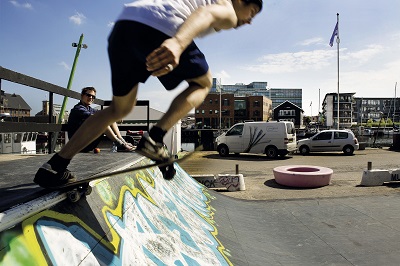 "Since the Lindø area was transformed into the industrial park, 1500 jobs have been created for engineers, smiths, electricians and various other crafts. Even though national politicians for several years have argued that Denmark should live from tourism, high technology, and high-skilled brainwork, we cannot move all industrial activities abroad. We have a number of special qualifications in this country, for instance in the maritime industry. We dispose of unique facilities and a highly qualified workforce," says Aa.
"Politically we should therefore redefine what we need in Denmark. Heavy industry and international ports such as the Port of Odense indeed have their place, also in the labor market of the future. The Port of Odense and Lindø Industrial Park are bright examples of this."