On October 24, MarEx attended another SNAME South East Section event held at Resolve Maritime Academy in Fort Lauderdale, Florida. Resolve offered an exciting tour through their facilities, and of their state-of-the-art simulators, while their naval architects discussed many challenges dealt with during some high-profile salvages.
During the tour of the Academy, the group saw the 4 different mini-bridge simulators and the classroom – which focuses on Resource Management, ECDIS, etc. Then we got to the Full Mission Bridge Simulator, specializing in bridge safety and navigation training. We were shown how the all the different elements affected a ship – rain, snow, lightning. The Resolve Maritime Academy has trained more than 20,000 personnel to date – including staff from Royal Caribbean, Norwegian Cruise Line, and more.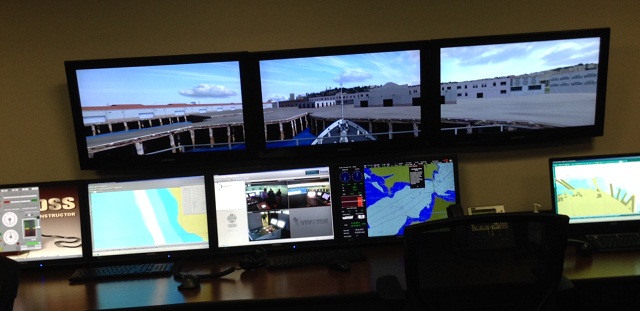 Resolve Salvage & Fire naval architects Jeffrey Stetler and Steven Hancock then gave the audience an overview of recent jobs, and highlighted some marine engineering challenges that occur in salvage operations.
In the case of the MV Celeste Ann, the efficient use of technology was key in refloating this vessel, a "basic salvage deadlift". In the complicated wreck removal of the MV Chamarel, muscle was the playing factor – as they cut up the wreck piece by piece for scrap. After the fishing vessel Theresa Janene caught on fire, Resolve explained how they stepped in early to formulate an innovative salvage plan and carried out the operation.
The infamous MV Rena wreckage off New Zealand is the most challenging feat that I saw. Resolve cut up the bow section and removed the steel piece by piece using helicopters and a transport barge at a safe distance from the reef. Due to the precarious position of the wreck's bow on the Astrolabe Reef, and the nationwide concern in New Zealand over the potential for additional damage to the reef during salvage operations, Resolve's methodology using helicopters was chosen from a number of other proposals.
Did you know? Helicopters performed a lift on the Rena wreck every 70-90 seconds.
Resolve has also recently been contracted to remove the deckhouse of the sunken stern section of the Rena entirely. We are looking forward to see how they accomplish this!