[Update] Barge Leaks Oil After Collision In Houston
Efforts to clean up an oil spill in the Gulf of Mexico off the Texas coast continued on Sunday with the planned deployment of four skimming vessels while another 20 vessels stood ready to help, the U.S. Coast Guard said.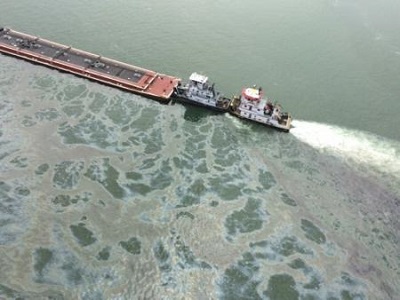 A barge was leaking oil into the Houston Ship Channel after colliding with a bulk carrier near Texas City at the mouth of Galveston Bay on Saturday, the Coast Guard said.
"This is a very significant discharge" of oil, said Coast Guard spokesman Lieutenant Junior Grade Kristopher Kidd.
The barge contained 168,000 gallons (636,000 liters) of fuel oil, but it was not immediately clear how much oil spilled out of the breached tank, which has partially sunk, officials said.
A safety zone has been established to restrict vessel traffic and avoid the spread of the oil, the Coast Guard said.
The Wildlife Response Services, a Texas-based wildlife rehabilitation service, is helping affected birds and marine life.
In addition to four skimming vessels working on the spill, another 20 response vessels were staged for duty on Sunday, the Coast Guard said. About 90,000 feet of boom were staged along the Texas City dike for containment deployment.
Emergency response crews have also laid down floating barriers in hopes of containing the spill, a coast guard official said.
The Houston Ship Channel is a 53-mile (85 km) waterway connecting Houston and its petrochemical port, which is the largest in the United States, to the Gulf of Mexico.
Copyright Reuters 2014.