Welcome Aboard!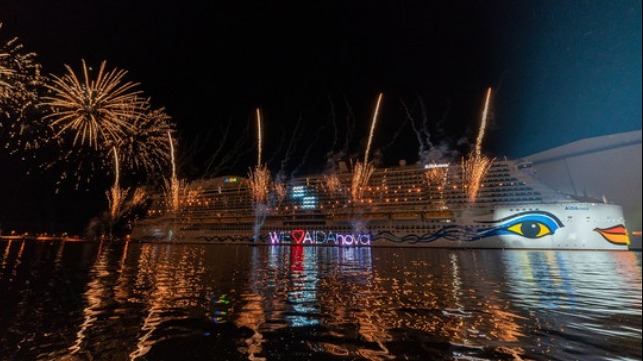 (Article originally published in Jan/Feb 2019 edition.)
Concerns about overheated growth, geopolitical tensions and economic uncertainty have done little to slow the cruise industry's momentum.
"2018 was a very robust year for cruise sales," says Mary Kleen of Travel Edge, a Virtuoso agency in New York City. The industry recorded yet another record year – fueled by strong demand, a solid pricing environment and increased onboard revenues – and enters 2019 with high expectations.
A dozen new cruise ships were introduced, adding more than 30,000 berths and pioneering new designs like the AIDAnova, the first cruise ship operating on LNG both in port and at sea.
The industry's trade group, Cruise Lines International Association (CLIA), estimates bookings rose 5.6 percent to over 28 million passengers in 2018. Over the past five years the industry has grown at roughly five percent annually, and experts agree the trend shows little sign of slowing. CLIA sees growth accelerating to 6.4 percent or 30 million passengers in 2019.
"Cruise growth doesn't seem to be slowing down," states Moody's in its 2019 Outlook for Gaming, Lodging and Cruise – U.S. with the key drivers being capacity expansion, high onboard spend and growth in the premium segment. Bearing this out, Richard Fain, Chairman & CEO of Royal Caribbean Cruises – the industry's second largest – told analysts, "We continue to see strong booking trends for 2019 and are currently booked ahead of the same time last year in rate and volume."
Challenges
The growth, however, is not without its challenges, including a shortage of qualified personnel and a broad range of issues ranging from new environmental regulations to space limitations in many ports. Port and tourism officials are scrambling to keep up with the infrastructure needs and investments required to maintain the momentum.
And there's an even bigger challenge – attracting the first-time cruiser. "The entire cruise product needs to be addressed in more creative ways to convert non-cruisers away from independent travel," notes Kleen.
Cruising is still very much a Baby Boomer industry with nearly half of all passengers coming from North America, especially the U.S. Millennials are also a growing part of the consumer mix. Some brands admit their new ships are heavily targeted at Millennials while others highlight their appeal to families or multi-generational groups.
Reflecting these changes, cruise lines are working to modernize their offerings by providing more variety in dining and entertainment, more onboard activities and shore excursions that interact with the local culture or natural environment. They're also investing in enhanced technology with apps and wearable devices that appeal to the tech-savvy consumer and improve the passenger experience. Even the décor on ships is evolving with one designer saying he's creating spaces with an eye toward that "selfie" moment or Instagram posting.
"Cruise lines are continuing to innovate when it comes to new, more meaningful experiences both onshore and onboard," says Michelle Fee, CEO & Founder of Cruise Planners, an American Express Travel Representative. Differentiation, she says, will be key in 2019.
The onboard experience has also become critical because it's a key revenue driver. Learning from the resort industry, cruises offer a host of options whereby consumers can upgrade or personalize their experience with a broad range of fee-based services. Aboard Norwegian Cruise Line's 4,004-passenger Norwegian Bliss, launched in 2018, passengers can select from more than a dozen extra-tariff restaurants and food outlets ranging from Jimmy Buffett's Margaritaville at Sea to a decadent sweet shop. They can also play laser tag, race go-carts or pamper themselves in a luxurious full-service spa – all for a fee.
Cruise lines are also selling packages for everything from the spa and alcohol, wine and soft drinks to the Internet and laundry services. Citing onboard revenue as an important contributor to the company's performance, Norwegian's President & CEO, Frank Del Rio, says on Norwegian Bliss, "Onboard revenue has exceeded even our highest expectations."
Capacity Constraints
Royal Caribbean's Fain told investors, "Demand for cruising is booming, and guests are willing to pay for innovation, quality and design." As a result, cruise lines are not only racing to introduce new ships but investing heavily to upgrade their existing fleets – adding new amenities ranging from amusement attractions on deck to new dining, entertainment and retail venues.
Despite the magnitude of the orderbook, Moody's believes that "Cruise capacity will grow at a manageable pace," noting that the growth rate -- based on capacity -- is in line with historical levels.
With only a few shipbuilders worldwide experienced in building new cruise ships, the lines are competing to secure coveted building slots at France's Chantiers de l'Atlantique, Italy's Fincantieri and Germany's Meyer Werft. The orderbook now stretches out to 2027 with commitments for 120 ocean-going cruise ships totaling more than 250,000 berths – nearly a 50 percent increase in capacity versus the current industry. This year alone more than 20 new cruise ships are scheduled for delivery, adding more than 40,000 berths.
Where to?
One of the big questions on people's minds is where all these new ships will sail. The Caribbean remains the largest market for cruising and continues to generate strong interest, absorbing a large percentage of new cruise ship berths. Europe is also on the upswing, especially in the eastern Mediterranean now that geopolitical and security concerns have eased. Companies are also working to break down the seasonality in markets with trips such as Viking's "Quiet Season Mediterranean Cruises" and Fred. Olsen Cruise Lines' winter North Cape cruises in search of the Northern Lights.
Alaska, however, is showing the largest increase in popularity with many travelers preferring the safety and natural beauty of a nearby destination. CLIA Alaska reports that 1.17 million people cruised to Alaska in 2018 and forecasts 16 percent growth for 2019 – well above the industry average. Cruise lines including Norwegian, Princess and Royal Caribbean are for the first time deploying Panamax ships to Alaska, and new entrants such as Cunard and Azamara Club Cruises have entered the market.
The most significant new destination in 2019, however, will be the launch of a new segment of the market. "We're seeing an increased interest in 'rough lux' with more travelers looking to get to hard-to-reach exotic destinations and wanting to travel there in comfort with all the amenities they've grown used to," says Cruise Planners' Fee.
Half of the new ships due to launch in 2019 will offer expedition cruises to destinations ranging from the Arctic to the Antarctic and the Galapagos Islands. Nearly 2,500 berths are due to be added in 2019 with more than 30 expedition ships expected by 2021.
Established companies ranging from Celebrity and Hapag-Lloyd to Crystal Cruises, Seabourn and Viking are all adding expedition ships designed to bring a new level of luxury to the segment. Celebrity, for example, will introduce a deluxe, 100-passenger ship, Celebrity Flora, in May 2019 sailing the Galapagos. In addition to just 50 suites, each with premium services and amenities, four guests will have a "Glamping" (i.e., glamorous camping) experience each night dining, drinking and sleeping on deck under the stars.
New Horizons
Some of the world's most recognizable brands are now entering the market. The beginning of 2020 will see the launch of both the Ritz-Carlton Yacht Collection and Virgin Voyages. Seeking to leverage its brand's reputation for ambiance and guest service, Ritz-Carlton will introduce three 298-passenger yachts. Virgin Group is extending its innovative travel approach to the cruise industry with four 2,770-passenger ships.
The globalization of cruising continues with India's first multi-destination cruise line, Jalesh Cruises, set to begin operations in April, having acquired a ship from P&O Australia. Parent company Zen Cruises says Jalesh will start with cruises to destinations within India as well as Singapore and Malaysia. It also plans to acquire additional ships.
The popularity of cruising in China continues to grow. In 2018 over two million Chinese sailed on cruises, making it – according to CLIA – the second largest source market in the world (the U.S. is first). Established firms like Costa Cruises and Royal Caribbean will be introducing newly built ships into the Chinese market early this year while CSSC Carnival Cruise Shipping Limited, a joint venture between Carnival Corporation and China State Shipbuilding Corporation, is expected to launch by the end of 2019. Genting's Dream Cruises also announced plans for the first ships sailing internationally with fly/cruise programs for the Chinese source market.
"We believe overall industry demand fundamentals remain strong," says Timothy Conder of Wells Fargo Securities, pointing to what he calls the secular demand drivers – relative discretionary earnings growth and negligible trade-related exposure. These factors and others are contributing to a rosy outlook for the industry. Welcome aboard! – MarEx
U.S.-based Allan Jordan writes frequently on the cruise industry.
The opinions expressed herein are the author's and not necessarily those of The Maritime Executive.