Spending Spree
Ports go all-out to compete for new business.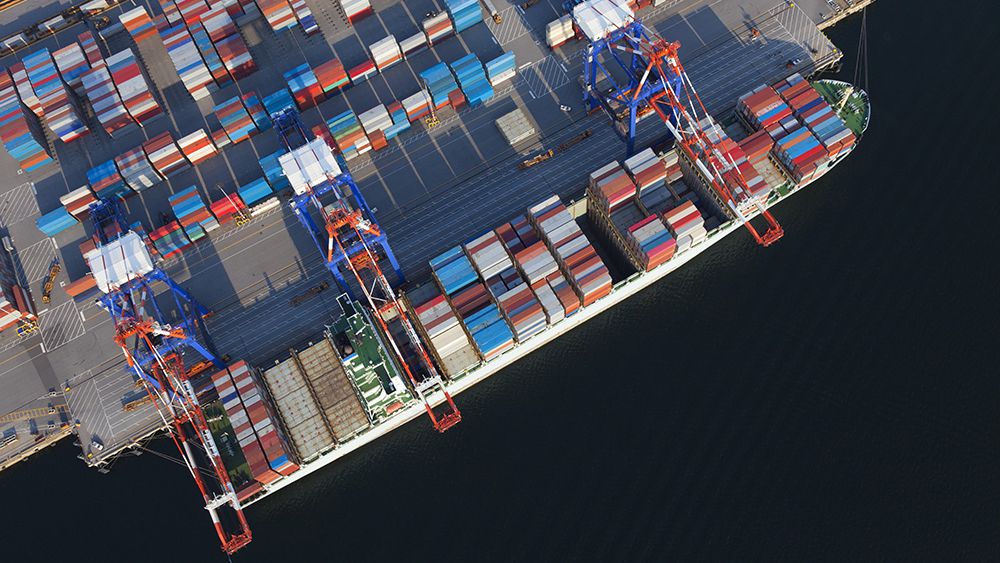 (Article originally published in Mar/Apr 2017 edition.)
Seaports know they must continue investing in infrastructure in order to maintain their competitiveness. It's not enough to continue with the status quo until a customer asks for a change because the lead time for major upgrades is measured in years, even decades.
Stakeholders' requirements have to be anticipated: Carriers need deeper harbors and taller cranes; port users require better connections with inland markets, quicker moves on the pier and a favorable economic climate for doing business. Some ports are more nimble than others, and their experience suggests that success depends on a complete package of smart investments and not just on one or two "silver bullet" mega projects.
GEORGIA PORTS AUTHORITY
Unlike most large American seaports, the Georgia Ports Authority – which includes Brunswick and Savannah – is a port operator, not a landlord, an arrangement that gives it maximum control over infrastructure planning. As a core policy, its board has consistently voted to expand whenever a facility's cargo volumes approach 80 percent of design capacity. With this cushion, cargo volume growth can continue before congestion crops up, helping Savannah's Garden City Terminal become the single largest container terminal in the U.S.
The Garden City Terminal has more ship-to-shore cranes and more rubber-tired gantry cranes than any of its regional competitors, and since the port controls all that equipment it can fully optimize its use. During traffic surges, the port can coordinate all available resources to address bottlenecks, a challenging task for ports that are split into multiple private terminals. This flexibility is a competitive advantage: Sudden bursts of cargo volume are a growing issue with the advent of 10,000 to 14,000-TEU vessels, which discharge thousands of containers during a single call.
As a further measure to reduce delays, all of the terminal's berths are operated on a first-come, first-served basis, allowing ships to dock without waiting for a reserved space – a big difference from private terminals that lease specific berths to specific carriers.
In addition to right-sizing and optimizing its operations for big ships and big volumes, Georgia Ports is extending its presence into the hinterland with a series of inland ports (also called "dry ports"), an innovative strategy with relatively few parallels in the U.S. Several ports operate their own rail lines – like Coos Bay, Oregon – but only a few have built intermodal facilities that are hundreds of miles inland.
Georgia Ports' first inland port is a privately operated facility in the town of Cordele in southwest Georgia. Boxes are shipped from the Garden City Terminal to the Cordele Inland Port on an existing rail line, then transferred onto trucks for delivery to their final destination. The rail link eliminates up to 180 miles of over-the-road travel for each container, reducing the cost of transportation, relieving congestion on Georgia's highways, reducing noise and air pollution and increasing the port's handling capacity.
The Authority says the inland port also raises demand for shipping by boosting the region's economic development. The rail link makes it much less expensive for producers in southwest Georgia to find empty containers, pack them with commodities like cotton or lumber, and ship them to international buyers.
For Kia Motors, which has an assembly plant in west Georgia for the Kia Sorrento SUV, the Cordele Inland Port saves about six million miles of trucking a year. Kia can ship its parts containers to Cordele by rail and transfer the boxes onto semi-trailers for the final 130-mile trip to its plant near the town of LaGrange. The process represents a significant cost advantage over trucking each container from the ocean terminal, the kind of cost advantage that often leads to new investments and new jobs.
Since the Cordele terminal has been such a success, Georgia Ports has decided to build and operate its own dry port – the Appalachian Regional Port (ARP) in Murray County, about 330 miles northwest of Savannah. It won't be complete until 2018, but ARP is already attracting new manufacturers like rug maker ARC Carpet, which has decided to locate its U.S. operations nearby in order to take advantage of the new intermodal facility. This means more new jobs, but it also means that more ocean freight will pass through the Garden City Terminal – a virtuous cycle that will keep Georgia Ports and Georgia's economy growing for years to come.
JAXPORT
JAXPORT, the port authority for Jacksonville, Florida, is working on the final piece of the puzzle in a multiyear expansion project. Through a strategic planning process the port determined that it would need four improvements to stay competitive: three new ship-to-shore cranes for serving Neopanamax ships; refurbished docks; an intermodal rail facility to connect the port to midwestern markets, and dredging to bring its navigation channel to a depth of 47 feet. All of these projects are now complete except for the channel-deepening project, and the port has all the necessary approvals in place to begin dredging at the end of this year.
Roy Schleicher, JAXPORT's Executive Vice President and Chief Commercial Officer, explains that the four projects are best thought of in terms of a package – not just dredging alone or new cranes but an integrated solution of infrastructure improvements that increase the port's capacity to transfer goods from ships to markets. Increased capacity is essential for big logistics customers like Amazon, which recently built two massive distribution centers in Jacksonville because of the city's strategic location for serving consumers throughout the southeastern U.S.
For Schleicher, there's no question these projects have to hap- pen if the port wants to grow: "These investments are essential to attract new business. Customers that are already here understand the value that our location provides for serving their customers. But we need to demonstrate to new investors that the harbor- deepening is coming. Some of them are sitting on the fence, waiting to see if we're going to get the water depth needed for the ships of the future."
FACILITATING TRADE
In addition to infrastructure improvements, ports can attract customers with value-added services like a Foreign Trade Zone (FTZ) designation. FTZs are federally listed port regions that offer businesses a number of advantages for handling customs. Some, like Brownsville, Texas, support the downstream petroleum industry. Brownsville has the second-largest FTZ by export volume. Others handle high-value air cargo, like New York City's FTZ No.1, the first zone ever established and the fourth-largest by merchandise imports.
FTZs are similar to "free trade zones" in other parts of the world, and they have one key advantage: Goods imported into an FTZ don't incur any duties until they enter customs territory, and if they are reexported they don't incur duties at all. In addition, if the imported goods are assembled into other products within the zone – for example, auto parts that are incorporated into a new car – the importer can either pay the duty rate for the finished product or the duty rate for the parts, whichever is lower.
Port authorities are happy to help prospective customers navigate the process of acquiring FTZ status, and it is relatively straightforward and fast. A qualifying business may not even need to locate within the designated zone itself so long as its operations are within a 60-mile radius.
Captain John Peterlin, Senior Director of Marketing & Ad- ministration at the Port of Galveston, says the port's FTZ status has played an important role in attracting new business for years: "It has created a lot of jobs, not just at our public terminal but at the private terminals and off-site facilities as well." The port's FTZ users include the supplier M-I SWACO, which provides drilling fluid to the offshore industry, and Wallenius Wilhelmsen, which recently opened a new facility for importing BMWs and Mini Coopers. Without the FTZ, Peterlin says, BMW would not have come.
Manufacturers that import components for assembly can save considerable sums by siting their factory within an FTZ. In Port Everglades, electric bike maker Prodeco Technologies uses the port's foreign trade zone status to eliminate tariffs on imported parts.
Whole electric bikes can be imported duty-free, but electric bike components incur a tariff of about 10 percent. Prodeco chose to make its bikes in the port's FTZ, so it only has to pay the tariff for the finished product – that is, no tariff at all. This has helped the company lower its costs, sell more bikes and create local jobs.
"The FTZ is absolutely an advantage for our customers," says Steve Cernak, Port Everglade's Chief Executive and Port Director. He notes that Port Everglades is the number three cruise port in the world, and all the goods that cruise ships consume come in and go out through the foreign trade zone, meaning they can be used duty-free on international voyages. In addition, Port Everglades handles the petroleum supply for all three of South Florida's major airports, and all of the international departure flights can fill up on duty-free fuel thanks to the FTZ.
CREATING VALUE
Seaports are not waiting around for federal funding or customer demand to come knocking. They are creating more value for their stakeholders now, using all of the means at their disposal. According to the American Association of Port Authorities, U.S. ports and their private-sector partners will spend $155 billion on infrastructure over the next five years, creating thousands of new jobs and hundreds of billions in economic activity.
Like Jaxport's refurbished docks, Brownsville's growing foreign trade zone and Georgia's new inland ports, these investments foster economic development and attract new business, creating new opportunities for the maritime industry, its customers and suppliers, and the ports themselves. -MarEx
The opinions expressed herein are the author's and not necessarily those of The Maritime Executive.