Martin Kits van Heyningen, Chairman, President & CEO, KVH Industries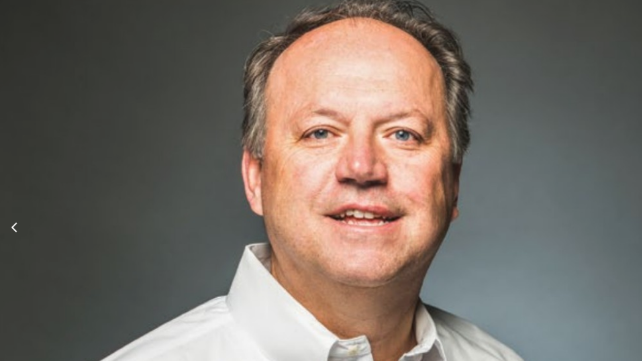 (Article originally published in Mar/Apr 2019 edition.)
Martin Kits van Heyningen, Chairman, President & CEO, KVH Industries
Innovation and a start-up mentality are what keep KVH – the operator of the global mini-VSAT Broadband maritime network – ahead of the pack.
By Jack O'Connell
Let's start with the company's founding – it's such a great story. It literally started in your parents' garage, correct?
It started in the basement, actually. I wrote the business plan while still in college. All of the development work on our first product line was in the basement workshop of my parents' Newport, Rhode Island home. We called the product Sailcomp, and the company initially was called Sailcomp Industries.
Later, as we added more products, we changed the name to KVH, which incorporates the family name and reflects the fact that my dad, brother and I were all co-founders. We also decided that, since Sailcomp implied only sailboats, we didn't want to make that mistake again and picked a name that could be used for whatever we did in the future. We certainly weren't thinking at the time about high-throughput satellites, though!
So Sailcomp was the company's first product?
Yes. It was 1982. The America's Cup was still being raced in Newport, and we created the world's first digital compass for use in racing sailboats. It was both a navigation and a tactical tool that helped sailors measure wind shifts while sailing upwind on the race course. Later we developed variants for powerboats and, even to this day, a KVH digital compass is onboard every U.S. Navy vessel.
Tell us about the company's evolution.
Throughout the 1980s and 1990s we developed dozens of innovative products, expanding beyond marine compass technology to mobile satellite television systems and land-based systems utilizing sensor technology for commercial and military applications. For example, in 1994 we introduced the first TracVision satellite television system, featuring a stabilized antenna for marine use.
In 1996 we took KVH public amid steady growth with numerous products, not only satellite antenna systems but also fiber-optic gyros for guidance and stabilization applications. We launched our mini-VSAT Broadband network for mobile satellite connectivity in 2007.
How many offices and employees are there?
Today we have more than 700 employees around the world. Our global headquarters are in Middletown, Rhode Island, and we manufacture all our satellite antenna products right across the street from our corporate offices. We also have a fiber-optic gyro manufacturing facility outside Chicago and more than a dozen offices worldwide in such key maritime locations as Singapore, Copenhagen, London, Liverpool, Hong Kong, Manila and Tokyo.
Is the TracPhone your biggest product?
Our TracPhone satellite communications antenna systems, mini-VSAT Broadband network and TracVision satellite television antenna systems together make up what we call the mobile connectivity part of our business, which accounts for more than 75 percent of revenue. The rest comes from the inertial navigation side, which includes our fiber-optic gyro (FOG)-based sensors.
What markets do you serve?
Customers for our mini-VSAT Broadband service come from all segments of both the commercial and leisure marine markets. More than 60 percent comes from the commercial side including offshore service vessels, commercial fishing vessels, tankers, bulk carriers, dry cargo, containerships and more. In leisure marine we serve sportfishing boats, powerboats from 30 to 80 feet, and superyachts 80 feet and up. We also provide connectivity to all U.S. Coast Guard vessels and other military customers.
Where is the biggest growth coming from?
Similar to what is happening on land, the demand for connectivity and bandwidth is growing in every part of the maritime industry, whether it's a commercial vessel or a superyacht. The industry is undergoing a massive shift to digitalization, and that means vessels need to upgrade their satellite communications systems to ensure they are getting fast, reliable connectivity to support things like the Internet of Things (IoT), remote systems monitoring, crew welfare, chart uploads and weather information.
On superyachts, there's also an appetite for streaming the latest movies, TV shows and music, and enjoying the same type of Internet connectivity you have on land. All of those factors are creating ever-increasing demand for our mini-VSAT Broadband service and our TracPhone antenna systems.
Explain for our readers what VSAT is and why it's so important.
The acronym stands for "very small aperture terminal," and it's a term that makes sense in relation to historically large satellite dishes. A VSAT system includes the satellites up in the sky, big antennas on the ground and a small antenna on the vessel. The signals bounce off a satellite, which can be thought of as a bent pipe that connects the onshore and mobile maritime antennas. The land antenna is stationary, but the one on the vessel needs to move and be stabilized so it stays pointed right at the satellite within a few tenths of a degree. No small feat in rough seas!
Big picture: The importance of VSAT to maritime customers is that it enables a relatively small antenna – easily installed on nearly any size boat or ship – to send and receive data at a fast speed for an affordable price. Speed and affordability are characteristics of KVH's VSAT. Other VSAT services are neither as fast or affordable. Nor as compact: Our 37 cm (14 inch) TracPhone V3-HTS is the world's smallest maritime VSAT antenna, and it delivers truly remarkable data speeds of 5 Mbps downlink and 2 Mbps uplink. Our 60 cm TracPhone V7-HTS antenna delivers speeds of 10 Mbps downlink and 3 Mbps uplink – data speeds that can only be achieved with 1 meter or larger antennas from our competitors, by the way.
How do you manage to keep innovating at such a successful rate?
We innovate to solve compelling problems, and that's a result of spending time studying the markets and talking to our customers. When you understand their needs and the pain points of their business, you become committed to making things better. Our team is truly dedicated to that goal. A good recent example of that type of innovation wasn't actually a technology innovation. It was a business model innovation: our AgilePlans Connectivity as a Service program, which we launched in mid-2017. You don't pay for any type of hardware. You simply pay a monthly fee for a service.
We developed AgilePlans as a monthly subscriber service that includes everything a vessel needs for connectivity – the antenna, installation, maintenance, monthly airtime – all for one fee with no upfront capex costs and no contract commitment. AgilePlans was exactly what commercial ship operators and offshore managers were waiting for and has proven so successful that in the fourth quarter of 2018 our VSAT shipments were up 87 percent over last year. Product innovation, service innovation and business model innovation are all driving our growth.
How would you describe the company's culture?
I try very hard to keep the start-up mentality in the company. So even though we aren't a small company anymore, we try to behave like one. Innovative spirit and a dedication to making things better for our customers are key traits, whether it's our team in tech support on call 24/7 for our mini-VSAT Broadband customers around the world or our engineers working on the next performance improvement. Our roots are as a family company, and I think that has created a somewhat unique culture. People tell me KVH is truly a special place to work.
What is your vision for KVH? Where do you want to see it in five years?
We will continue to grow and solve problems, and as long as we do that my vision for the company will be realized. We recently announced that we had shipped our 9,000th VSAT system for our global mini-VSAT Broadband network, and that's a remarkable achievement for a service we launched just a little more than 10 years ago into a market that at the time was crowded with small regional players. And our rate of growth has only accelerated.
We've always been a disruptor, and I expect that spirit to continue. Ironically, while my goal is to keep the small company feel, we have a goal to more than double the size of the company within the next few years.
What's your biggest challenge right now?
Focus. We have so many opportunities in so many different areas that if we aren't careful we will fail at everything. We need to select the best opportunities and execute really well. Then move on to the next one.
What kind of manager are you?
I try to surround myself with competent people who don't need me to tell them what to do. Whenever I find myself micro-managing someone, I fire them. A long time ago I realized that it was them, not me.
What drives you – what is your passion?
I love to invent things and create new products and services. Nothing makes me happier than working on "unsolvable" technical problems and doing something truly new. The intersection of hardware, software and services has so many opportunities for invention.
Thank you very much for your time. Is there one final message you'd like to leave for our readers?
I'd like to acknowledge my team here at KVH. There is nothing that we've accomplished that is because of me alone. I will take the credit for recognizing talent and building a great team. That's the key to success. – MarEx
Jack O'Connell is Senior Editor of The Maritime Executive.
The opinions expressed herein are the author's and not necessarily those of The Maritime Executive.