?I Want MORE?!
Passengers? insatiable appetite for new technology and increased efficiency has ports scrambling.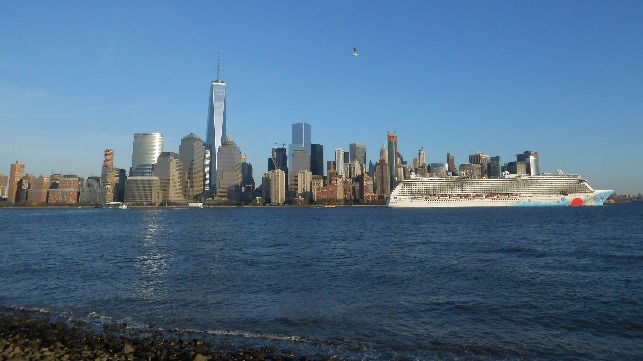 (Article originally published in Jan/Feb 2018 edition.)
In Charles Dickens' classic, Oliver Twist, young Oliver, after eating his bowl of gruel, is encouraged by his mates to do the unheard-of and ask for seconds. Much to his Master's surprise, young Oliver asks, "Please, Sir, I want some more."
It seems the cruise industry has taken heed of young Oliver's request and put its own twist on ambitions to continue building the business with "MORE" the operative word.
The industry is generating more revenue, more and bigger ships, more passengers, more destinations and more investment. In its "2018 State of the Cruise Industry Outlook," the Cruise Lines International Association (CLIA) estimates that 27.2 million people will take a cruise in 2018, compared with 25.8 million last year. To meet the growing demand, CLIA says cruise lines will launch 27 new ocean, river and specialty ships this year. Simply stated, more ships for more people!
Techno-Savvy Upgrades
In the ever-evolving world of technology, ports and terminals are moving fast to ensure more efficient operations that meet techno-savvy passengers' expectations. Port Everglades, ranked consistently as one of the three busiest ports in the world with over 3.8 million passengers in 2017, and its cruise line partners are investing heavily in cutting-edge terminal improvements that reflect the new wave of cruise ship technology.
"Technology is a key component of terminal construction nowadays," says Steve Cernak, Chief Executive & Port Director, "not only so passengers can post photos on their social media sites but also because it's important for the cruise lines and U.S. Customs and Border Protection (CBP) to process their guests quickly and efficiently."
Port Everglades will be the first cruise port worldwide to have a terminal (Terminal 2) specially equipped with an interactive guest experience platform (xIoT) that will enable passengers to seamlessly connect to enhanced experiences before and after they cruise. Carnival Corporation is investing $4 million in the technology.
Port Everglades is also the first cruise port in the U.S. to employ a Mobile Passport Control (MPC) smartphone application to augment CBP's entry process when passengers return to the U.S. from a cruise. The first-of-its-kind app, developed by Airside Mobile and Airports Council International-North America in partnership with CBP, allows debarking U.S. and Canadian citizens with a valid passport to complete their customs declaration using their smart phones or other mobile devices, expediting their clearance process in the terminal.
The Port of St. Maarten in the Caribbean, which handled nearly two million passengers in 2016 and has bounced back dramatically after Hurricanes Irma and Maria came through in September, will introduce an Information Technology (IT) platform to enable advanced business services and innovation and foster growth. The objective is to allow stakeholders access to real-time information and a system in line with border security compliance and international rules and regulations.
At the Port of New York and New Jersey, Ports America is investing $38.5 million in the Brooklyn Cruise Terminal ($15 million) and the Manhattan Cruise Terminal ($23.5 million). Ports America operates the facilities under an agreement with the New York City Economic Development Corporation. A portion of the upgrades will include the design and implementation of a multifunctional, high-capacity wireless network at the terminals to improve passenger experience and operating efficiency.
Infrastructure Improvements
Infrastructure-wise, upgrades at the Brooklyn Cruise Terminal include a new apron up to 500 feet in length, a passenger viaduct and two new gangways. The Manhattan Terminal will undergo refurbishments, added capacity for larger vessels and improvements to Pier 90.
At the busiest cruise port in the world, PortMiami, which topped a record 5.3 million passengers in fiscal 2017, the infrastructure landscape is ever-changing. "New cruise berths and terminals, including intermodal and parking facilities, are in the works to accommodate additional cruise ships calling at PortMiami," says PortMiami Director & CEO Juan Kuryla.
In addition, Royal Caribbean International and Miami-Dade County broke ground on the cruise line's new, world-class Cruise Terminal A to accommodate the new era of smart cruising. "Scheduled to open in late 2018, the more than $200 million public-private partnership includes development, construction and operation of the terminal," Kuryla says. The port's Cruise Terminal F, recognized for its signature sails, also recently underwent renovations and expansion.
At Port Tampa, which had an 18 percent increase in passenger traffic between 2016-2017, infrastructure growth is ongoing. "We recently completed the renovation and expansion of Cruise Terminal 6 at a cost of $2.2 million," says Wade Elliott, Vice President of Marketing and Business Development, "and we have plans over the next few years to build a new Cruise Terminal 4 at an estimated cost of $40 million."
Galveston, the fourth busiest cruise port in the U.S., is anticipating more than a million passengers in 2018 and has a third terminal on the way. "We are moving forward with the planning effort for a third cruise terminal," notes Interim Port Director Peter Simons, "that will enable us to accommodate even larger ships and the related increase in passenger volume."
In Baltimore, one of the nation's busiest cargo ports and a growing presence in the cruise industry, the port has invested over $4 million for a new VIP lounge, monitors for the hearing-impaired, upgraded check-in counters and a comfort trailer to keep passengers out of the weather while waiting for pickup. An enclosed breezeway and boarding bridge, along with enhancements to the terminal's exterior entrance, complete the upgrade.
Green Power
On the environmental side, there is a growing trend toward LNG-powered vessels, and the first fully powered LNG cruise ship, the AIDAnova, will be delivered to Carnival Corporation's AIDA Cruise Line later this year.
At the Port of Vancouver, Canada, which expects to top the million-passenger mark in 2019, preparations are being made for the use of LNG as a marine fuel. "We are working with the government and others to get ready," says Carmen Ortega, Manager of Trade Development. "The port authority will continue to monitor future demand scenarios, plan next steps required to facilitate LNG bunkering, and encourage government to address any related regulatory matters."
Vancouver has also been a strong advocate of reducing greenhouse gas emissions and offers cruise vessels shore power, sometimes called "cold ironing," which allows them to plug into electricity rather than operate engines while at berth.
"In 2009, the Canada Place cruise ship terminal became the first in Canada and third in the world to offer shore power for cruise ships," Ortega explains. "Canada Place currently has three shore power connection points. The number of cruise ships connecting to the grid has been increasing over the past five years, reducing potential greenhouse gases. In 2017, we had 54 successful connections." Through the end of 2016, Vancouver has seen a reduction of more than 16,000 tons in greenhouse gas emissions.
The Port of Seattle, which will welcome over one million passengers in 2018 for the second straight year and serves as a jumping-off point for Alaskan cruises, also offers shore power and, like Vancouver, is among the growing number of North American ports to do so. Seattle is part of the North American ECA that requires vessels to change fuel 200 miles out and use only low-sulfur fuel as they proceed along the Inside Passage, says Maritime Media Officer Peter McGraw.
In dealing with the environment, McGraw adds that the port has a "great partnership opportunity. We have an agreement with CLIA and our state Department of Ecology, which enforces environmental compliance. It's a voluntary agreement and a partnership that works great."
The Port of San Diego, which expects passenger numbers to hit 242,000 in 2017-18, has also seen the benefit of shore power and has "shore power connections available with power to supply one connection at a time," says Senior Trade Account Representative Adam Deaton.
Challenges
As in any industry, there are always challenges, and ports and terminals have their fair share when it comes to the cruise business. San Diego is among them.
"The primary cruise ship terminal at the B Street Pier was built in the 1950s and converted to a cruise terminal in 1983," says Deaton. "Our main challenge is an aging terminal that needs to be improved for the new class of larger vessels deployed globally. As the Mexican Riviera market rebounds, this will become a more and more pressing challenge."
Vancouver faces the same dilemma. "Cruise ships are getting bigger, which is becoming an issue for ports worldwide," notes Vancouver's Ortega. "We are developing short-term and long-term plans to address the problem, and we work closely with cruise line customers and industry associations to understand, plan for and accommodate future demand." She adds that the port authority is working with a consultant to explore feasibility options for another cruise terminal.
Like most ports, the main challenge at the Port of Galveston is to attract more visitors and more cruise lines. The port has established a Cruise Committee to focus on promoting and developing Galveston as a desired port-of-call with great diversity and numerous attractions that cruisers would enjoy.
The next step is to determine where and how to construct a third cruise terminal and add a substantial vehicle parking structure near the cruise terminal complex. The reason: to accommodate MORE! – MarEx
Tom Peters is the magazine's Canadian correspondent.
The opinions expressed herein are the author's and not necessarily those of The Maritime Executive.