Great Expectations
Cruise ports gear up for a banner year.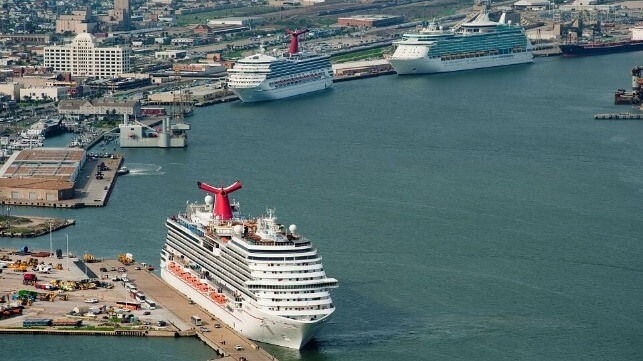 (Article originally published in Jan/Feb 2023 edition.)
The global cruise industry has shown its resilience in its ability to bounce back after the global pandemic. Industry insiders were "cautiously optimistic" in their forecasts when the ships hit the water, but to nearly everyone's surprise the industry rebounded much better than anticipated.
Based on a sampling of North American ports and abroad, those upward numbers are expected to do just that – continue upward.
The ports' projections are supported by Grand View Research Inc., a market research firm in San Francisco that predicts the cruise industry will grow at an annual compound rate of 11 percent and be worth an estimated $15.1 billion by 2028. That's a far cry from the pre-pandemic high of $27.4 billion in 2019 but still, it's positive growth.
Revenue Generator
For the port of Galveston, Texas, the cruise industry generates over 60 percent of port revenues and cruising from Galveston Island has never been better, according to Port Director & CEO Rodger Rees: "We estimate 362 sailings in 2023, a new record in the port's 22-year history as a cruise homeport. Passengers choose Galveston for its convenience and great sailing experience to Western Caribbean destinations."
The port typically hosts over one million passengers annually. Carnival, Disney, Norwegian, Princess and Royal Caribbean cruise lines are scheduled to sail from Galveston this year.
New ship additions include the newly built Carnival Jubilee, scheduled to homeport at Galveston beginning in December 2023. It will be the port's first LNG-fueled cruise ship. Norwegian Cruise Line will homeport its new ship, the Prima, also beginning in December.
Galveston expanded its cruise infrastructure with the addition of a third terminal, the Royal Caribbean International Terminal, which opened in November 2022. The terminal is home to Royal's stunning Allure of the Seas, which has a passenger capacity of 5,600.
In December 2022, Galveston Wharves and MSC Cruises announced negotiations for development of a fourth cruise terminal. The entities signed a non-binding memorandum of understanding (MOU) outlining parameters of a potential agreement for the development and operation of a terminal at piers 16-18.
Like other ports, Galveston takes the environmental impact of cruising seriously and is working with several entities to develop shore power to permit vessels to plug into an onshore electrical source while docked. The industry is working hard to reduce CO2 emissions and, according to a recent study, a large cruise ship can produce more CO2 than 12,000 cars.
More Ships Sailing
At the port of Baltimore, "The big news is that we will have more cruise ships sailing from the port in 2023," says Bill Doyle, Executive Director, Maryland Port Administration. "We're very excited to welcome Norwegian Cruise Line (NCL). NCL will bring two ships, the Sky and the Sun, starting in September." The Sky will cruise to New England and Canada including stops in Martha's Vineyard, Bar Harbor, and Quebec. The Sun will offer sailings to Bermuda and the Dominican Republic.
Royal Caribbean will bring Vision of the Seas to Maryland in May, replacing Enchantment of the Seas. Vision of the Seas will sail to Bermuda, the Bahamas, the Caribbean, New England and Canada. Carnival Cruise Lines brought Carnival Legend to Maryland in 2022. In 2023 it will sail to the Bahamas, Bermuda, Caribbean, New England and Canada.
Baltimore projects 223 ship calls and 559,000 passengers in 2023 with an economic impact of over $200 million.
The Port of San Diego is tracking industry trends and, on the West Coast, "Things are looking up" for the cruise business, says Joe Stuyvesant, the port's President & CEO.
"This cruise season, which began in September 2022 and runs through May 2023, is expected to bring 140 cruise calls and projected passenger numbers up to 450,000," Stuyvesant adds. By comparison, during the 2021-2022 cruise season, the first season since COVID-19 halted cruise, the port had 101 cruise calls and 172,000 passengers.
For the first time since 2006, Princess Cruises is bringing new homeport business to San Diego. The Diamond Princess scheduled 13 voyages from November 2022 through February 2023. Additionally, Disney Cruise Line has more than doubled its sailings from San Diego this season to 51.
The port has started a $5 million interior improvements project for its B Street Cruise Terminal, the port's primary cruise terminal since 1985. The improvements will focus on the guest experience by providing a more welcoming atmosphere and a more efficient passenger embarkation process. Groundbreaking is anticipated in December with completion expected by December 2024.
In addition to the interior improvements, the port has added a second plug for shore power at the cruise terminal.
"The port of San Diego has demonstrated it's a highly desirable destination for cruisers," Stuyvesant states. "Our cruise terminals are located in the heart of downtown San Diego and close to the airport, the train station and trolley stops. The cruise business is a huge economic driver to our regional economy and we're pleased to see it bounce back after the pandemic."
Big Apple
Two new cruise ships will be welcomed this year in New York City (NYC) for year-round service, says Julia Zita, spokesperson for the New York City Economic Development Corporation.
MSC Cruises will begin sailings out of the Brooklyn Cruise Terminal in April with the MSC Meraviglia. The Carnival Venezia, a ship new to the Costa by Carnival brand, will also begin cruising out of NYC in 2023. The port typically handles over 200 cruise calls and more than a million passengers annually between Brooklyn and Manhattan.
"With the new sailings planned for 2023," says Zita, "we expect sailings to increase by around 20 percent, a record-breaker. The cruise industry is a critical piece of the city's economy and an economic engine for our waterfront communities. Year-round sailings generate millions of dollars in tourism revenue and create quality maritime jobs."
"Everything Under the Sun"
Florida's Port Everglades makes a strong boast when it comes to cruising, offering "everything under the sun" from Caribbean cruises to world voyages to fast-ferry getaways, all of which makes it one of the three busiest cruise ports in the world.
The port's cruise partners have rebounded and, in turn, strengthened the port's services including Princess Cruises, which announced that Sun Princess, the first ship in the new Sphere Class, will homeport at Port Everglades starting in November 2024 and Viking Cruises is back for a second season with more offerings.
All told, Port Everglades has five new lines for the 2022-2023 cruise season and will welcome six new ships for 2023-2024 including the LNG-powered Silver Nova by Silversea Cruises and Disney Line's Disney Dream. The port is also seeing increased business from luxury brands such as Celebrity, Ritz-Carlton Yacht Collection, the aforementioned Silversea and Azamara.
Port Everglades was the first port and Celebrity Cruises was the first line to restart cruise operations in North America on June 26, 2021. Business rebounded during FY 2022 with 1.6 million passengers. This year, the port anticipates welcoming more than three million cruise passengers, which puts it within striking distance of its pre-COVID number of four million guests.
To maintain its position in the cruise rankings, Everglades is making deep investments in its infrastructure and business sectors and working to protect the environment.
"At Port Everglades, we understand that infrastructure investments are critical to a healthy environment and economy," says Port Director & CEO Jonathan Daniels. "An exciting capital improvement program includes the reimagining of Terminal 4 for Disney Cruise Line's second year-round homeport." The terminal will be ready for Disney Dream's first call in November 2023. The Disney partnership includes a 15-year agreement with one ship to be homeported in Port Everglades year-round joined by a second, seasonal ship to be announced in 2025.
PortMiami, the world's biggest cruise port, is also flying high into 2023 as it names Hydi Webb, a thirty-year industry veteran, as its new Port Director. Among the new developments are Royal Caribbean's inking a new 36-year extension with the port that includes constructing a new Terminal G for its exclusive use.
Construction is also underway for a fourth new cruise terminal in a partnership with MSC Cruises at an estimated cost of $380 million to be completed in late 2023. The MSC terminal will be the largest in North America and intends to feature distinctive architecture, which will be a notable addition to the Miami skyline.
Great Lakes/St. Lawrence Seaway
While cruising enthusiasts more often than not only think of ocean cruising, the Great Lakes St. Lawrence Seaway System is attracting a lot of interest (see Jack O'Connell's "Cruising the Great Lakes" elsewhere in this edition).
In total, the system has 30 ports, 15 in the U.S. and 15 in Canada, and the economic impact of the industry to the region is getting a closer look.
"A coalition of leading Great Lakes St. Lawrence maritime industry organizations has retained Martin and Associates of Lancaster, PA to conduct, for the first time ever, a study that calculates the economic value of cruise ship activity for the entire bi-national Great Lakes Seaway System," says Rebecca Yackley, Office of Trade and Economic Development, Great Lakes St. Lawrence Seaway Development Corporation. The study should be publicly available before the 2024 cruise season begins.
"Staying a bit closer to home while having the opportunity to explore the untapped waters of the Great Lakes has proven a winning model," she adds. "With the addition of new vessels and itineraries selling quickly, 2023 is expected to be a robust year for cruising on the Great Lakes."
Hapag-Lloyd's Hanseatic Inspiration will make its inaugural voyage on the Great Lakes while Viking will deploy a second vessel, the Viking Polaris.
Cruising the Adriatic
The port of Dubrovnik, situated in southeastern Croatia on the Adriatic Sea, offers a European glimpse of cruise growth. Dubrovnik projects 343 vessel calls and more than half a million passengers this season compared with 314 calls and 377,000 passengers in 2022.
Dubrovnik Port Authority (DPA) is actively developing its port with new investments in various infrastructure projects as well as new technologies in an endeavor to become more sustainable, environmentally friendly and a greener port, says General Manager Blaz Pezo.
Projects currently in the works include two new berths and ramps for international and domestic ferry traffic, smaller cruise vessels and megayachts at the Batahovina II port area. Expected completion is 24 months. Projects dealing with electric power supply to the port area are also underway.
Dubrovnik has several suprastructure projects in conceptual stages for terminals and other public facilities within the port area that will be addressed in the near future, Pezo adds. – MarEx
Halifax-based Tom Peters is the magazine's ports' columnist.
The opinions expressed herein are the author's and not necessarily those of The Maritime Executive.