Executive Achievement: Morgan Fanberg, CEO, Glosten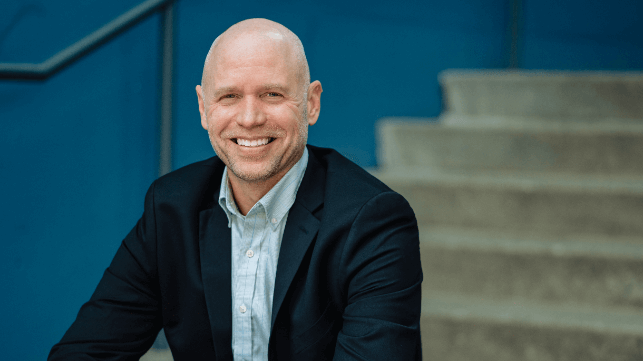 (Article originally published in May/June 2023 edition.)
In Seattle, a hotbed of design talent, Fanberg and his team stand out.
Tell us about yourself – your background and education. What attracted you to the maritime industry?
I grew up in a suburb of Minneapolis and spent every summer racing scows on inland lakes. My interest in the marine industry and mechanical engineering started with ownership of a 15-foot aluminum Lund powered by a 15-hp Evinrude outboard. I learned everything about that engine and the perfect combination of gas pumps/choke location and tension on the starting cord. If it weren't for that pathetic little outboard, who knows where I'd be today! My interests in math, physics, and collegiate sailing drove me to apply to Kings Point. I graduated in 1998 with a marine systems engineering degree.
How did you land a job with Glosten?
I was fortunate to see an internship opportunity posted to a message board at Kings Point while I was a cadet aboard the SS EWA (a Matson ship) in 1997. The internship was for a naval architecture firm in Seattle called The Glosten Associates. Since I was already shipping out of Seattle, it seemed like an obvious choice to work there once my sea year was complete. I received a note that said they'd like to see me in person. I like to think my sea stories were so good that they decided to hire me.
Glosten has a long and storied history, beginning in 1958. Give our readers an overview of its evolution over the years and some of the milestone projects along the way.
In 1958, Larry Glosten left Philip F. Spaulding & Associates to start his own one-person business in downtown Seattle. The early years mostly consisted of tug and barge design work for clients such as Foss Launch & Tug and Pacific Inland Navigation.
Glosten's foray into research vessel design began in the 1960s when asked by Gunderson shipyard to consult on a unique oceanographic research platform (FLIP) being constructed for Scripps Institution of Oceanography. This work for Scripps expanded to other oceanographic research organizations including Woods Hole Oceanographic Institution, the University of Washington, University of Alaska and the Monterey Bay Aquarium Research Institute. In addition to Glosten's support of oceanographic research, the following decades saw work in marine risk analysis, special vessel projects, and complex structures.
Asking me to highlight a few of our major milestone projects is like asking me to pick a favorite child, but I'll try! After the passing of the Oil Pollution Act of 1990, we were hired by Foss Maritime to design a new vessel type, now known as the escort tug. Still working today, the Garth and Lindsey Foss are really considered landmark vessels that set the standard for tanker escort tug design. A pivotal project in our history—and one particularly near and dear to me—is the SBX-1, a self-propelled semi-submersible that serves as a radar station for the U.S. Missile Defense Agency. We were hired by Boeing to be the designer and engineering integrator for all the marine aspects of this $900 million project. This project meant a lot to me because I was able to gain confidence in my engineering skills while also building my leadership skills.
Lastly, I must mention the R/V Sikuliaq, which was significant because it helped continue our legacy of research vessel design. Operated by the University of Alaska, Fairbanks, Sikuliaq is the only vessel owned by the National Science Foundation that is rated for year-round operations in first-year ice.
Wow, impressive! Glosten's slogan is "More Than Design." What does that mean?
It goes back to Larry Glosten's philosophy of exceptional client service. Yes, we're vessel designers, but it doesn't stop there. It's not just about good design work; it's about being trusted to support wherever and however our clients need us. At the end of the day, it's about providing excellent customer service and building lasting relationships with our partners.
Okay, how many offices and employees are there?
We currently have 120 associates including our subsidiary, Noise Control Engineering. The majority of our staff is in our downtown Seattle office with about a dozen in our growing office in Providence, Rhode Island.
We note that the company is employee owned. How did that come about and what is its significance?
Early on, Larry recognized that for the firm to outlive him, he needed to start transitioning the company's ownership. He used the profits from the company to support the transition in the late 1960s, and we've followed that approach ever since. It grants us the freedom to chase the type of work we're passionate about—the types of projects that make us want to come to work every day. Today, we're up to 50 shareholders out of a company of 120.
We've read a lot about the PelaStar project? What is it?
PelaStar is a tension-leg platform design for deepwater floating wind that was conceived by a couple of our engineers back in 2006. They recognized the need to reduce the capital costs of offshore wind while being able to access sites with greater resource potential. Glosten and the PelaStar team recently won the first phase of the FLOWIN Prize, which was launched by the U.S. Department of Energy to spur the development of floating offshore wind energy technologies. We're now hard at work on the Phase Two effort for FLOWIN, which focuses on the expansion of marine infrastructure and the cost-effective manufacturing and deployment of PelaStar platforms.
How do you see the future of offshore wind in the U.S. and Glosten's role in its development?
We're seeing a lot of momentum around offshore wind. While this is exciting, there are still major hurdles to overcome. It's encouraging to see programs like the DOE's FLOWIN that incentivize development in areas such as port infrastructure and stakeholder engagement. Although our focus is on the scaling up and commercialization of PelaStar as the most practical and cost-effective floating deep-water platform, we're also engaged with the offshore wind market on the East Coast of the U.S. We're actively pursuing opportunities in support vessel design and have expertise in marine logistics and planning.
What are some other important projects you're working on today? Does the company focus mainly on tugs and barges, ferries and specialized research vessels?
That's one of the great things about Glosten. We don't just specialize in one area—we have expertise across many sectors of the industry. Throughout our history, we've really tried to seek out the cutting-edge projects—the "one-of-a-kind" type of vessels and structures. Today, we're designing a first-of-its-kind, hydrogen-hybrid research vessel for Scripps Institution of Oceanography. We're also wrapping up the design of an all-electric, 28-car ferry for Washington's Skagit County, which is slated to be the first all-electric car ferry in Puget Sound. Another interesting project we're currently supporting is for the San Francisco Bar Pilots, designing station boats that will meet the California Air Resources Board (CARB) new emission requirements.
How did COVID affect the business and are you back on your feet today?
Back in pre-COVID days, we started to experiment with remote work on a very small scale. Associates had the opportunity to work remotely up to two days a week. Through this transition, we established workflows using Microsoft Teams and became comfortable with a hybrid-remote work arrangement.
About a year later, COVID hit, and we had to close the offices. Because we already had the remote work infrastructure in place, our transition to full-remote work was pretty seamless. We did well working as a team through COVID, but as we had to hire while fully remote we started to feel the pressures of getting back to the office. It became clear to me that there's no substitute for face-to-face engagement and mentorship. We rely heavily on these relationships and believe that this foundation leads to the most successful projects.
Through different experiments with hybrid-remote work, we've now landed on everyone being in our offices on the same day at least two times per week. It also become clear to me that nothing brings people into the office on a Friday like the promise of a happy hour!
The Seattle area seems to be a hotbed of creativity when it comes to maritime design and innovation – almost like Silicon Valley is for technology. Is that true, and what do you attribute it to?
Yes, it's true, and I think it's because there are historic roots here. Larry Glosten, Ben Jensen, W.C. Nickum, Phil Spaulding, Art Anderson – they were all pioneers of ship design and have had a tremendous impact on the industry while putting the Pacific Northwest at the forefront of vessel design.
What's your biggest challenge right now?
Honestly, the biggest challenge is trying to get ahead of where this industry is going. With the push to decarbonize, it has become clear that we must invest in our own internal research to evaluate different technologies. We know that a lot of these technologies will fizzle out, but at this point we're not in a position to rule anything out. To best serve our clients and their unique challenges, we must be well-trained and well-versed in all the emerging technologies and alternative fuels.
What's your vision for Glosten? Where would you like to see it in, say, five years?
My vision is simple: I want people to see the name Glosten and recognize it as the premier naval architecture and marine engineering firm in the world. When clients have an engineering problem or challenge, I want them to think of Glosten as the company that's best suited to help them devise a solution. I want every client to see us as a trusted partner and an extension of their team. We're driven by our ability to innovate and our willingness to take intelligent risks. With this, I believe we can achieve this vision.
What do you like to do in your spare time?
I run a lot. It helps keep me sane. I also try to play heavy metal music on my guitar, but it's not good.
Jack O'Connell is the magazine's Senior Editor.
The opinions expressed herein are the author's and not necessarily those of The Maritime Executive.