Dirk Lehmann, Managing Director, Becker Marine Systems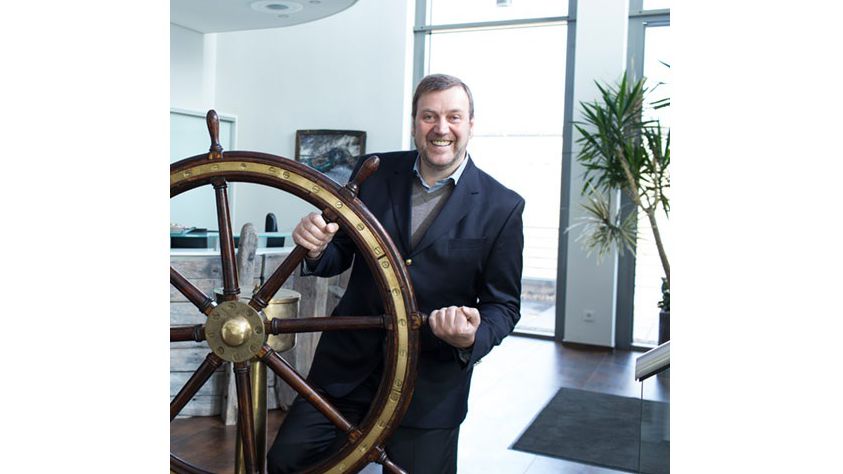 (Article originally published in Mar/Apr 2016 edition.)
Building on Becker's industry-leading rudder technology, Lehmann has expanded the company's portfolio to include energy-saving devices and hybrid technologies – especially LNG.
By Jack O'Connell
Tell our readers about Becker Marine and its history.
Captain Willi Becker founded the company in 1946 to help rebuild Germany's river fleet on the Rhine after the war. His focus was very much on technical innovations that would make his tankers, tugs and barges more efficient. As the vessels got larger, he soon reached the limits of the confined river space and developed the Becker Flap Rudder, inspired by the ailerons and landing flaps of airplanes, to enhance their maneuverability.
The success of that rudder was so visible that soon other shipping companies approached him to get one too. So he established his own engineering firm in the early Sixties in Hamburg. That business was soon so successful that he finally decided to sell his ships and concentrate on maneuvering systems instead. When Willi Becker died in 1985, ownership of the company changed from the family to shipyards, ship supply firms and banks.
What happened after that?
In 2001 the new shareholders decided to sell the company, which at the time had 25 employees and one main product – large flap rudders for seagoing ships. That's when I came aboard as temporary Managing Director with the goal of facilitating the sale. One of the shareholders – Hatlapa Group, a large deck equipment provider – convinced me to do so. After a short time at Becker I saw the potential to grow the company using my contacts and knowledge of the industry and, together with Hatlapa and my management colleagues, we purchased all the shares.
That was a big risk, wasn't it?
Not really. The potential was there, the technical knowhow. All you had to do was exploit it. So we changed the name from Willi Becker Ingenieurbüro GmbH & Co. KG to Becker Marine Systems, set up a marketing plan and introduced new rudder types such as the Twisted Full Spade Rudder. From 2005 on we were able to deliver every desired rudder type for any seagoing ship worldwide.
In 2009 we began development of the Energy-Saving Devices business together with Friedrich Mewis. The result was the Becker Mewis Duct®, a fuel-saving device attached near the propeller that quickly became an overwhelming success on both the retrofit and newbuild markets. Then in 2010 Hatlapa decided to sell its shares in Becker and Henning Kuhlmann, already seven years with Becker, joined the list of shareholders. In 2012 Becker entered the LNG Hybrid Technologies business and started development of the LNG Hybrid Barge, LNG Hybrid ferries, LNG PowerPacs® and the like. Today, Becker Marine Systems employs 240 people in six countries, and we continue to introduce new innovations for shipping worldwide.
Who owns the company now?
Seventy percent of the shares belong to my family. Together with Henning Kuhlmann, Mathias Kluge and Timo Biebert, we are the group of shareholders.
You and Henning Kuhlmann are both Managing Directors. What is the division of duties?
Henning and I divide our duties and responsibilities through a kind of parallel management scheme. Henning is more sales and marketing-related, I am more technically driven. But in the end we share the duties one-to-one. Of course, we meet and talk a lot to do so.
How has the company managed to survive – and thrive – over so many years? Is there a special company culture or code of values?
Yes, we are a true family business with a very high respect for our employees and customers. We are driven by our innovative skills and an ever-demanding market. We love to satisfy our customers, who know they will get the best and most efficient technology from us and that we are ever responsible for our products, even after decades.
Give us an overview of Becker's different product areas – Maneuvering Systems, Energy Saving Devices, and LNG Hybrid Systems.
Our Maneuvering Systems contain all kind of rudders for seagoing ships, starting with the Becker Flap Rudder for ultimate maneuverability and safe ship-handling at low speed, via the Becker Shilling® Rudder, a hollow profile rudder system for tankers and bulkers with a certain demand on maneuverability, to the Becker Twisted Rudder, designed to save energy and cavitation damage on big, faster ships such as container and LNG carriers. We develop every rudder system hand-in-hand with the shipyard and the owner and tailor it to each ship. In many cases we use model testing, and we always engage our very strong, inhouse computational fluid dynamics (CFD) department.
We even developed a new type of steerable nozzle, the Becker Steerable Nozzle – giving dredgers, fishing trawlers, offshore vessels and even yachts an unmatched bollard pull combined with high maneuverability. Our electronic system, BIMS (Becker Intelligent Monitoring System), is able to display the actual rudder force in the wheelhouse so that the operation of large ships like car carriers and container vessels is much safer now.
As for Energy Saving Devices, our original product – the Becker Mewis Duct® – has recorded more than 1,000 sales to date, and more than 700 ships are currently saving on fuel and emissions every day. We developed the Becker Mewis Duct® for tankers, bulkers, container ships and LNG ships, and we now have ready a design for twin-screw vessels like ferries and cruise ships. We always guarantee the power-saving rate of each Becker Mewis Duct® based on the model test results.
In our LNG Hybrid Systems department we offer both shipyards and owners design assistance for LNG technology as well as electrical hybrid system integration. We built and operate the world's first LNG hybrid barge, the Hummel, and we are also planning ferry line operations in Europe.
Are rudders and maneuvering systems still the company's biggest product line?
No, they are now less than half of our turnover. Energy-saving devices, after-sales service and conversions, and LNG hybrid systems make up the bulk of our business.
Which area is the fastest growing?
The LNG Hybrid part of Becker Marine Systems is currently the fastest growing, and it is worth watching the new product lines that will develop from it in the future.
We've read a great deal recently about a grant from the German government to fund the LNG PowerPac®, Becker's innovative new shoreside power system for container ships. Tell us about that.
The LNG Hybrid PowerPac® derives from the LNG hybrid barge. We learned quickly after the introduction of our barge Hummel that container lines and ports are also looking for clean port power on an affordable scale. Thus, we virtually "took" one generator set out of the barge, installed it inside a 40-foot container, and put an LNG tank and some technology on top. Thus was born the LNG PowerPac®!
We are very thankful for the important funding received from Germany's Federal Ministry of Transport and Digital Infrastructure (BMVI) because with that we can physically build and operate as many as four such units in more than one port. Interest from terminal operators and shipping lines is big, and we have to show them the technical and economic benefits based on operations from the end of 2016 onwards.
Let's talk about you now. What is your background and education?
My career started in the German armed forces where I enjoyed a good education and earned a degree in marine engineering. During my service time I served as a technical officer in repair and maintenance and had access to a wide range of technologies and systems. I also used that time to study naval architecture and do some work as a volunteer at the University in the evening. After the reunification of Germany, I decided to quit the service and went into the maritime supply industry.
What attracted you to the maritime business?
Clearly, it was my father and the city of Hamburg. I have three brothers, and my father is a marine engineer. He worked at a shipyard as a young man. Hamburg has a huge port in the middle of the city, and every day it is full of big ships of all kinds. I was always technically inclined, and our Sunday trips with my father, who showed us boys the port and the ships while mother was preparing lunch, planted a seed in my head, and quite early in life I decided to become an engineer, doing something with engines and ships.
How would you describe your management style?
I describe it as family style. Henning and myself, we manage in a cooperative way. We leave a lot of responsibility and freedom to our management team and out staff. Additionally, we share our success with all our staff in a fair and transparent way. The result is a very active and motivated team around us, and together with them we have the power and will to achieve our goals.
What is your biggest challenge right now?
To introduce our new product line of LNG hybrid systems to the market. There is a lot of new technology involved, part of it transferred from other industries like automotive and aviation. We are building up new production lines and introducing new staff and new partners into our business, and we have to do it with ultimate care. We are known to deliver extremely robust and long-lasting systems to the shipping community, and this standard we have to maintain.
Tell us about some of your extracurricular activities, both in the industry and the community.
For 10 years now I have been active in representing our industry in the E.U. I am a Vice Chairman of Sea Europe and promote the interaction of shipyards and the ship supply industry. I am also part of the Advisory Board of the German Society for Marine Technology (STG), and there I especially enjoy working with the next generation of marine engineers during their studies, explorations and practical training. I also enjoy assisting the classification societies as I am a member of the country committees of ABS as well as BV.
What do you like to do in your spare time?
Well, there is no spare time. After work, I do some exercise together with my wife (jogging or a workout). I also collect classic cars and like flying a lot. I am a very active pilot, flying single- and twin-engine planes all over Europe.
Have you read any good books lately?
Yes, besides technical books about flying and cars I just read The Martian, and I love Ken Follett and all his books as well as Arthur C. Clarke for very good sci-fi.
Thank you very much for your time. Is there one final message you'd like to leave for our readers?
Yes, thank you for reading and hope to stay in touch! – MarEx
The opinions expressed herein are the author's and not necessarily those of The Maritime Executive.