Celebrity Cruises: Different by Design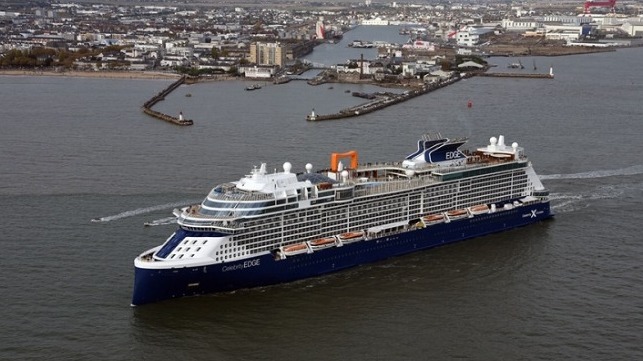 (Article originally published in Jan/Feb 2019 edition.)
The introduction of the award-winning Celebrity Edge marks the latest advance in Celebrity's 30-year history of redefining modern luxury at sea.
Celebrity has always done things a little differently. Started as the premium offshoot of a budget-friendly brand, its founding principles emphasized stylish décor, gourmet cuisine and gracious service. Now, as it celebrates its thirtieth anniversary, the company is expanding on those core principles and building a brand that defines modern luxury for discerning travelers.
"I don't believe luxury only exists on small ships," says President & CEO Lisa Lutoff-Perlo, noting that Celebrity has carved out a niche all its own in the industry. Speaking at the introduction of its first new cruise ship in six years, the 130,818-gross-ton Celebrity Edge, she says the new vessel embodies the next stage of the company's evolution while retaining its core values.
"We magnified and amplified the five pillars of the brand – design, accommodations, culinary, service and destination," she explains. "Celebrity Edge is a transformative vessel, representing a new and exciting change relative to design but not a departure from anything we stand for. It marks a new beginning and the next era in the company's history."
Brand Creation
While the brand draws on a long heritage dating back to the 1960s, its formation might be considered a happy accident. In the late 1980s, predecessor company Chandris Lines (see sidebar) was planning an expansion when the opportunity arose to become Bermuda's premier cruise line. Chandris had a long relationship with Bermuda, but its image was largely associated with budget cruising. Believing the best opportunities lay in the emerging premium segment, it elected to launch a new brand with its new ship.
It called the brand Chandris Celebrity Cruises, and the marketing effort quickly defined a new approach – "Luxury Cruising by Design." Explaining its vision, Chairman John Chandris said, "We will feature comfort and quality, not glitz and glitter." The strategy was based on an upscale product with mass-market pricing.
The vision came to life in the spring of 1990 with the MV Horizon, one of the first modern cruise ships built by Germany's Meyer Werft. At 46,000 gross tons, the ship's exterior design was created by Jon Bannenberg, revered as the father of modern yacht design. Onboard, the Horizon featured stylish modern décor, generously proportioned public spaces, unusually large suites and spacious cabins along with amenities such as menus created by renowned chef and restaurateur Michel Roux.
Horizon got a strong response and quickly earned a reputation for pampering its passengers, leading Celebrity to order a second new ship – the MV Zenith – and helping attract a $220 million investment from Overseas Shipholding Group (OSG), one of the world's largest shippers with a fleet of tankers and dry bulk carriers.
The industry was in for another surprise when Celebrity then announced its new expansion plans. Having built its reputation on mid-sized ships, no one expected Celebrity to order three 70,000-gross-ton ships, each able to accommodate 450 more passengers than the popular Horizon and Zenith.
Skeptics claimed the new ships were more in keeping with the mass market, but Chandris said he was convinced they could maintain the same level of service and luxury on a larger platform. He pointed out that, while the ships were nearly 50 percent larger, they would carry only 25 percent more passengers.
Modern Luxury
Celebrity again turned to Meyer Werft to create its expanded vision. Introduced at the end of 1995, MV Century did not disappoint, expanding the line's reputation for quality, cuisine and service. The design featured a stunning two-story main dining room dominated by a grand staircase and glass aft wall as well as upgrades to all the amenities ranging from the staterooms and suites to the spa.
Further defining "modern luxury," Century was followed by enhanced sister ships Galaxy, which at the time of her launch in 1996 became the second largest cruise ship in the world, and Mercury in 1997.
Growth, however, came at a tough time for the developing cruise business. Struggling to create a worldwide market and at the same time absorb the rapid introduction of new ships, the industry had begun a cutthroat period of fare discounting. Facing these headwinds while investing in expansion, Celebrity saw its profits plummet – from more than $14 million in 1993 to just $1.7 million the following year. By the first quarter of 1996, the company lost over $5.5 million from operations despite growing revenues by 45 percent to $94.5 million.
Celebrity decided to maintain the quality of its operation despite the financial hardship – a critical decision for the future of the brand. The company's new President & CEO, industry veteran Richard Sasso, was confident the new ships would return the line to profitability and provide the first opportunity to diversify, adding destination as one of the brand's five pillars.
Expanding from its original focus on Bermuda, in 1996 Celebrity added cruises to Alaska followed by new programs to the South Pacific, South America, the Panama Canal and, ultimately, Europe. In 2004 it became the first large cruise line to offer expedition cruises, launching Celebrity Xpeditions with cruises to the Galapagos Islands.
"One-Third Traditional, One-Third Evolutionary and One-Third Revolutionary"
Having built an industry-leading brand, the Chandris family realized it would need more money to maintain its growth. But OSG said no – it wanted to sell its investment. So in the summer of 1997 Royal Caribbean International acquired Celebrity Cruises, thereby providing the resources to ensure future growth.
Shortly after the acquisition Celebrity announced the order of four new Millennium Class ships. Among the cruise industry's first Panamax designs, the 90,000-gross-ton ships employed new technologies including gas turbine engines and pod propulsion units. They incorporated many of the features Celebrity's loyal passengers had come to expect as well as new innovations, establishing an approach Celebrity still follows today. Explaining the design process, Lutoff-Perlo says the thinking is, "one-third traditional, one-third evolutionary and one-third revolutionary."
As Celebrity entered the 2000s, it launched its third generation of ships, the 122,000-gross-ton Solstice Class, introducing new features including expanded dining options, spa accommodations with a dedicated restaurant, a wine bar and even the first lawn at sea. Winning broad praise and numerous awards, Celebrity decided to invest $120 million to "Solsticize" its Millennium-Class ships with some of the most popular elements of the newer ships.
The strategy of upgrading proved so successful that it became ingrained in Celebrity's DNA. This year Celebrity is launching a similar $500 million "Celebrity Revolution" that over the next four years will redesign the current fleet with aesthetics and designs inspired by Celebrity Edge.
Elevating the Brand
Since taking the reins as President & CEO in December 2014, Lutoff-Perlo – the first woman to head a publicly traded cruise line – has continued the effort to build the Celebrity brand experience. With a unique leadership team drawn from hotels and award-winning restaurants, the focus is on elevating each of the five pillars.
In culinary, for example, Cornelius Gallagher – previously a chef at Michelin-starred restaurants – joined the management team and developed new dining concepts for Celebrity Edge including the four main restaurants, sushi and raw bars and a French bistro. Service is being enriched by a first-of-its-kind partnership for the cruise industry with Forbes that is focusing on crew training programs and will validate Celebrity's luxury standards.
Celebrity Edge also revolutionized accommodations with décor by award-winning designers like Kelly Hoppen and elements such as automation and the "Infinite Veranda" that unifies the balcony and living area to enlarge staterooms by as much as 23 percent. Inspired by the aesthetic and design of Celebrity Edge, staterooms and suites across the fleet are being redesigned with the fresh, modern feel of a high-end boutique hotel.
Seeking to provide more meaningful destination experiences, Celebrity's ships are also staying longer in port with more than 200 overnight stays in the 300+ ports they visit each year.
"Celebrity Edge hits the mark for modern luxury," explains Brian Abel, Senior Vice President of Hotel Operations, "finding the sweet spot between mass market and ultra-luxury." Having previously worked with Starwood Hotels & Resorts and other land-based boutique hotels, Abel says Celebrity has done a better job of defining itself over the last few years. The management team – with its varied background in the leisure and service industries – has a new view of the cruise industry, recognizing it competes with luxury land-based resorts. "To be modern," says Abel, "we must keep evolving and changing."
"Make Celebrity Famous"
Lutoff-Perlo says her goal is to "make Celebrity famous," and her management team is working hard to strengthen, transform and evolve the Celebrity brand. She expects 40 percent growth over the next five years with three more sister ships to the Celebrity Edge on order and an option for a fourth – not to mention the newly introduced Xpeditionary Celebrity Flora, a luxurious 100-passenger vessel for the Galapagos Islands.
By following a strategy of doing things a little differently while staying faithful to its core values, Lutoff-Perlo and her team are already making Celebrity famous. – MarEx
The Iconic "X" Logo
Ever wonder what the "X" stands for on the funnels of Celebrity ships? It's a great trivia question for you cruise aficionados, and the answer may surprise you. It's the Greek letter "chi" (rhymes with "sky"), the twenty-second letter in the 24-letter Greek alphabet, and it represents the first two letters of Chandris, the name of Celebrity's founding family.
It's a family with a long history in shipping. dating back to the 1920s and John D. Chandris' small Greek inter-island cargo operation and coastal ferries. After World War II, Chandris' sons, Anthony and Dimitri, built up the operations and, like many entrepreneurs, started focusing on the relocation of Europe's displaced populations. In the 1950s, Anthony formed Chandris Lines, providing transportation from Europe to Australia. In the 1960s, Dimitri pioneered with Greek Island cruises and some of the earliest Caribbean fly/cruise programs.
Cruising was just beginning to emerge as a vacation alternative when in 1968 Chandris Lines introduced a 19,377-gross-ton ship called the Amerikanis ("American Lady" in Greek). Chandris planned to use the former British liner on trans-Atlantic sailings from Greece and occasional cruises. Instead, as airplanes supplanted trans-Atlantic liners, the Amerikanis became one of the first full-time cruise ships operating from New York.
Unlike many of the traditional liners with their old world ambiance, Chandris Lines appealed to a younger, middle-class passenger with a lively onboard atmosphere and an outgoing, friendly Greek crew. Offering affordable, shorter cruises (3 to 14 days), the Amerikanis proved extremely popular and encouraged the company to expand, offering cruises in the Caribbean, Bermuda and Europe. It even opened hotels in Greece.
The cruise industry, however, was developing quickly with new competitors who were making it increasingly difficult for Chandris Lines and its aging fleet of second-hand ships to compete. As new luxury ships emerged, Chandris began focusing on budget-priced cruises. The death of Anthony Chandris in November 1984 could well have been the end of the company.
The reins, however, were passed to his son John, who with a team of industry notables including Dimitri Kaparis and Richard Sasso, began exploring alternatives. Their plan to build new ships evolved into the launch of a new brand, Chandris Celebrity Cruises, and the phaseout of the old ships.
Today, the ships adorned with the Greek "X" – the mark of modern luxury – live on with Celebrity Cruises remaining true to John Chandris' vision and continuing to pioneer with imaginative new designs and concepts.
CELEBRITY AT A GLANCE:
Founded: 1989

HQ: Miami

President & CEO: Lisa Lutoff-Perlo

13 ships

300+ destinations

15,000+ employees
The opinions expressed herein are the author's and not necessarily those of The Maritime Executive.