Carnival Corporation & plc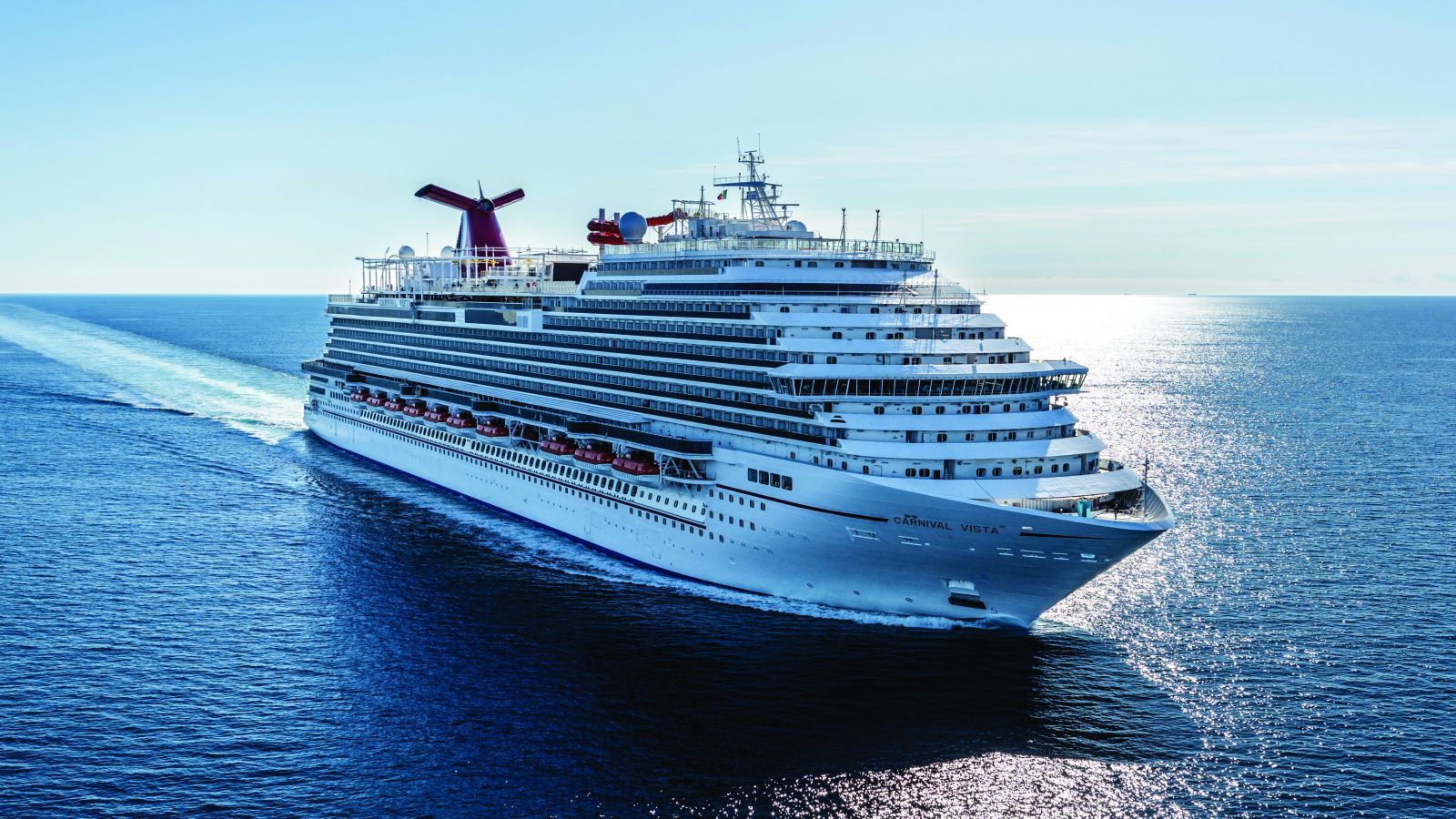 (Article originally published in Jan/Feb 2017 edition.)
Carnival's 10 brands and 102 ships make it the unrivaled leader in a fast-growing industry. What's next?
The cruise industry is on a roll. Bookings are up. Prices are up, and new ships are being ordered at a record pace as more and more vacationers discover the pleasures of cruising and the incredible value it offers. All of which is music to the ears of Carnival Corporation, which in many ways is the cruise industry. To paraphrase a famous adage, "What's good for Carnival is good for the industry."
And no wonder. Half of all passengers who set sail last year did so on a Carnival Corporation ship, led by its flagship brand, Carnival Cruise Line, which President & CEO Arnold Donald says appeals to a mainstream audience. Its 25 "Fun Ships" attract a wide range of passengers – the first-time cruiser, newlyweds, young families seeking a different kind of vacation experience, singles who just want to have fun, and multigenerational families celebrating an anniversary or birthday or graduation.
Other brands appeal to various segments of the overall market: Holland America Line, Princess Cruises and Cunard, with Seabourn at the top of the list. For European travelers there's Costa Cruises and AIDA Cruises and P&O Cruises U.K., while Australia has P&O Cruises (Australia). China, the biggest potential market of all, has Costa and Princess.
Carnival's newest brand, Fathom, introduced in 2015, capitalizes on the new interest in ecotourism and "voluntourism," where passengers work beside local people to help make a difference in the world. The Fathom ship Adonia made history last May when it became the first U.S. cruise ship in over 40 years to sail to Cuba.
To say that Carnival Corporation is the cruise industry is almost an understatement. "We're really competing against land-based vacations," says Donald, "not other cruise companies."
With the goal of providing memorable vacation experiences, Carnival's 10 brands have something for everyone. "Exceeding guests' expectations" is Donald's mantra, and he does it by maintaining the company's "brand-centric" approach, leveraging its huge purchasing power, and sharing "best practices." Has it worked? You bet it has. Last year was the best in the company's history with revenues of $16.4 billion and net income of $2.6 billion. And this year looks just as good.
A New Way to Vacation
The company was founded as Carnival Cruise Lines in 1972 by Ted Arison and his college classmate, Meshulam Riklis, who owned a Boston-based conglomerate called American International Travel Service. Together they purchased the Empress of Canada for $6.5 million and renamed her Mardi Gras, in keeping with the fledgling company's carnivàle theme. On its inaugural voyage, with several hundred passengers onboard, the Mardi Gras grounded on a sandbar just outside the port of Miami. While it was an ominous start for the company, future sailings would go much more smoothly.
Two years later, in what has now become an episode embedded in maritime lore, Arison took a huge gamble by purchasing the company from Riklis for a dollar in cash and the assumption of a staggering $5 million in debt. As a former cargo ship owner, Arison understood that by slowing the speed of the Mardi Gras he could reduce fuel costs. When he added more ports of call to the vessel's itinerary, he basically revolutionized the industry.
Carnival passengers were now spending more time at sea and more money on their voyages. Mardi Gras became the first "Fun Ship" and added more onboard entertainment including nightclubs, a movie theater and a casino. By 1978 the Carnivàle and Festivale had joined the fleet, and Arison was operating three ships and running seven-day cruises between Florida and the Caribbean.
The next year Arison's thirty-year-old son Micky joined the company as President & CEO and, in 1982, the company's first newly built ship, the Tropicale, was introduced. Shortly thereafter Carnival stunned the industry by announcing a $442 million investment in three more new ships – the largest order of its kind up till then – and when the Holiday, Jubilee and Celebration joined the fleet it had seven ships, making Carnival the largest cruise operator in the world, a title it has held for the last 30 years.
To promote its new ships and the benefits of cruising to a wider audience, the company launched the industry's first-ever advertising campaign in 1984 and hired Kathie Lee Gifford, the well-known American talk show host, to be the face of its "Fun Ship" ads. It also invested more than $10 million in television ads for the popular "Love Boat" TV series, which featured a Princess Cruises ship, later to be acquired by Carnival. The two campaigns introduced American and European consumers to a new form of vacation travel, and bookings soared.
Strategic Acquisitions
To meet growing demand and fund new acquisitions, Ted Arison took the company public in 1987 by selling 20 percent of his shares and raising $400 million. A dollar invested in that IPO would be worth more than $20 today. Two years later the proceeds were used to acquire premium cruise operator Holland America Line, which sailed the Alaskan coast in the summer and the eastern Caribbean in the winter.
Holland America operated four ships with 4,500 passenger berths. More importantly, its Alaskan operation gave Carnival a foothold in an important new market, and its Caribbean cruises cost almost 30 percent more than a Carnival cruise of the same length.
The Holland deal also included Windstar Cruises and Westours, a leading tour operator in Alaska and the Canadian Rockies. Westours operated 18 Westmark hotels, five day boats, 240 motor coaches and eight glass-domed railcars. The Holland acquisition boosted Carnival's revenues above $1 billion for the first time.
In 1990 the 66-year-old "godfather of the modern cruise industry," Ted Arison, stepped down as Chairman and was succeeded by his son Micky. Two years later Carnival acquired its initial stake in ultra-luxury line Seabourn. In 1997 it purchased 68 percent of the venerable Cunard White Star Line, which owned ships like the QE2 and Vistafjord, and in 1999 Carnival assumed full ownership of both Cunard and Seabourn.
By now other companies were getting into the acquisition business, notably #2 operator Royal Caribbean. When Carnival set its sights on P&O Princess Cruises in 2001, a bidding war with Royal Caribbean followed. Carnival eventually purchased P&O Cruises for $5.6 billion and in the process added Princess Cruises, P&O Cruises, AIDA Cruises, P&O Cruises (Australia) and Princess Tours to its expanding portfolio.
Globalization
Led by its European brands, AIDA and Costa, a growing percentage of the company's passenger and revenue growth was being generated outside the U.S., and it wasn't long before Carnival looked to Asia and the Far East – the biggest, and last, frontier for cruising – for future growth.
Australia was already booming, but China and other Pacific Rim countries were vastly underserved. Carnival deployed the Costa Allegra to Shanghai in 2006 for five-bay cruises. Three years later the Costa Classica was deployed on 14-day cruises from various Asian homeports. By the time Micky Arison announced in 2013 that he was splitting his roles as Chairman and CEO of Carnival and that board member Arnold Donald would become the new CEO, the Asian cruise market had doubled in size and the company had five offices in China and others in Japan, South Korea, Taiwan, Hong Kong and Singapore.
Last year Carnival became the first company to operate six ships in China, which gave it 50 percent of a market that now totals more than a million passengers a year. That number is expected to quadruple by 2020, which would make China the second largest cruise market in the world, behind only the U.S.
Next year the Majestic Princess will be the first vessel delivered and purpose-built for the Chinese market, and Cunard will enter China with visits to Hong Kong and Shanghai as part of the Queen Mary 2's world voyage itinerary. By 2019 Carnival expects to deploy the Carnival Splendor to China as well on a seasonal basis. And in 2022 the company will take delivery from China Shipbuilding and Fincantieri of its first ship built in China.
Innovating to Stay Ahead
Carnival now has nearly 12 million guests vacationing every year on its ten brands. It has been on the cutting edge of global travel from the beginning and continues to leap ahead with innovations like the recently announced Ocean Medallion, a first-of-its-kind wearable device that enables guests to have a personal digital concierge to maximize their experience.
The quarter-sized, 1.8-ounce disc has no on/off button, needs no charging or instructions, and can be accessorized with jewelry, clips, key chains and bands, or simply carried in a pocket. It can open doors, order meals, schedule a spa appointment, do whatever you want, and it will have the guest's name and vessel and voyage dates etched on the back to keep as a memento of a memorable vacation. The Ocean Medallion will be introduced this year on Princess ships.
"Great guest experience is our ethos," noted Donald. "The Ocean Medallion is an amazing use of technology that potentially redefines travel as we know it. It opens an entire world of experiences, and the personal power it unleashes is huge."
To keep the momentum going, two new centers of excellence opened their doors in 2015 and 2016, respectively – the Carnival Maritime Center in Hamburg, Germany and the Arison Maritime Center outside Amsterdam, The Netherlands. The Hamburg center serves as an operations hub for four Carnival brands – AIDA, Costa, Cunard and P&O – and features a new Nautical Operations Department that identifies and shares best practices across the Carnival fleet.
The €75 million Arison Maritime Center is a high-tech wonder and serves as a state-of-the-art training facility for deck and engineering officers across Carnival's ten brands. Its newly expanded Center for Simulator Maritime Training Academy (CSMART) serves as the company's maritime training, professional development and research facility. The 110,000-square-foot facility also includes a medical center and hotel for Carnival trainees.
Looking ahead, 19 new ships will join the Carnival fleet between now and 2022, seven of them powered by LNG. The first two LNG-powered vessels will be delivered in 2019 for the AIDA and Costa brands. Carnival Cruise Line and P&O will each get one the following year.
The Mardi Gras left the port of Miami 45 years ago on its maiden voyage, but it didn't stay on that sandbar for long. Today, with 120,000 employees, ten brands and 102 ships, the company is stronger than ever and will continue to deliver memorable vacation experiences for a very long time to come. MarEx
Tony Munoz is Publisher and Editor-in-Chief of The Maritime Executive.
The opinions expressed herein are the author's and not necessarily those of The Maritime Executive.