Better Parts
Manufacturers use high-tech materials and innovative design techniques to produce system components that are reliable and long-lasting.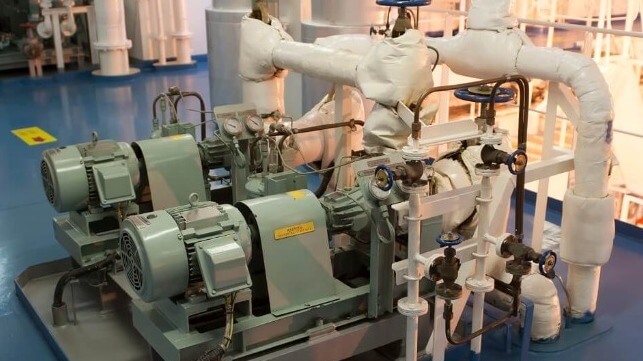 (Article originally published in Mar/Apr 2023 edition.)
"Innovation is the ability to see change as an opportunity – not a threat," said Apple co-founder Steve Jobs. And that's certainly the case with manufacturing and supply companies dealing with pipes, pumps and valves. They've adopted the concept of innovation and combined it with creativity to deliver products that have made maritime operations smarter, better and safer.
JA Moody, a family-owned business headquartered in Malvern, Pennsylvania and a supplier for over 50 years of cutting-edge flow-control products to the marine industry, mainly the U.S. Navy, is a good example. It recently became the authorized sales and service representative for The Hellan Strainer Company and signed an exclusive distribution agreement for Hellan's full line of manual and automated strainers for the U.S. marine industry.
Strainer products are used on military ships for seawater cooling of sonar, radar, close-in weapons systems and other marine applications including lube oil systems, fire main systems and fuel filtration systems.
Moody President Lisa Smith says The Hellan Strainer Company, with North American headquarters in Cleveland, is the largest marine strainer manufacturer in the industry and boasts new Navy-specific strainer designs, such as fully automated self-cleaning strainers suited for low-manned or autonomous vessels and a dilating disk valve manufactured by Curtiss-Wright.
Smith says the dilating disk valve (DDV) is "the most advanced control valve in the world." It has a smaller footprint and allows the Navy to replace larger globe and gate valves, which also permits use of a smaller actuator.
A presentation by personnel of Curtiss-Wright states in part that "The DDV has entered the market as a new valve technology which can reinvent how fluid systems are designed. Shipbuilders can use this valve technology to improve overall ship efficiency by reducing valve and actuator weight, system noise and pumping requirements. The interlocking petal mechanism approach in the DDV allows for tight shutoff with the three interlocking petals, and the rotary motion of the petals from the centerline outward requires low actuation forces, enables precise throttling through its stroke and provides an in-line, unobstructed flow path. The DDV was developed with the intent of enabling and supporting ship construction goals to become lighter, faster, quieter and more energy efficient."
In addition to self-cleaning strainers and DDVs, Moody has an extensive list of "tried and true mil-spec" products currently on all ship classes, says Smith.
Breakthrough Technology
In pump development, Carver Pump Company, a manufacturing firm with international markets based in Muscatine, Iowa, has partnered with IperionX of Charlotte, North Carolina for its award-winning titanium technologies to additively manufacture titanium pump components for the U.S. Navy. Titanium pumps offer exceptional corrosion resistance and are used across a wide range of naval applications including fire suppression, seawater cooling, main propulsion seawater, bilge and desalination.
Carver, a family-owned business, is a designer and manufacturer of high-performance centrifugal pumps that have been used in every major U.S. Navy shipbuilding program for the past 60 years. Carver will design the titanium pump components, guide IperionX on prototyping and lead the qualification of titanium pump components for the Navy, according to a release.
"We're delighted to be working with IperionX to help introduce domestic-sourced, 100 percent recycled titanium into the U.S. Navy's supply chain," said CEO Andrew Carver. "When coupled with the benefits of additive manufacturing, the partnership provides a significant potential to benefit Navy operations through the rapid production of complex, operation-critical titanium parts, providing a potential reduction in lead times and increasing equipment availability."
The U.S. no longer has the domestic capacity to produce large, high-performance titanium castings with China and Russia controlling the titanium supply chain. IperionX's patented technologies offer a pathway for U.S. manufactured titanium components across a range of important industries including defense, aerospace, automotive and consumer electronics.
These patented titanium technologies can upcycle low-grade, high-oxygen, out-of-specification titanium scrap metal to produce titanium metal that meets or exceeds industry standards. IperionX is currently producing high-quality titanium metal powders from 100 percent recycled titanium feedstocks for customer qualification at its titanium production pilot facility in Utah.
Innovative Corrosion Protection
Cortec Corporation, with world headquarters in St. Paul, Minnesota, is a leader in developing innovative solutions for corrosion protection.
The company says the cost of corrosion under insulation (CUI) damage to industries with insulated piping and equipment continues to be disproportionately high. Oil and gas, petrochemical, refining and maritime industries are especially hard-hit, yet the very nature of the problem makes it easy to miss and difficult to treat.
Cortec took a big step forward in preventing CIU damage with the recent development of CorroLogic®CUI Inhibitor Injection, a 100 percent vapor phase corrosion inhibitor that can be applied to existing insulation with minimal disruption by injection to form a protective layer on the surface of the metal piping or equipment underneath. This new discovery will help facility managers fight CUI without the hassle of removing insulation and seriously interrupting normal operations.
In addition to its CUI inhibitor injection, Cortec has also developed a corrosion inhibitor for hydrostatic testing for use in hydrotesting drinking water system components. The product, VpCI®-649 HP, is a specialty concentrated liquid formulation that contains contact and vapor phase corrosion inhibitors along with a hard water stabilizer and an organic dispersing agent. It protects against corrosion at dosages as low as 0.3 percent by weight. It also has an extremely low chloride impact (less than 0.6 ppm at 0.3 percent dosage) for use in systems with tight chloride restrictions.
It's primarily intended for corrosion protection during hydrotesting. This is a critical practice used in many industries to ensure vessels, piping and tanks do not leak and can withstand pressure specifications.
Additive Manufacturing
Additive manufacturing, also referred to as 3D printing, is one of the technologies now being used to address solutions for various issues dealing with marine pipes, valves and pumps.
Lincoln Electric, headquartered in Cleveland, Ohio, is making strides in the manufacture of marine industry parts using 3D metal printing. This innovative technology is a process whereby layers of material are built up to create a 3D part. It significantly reduces manufacturing lead times, shortens supply chains and enables design enhancements that exceed traditional fabrication capabilities.
The company is North America's largest 3D metal printing factory for large parts, ideal for high-mix, low-volume applications and capable of printing parts over eight feet (2.4 meters) in length and weighing in excess of 8,000 pounds (3,630 kilograms). It's currently 3D-printing metal parts using the following materials: low-carbon and high-strength low-alloy steels, stainless steels and nickel alloys with more alloys under development.
"Of pipes, pumps and valves, we see pump casings and valve bodies as having the greatest potential for 3D metal printing," says Mark Douglass, Business Development Manager, Additive Solutions. "For us, given we 3D-print very large parts – typically well over a foot in length and hundreds to thousands of pounds in weight – pump casings and valve bodies make sense in one-off or low volume applications. And we've had success in printing production components for these applications. In maritime specifically, last year we delivered parts that were installed on an aircraft carrier, and we've printed prototype valve bodies for maritime applications."
While advances in automated processes and lean manufacturing have helped manufacturers achieve more consistent part quality and increased production efficiencies, there are still significant limitations. Chief among those are the timely production of parts needed for tooling, low volume production, prototypes and maintaining a cost-effective stock of replacement parts.
Much has been said about additive manufacturing and the benefits of greatly improved lead times. Until now, this emerging technology has mostly been limited to plastics and smaller-sized parts made with metal powders.
However, says Lincoln Electric, "Recent breakthroughs in the field of wire arc metal additive manufacturing are providing aerospace, automotive, heavy industry, oil and gas and other industrial equipment manufacturers with new ways to overcome common production challenges."
New Piping Systems
GF Piping Systems, a global expert in maintenance-free and long-life plastic piping systems with offices throughout the U.S., recently used its technology to help solve water flow issues on the cruise ship Carnival Luminosa (formerly the Costa Luminosa).
After ten years of service, the existing hot and cold water manifolds showed signs of corrosion as they were made of metal. As a result, Carnival decided to install prefabricated ecoFIT and INSTAFLEX solutions by GF Piping Systems. In collaboration with Italian company, Mec.Ship, GF Piping replaced the hot and cold water manifolds onboard the 92,700-GT ship that started its service life in 2009.
ecoFIT is a polyethylene piping system suitable for transporting water and wastewater at operational temperatures between -50°C and 60°C and has an expected service life of 25 years. INSTAFLEX, the polybutene solution by GF Piping Systems, is designed for drinking water installations. Polybutene does not release any taste or pollutants, while smooth inner surfaces prevent limescale deposits.
During the project, the two companies contributed state-of-the-art planning, engineering and execution practices. GF Piping Systems and Mec.Ship made highly accurate measurements of the complex manifolds. The data gathered from 3D scanners was used to design the replacements, using GF Piping Systems' extensive CAD libraries and prefabrication capabilities. Combined with efficient jointing technologies such as butt fusion and electrofusion, the installation was carried out quickly with minimal impact on passengers and crew.
As a result, the Carnival Luminosa now benefits from long-lasting and corrosion-free piping materials.
The opinions expressed herein are the author's and not necessarily those of The Maritime Executive.