Admiral Paul F. Zukunft, Commandant, U.S. Coast Guard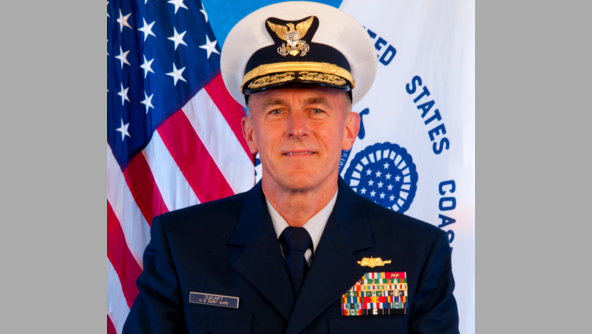 (Article originally published in July/Aug 2015 edition.)
You recently completed your first year in office as the 25th Commandant of the U.S. Coast Guard. How did it go?
Okay, I'll give you my report card after one year and it starts with the guiding principles of my tenure as Commandant. First was to align ourselves with the Department of Homeland Security. On that note, I would give us an "A." We implemented unity of effort, not just in operations but also in our major acquisitions program.
Second, I was insistent that we have intelligence drive our day-to-day operations, so we merged them and really closed the gap in terms of our activities in the Western Hemisphere and our ability to conduct interdiction operations in our counter-drug efforts. Today, we have one of our newest National Security Cutters, the Stratton, about half-way through her patrol and right now she's got about 14 tons of cocaine on her flight deck. Actually, it's locked up.
Third was to push forward our acquisition program, and on that front I'm very encouraged by the reception we've received on the Offshore Patrol Cutter. We would not have had that great reception had it not been for the strength of our overall acquisition strategy. We've managed to keep growth down to one to two percent across every program, which is quite remarkable for any entity, whether public or private. So great progress there.
Fourth, we started to turn the corner on driving sexual assault out of the Coast Guard. What encourages me are individuals coming forward and reporting out. Until recently this was a bit of an unknown element of behavior in all the armed services, but many of our victims are now stepping forward. In fact, this year so far we've had about 25 or so reports that are over 20 years old. So these are victims who have sat on embedded behavioral trends for over 20 years and now recognize that this is a service that wants to drive out sexual assault.
And finally, I'm very encouraged by the growing diversity in the Coast Guard. We are now the most diverse service academy among all the military academies, both in gender and ethnicity. Last year nearly 40 percent of the entrants were female and a third were under-represented minorities, and this year's class is similar.
Tell us about your career prior to becoming Commandant.
I just completed my 38th year of service since graduating from the Coast Guard Academy and, out of those 38 years, I've spent 34 in the field and just four at Coast Guard headquarters. What that gives you is a perspective across all of our mission sets of the challenges we face, whether in the air, on the water, or offshore. It allows you to speak first-hand to those challenges rather than just read a report about it and gives you a very good handle on what the strengths of our service are. And quite honestly, the strength is in our people.
As we oftentimes get fixated on recapitalizing our acquisition program, we cannot lose sight of our people. I've spent 34 years working side by side with almost all the men and women in the Coast Guard, and that has really prepared me well for this assignment.
Did you have any mentors along the way?
Probably the most important was my first commanding officer. The first unit you're assigned to can make or break you in terms of where you go with your career, and it was never, ever in my vision that I would be the 25th Commandant of the Coast Guard. But my first commanding officer, who retired as a Rear Admiral, was John Lockwood, and he gave me guidance along the way. When you're an ensign, you make mistakes, but he would look at those mistakes as "teachable moments" to learn from. Then as my assignment was coming to an end, he took me aside and said "You need to be a commanding officer of a patrol boat." He provided a very strong recommendation, and my second assignment was as a commanding officer.
So that opened a number of other doors, and as I moved on to bigger ships and positions of command there was another admiral who went on to become our 21st Commandant of the Coast Guard, Admiral Jim Loy. He really refreshed the culture of leadership within the Coast Guard. And he was a role model for me, someone I always aspired to be, even though I'm probably about seven inches shorter than him. But I certainly embraced his philosophy when it came to leadership.
What is your number one priority right now as Commandant?
I'm glad you asked me that because it's easy to list three, four or five. But the one I don't deviate from is the recapitalization of our Offshore Patrol Cutters. These are the midsize cutters that fall between the large National Security Cutters and the smaller Fast Response Cutters. They will replace ships that are operating on the front line right now that are 50 years old. We have three bidders right now. About a year from now we will select one. The vision we have is to build a fleet of 25 ships that can operate in some pretty harsh conditions.
The Arctic is increasingly in the news these days. Does the U.S. have the assets to really manage that region of the world?
For a service that prides itself on "Semper Paratus," can I truly say that we will always be ready in the Arctic? The answer, quite frankly, is no. We're able to manage that risk this year by moving five ships into the area and we have two helicopters based out of Deadhorse, Alaska. People may ask, "Well, what is our role with Royal Dutch Shell?" I see our role as providing oversight. Not holding their hand but providing oversight. If they do have a release of oil I need to make sure I've got somebody on scene to verify that. I also need to make sure we can mount an emergency response.
Is the image of the Coast Guard as a search-and-rescue operation appropriate?
I think it's one of many. If you look at our various mission sets we do them all around the clock, 24 hours a day, whether it's a mariner in distress or a threat in the homeland or an oil spill or a drug smuggler trying to get his goods to the U.S. It's the same awareness response and ability to launch that come from our search-and-rescue DNA, and it applies across all our mission sets.
Cyber security and cyber warfare have become huge issues, and you seem to be well ahead of the curve on them. You created a Cyber Command within the Coast Guard and now you have a new report on cyber strategy. Tell us about that.
If you think of cyber as the ocean or the air, it's a domain that we've been operating in for some time. We've just taken for granted that it's always going to be accessible, but that's not the case anymore as we've seen from the attacks on SONY and the Office of Personnel Management and dozens of others. So let me walk you briefly through the three aspects of our strategy:
First, we need to be able to defend our cyber capability, which means our ability to access cyber. So we created a Cyber Command and its mission is to defend our space and protect it from hackers.

The next component is to enable operations in cyber. So when I talk about intelligence driving operations I mean that on the weekend before last we had six drug interdictions across an area the size of North America. These are 30- or 35-foot boats, and we were able to put airplanes and Coast Guard cutters over and next to each and every one of them and confiscate over three tons of cocaine. I would not be able to do that if I didn't have open and ready access to cyber, and it's no different with search-and-rescue.

The third piece is protecting critical infrastructure in the maritime domain, which the Coast Guard has very broad authority to do. And by critical infrastructure I mean our ports and the ships that call on those ports and all the ancillary facilities and terminals. Much of that is fully automated and can be remotely accessed. If these systems were hacked in such a way that would shut down our maritime transportation system, it would have a very devastating impact on our national and economic security.
As the Coast Guard marks its 225th anniversary this year, what is your view on its evolution over the years and where it's going?
Great question because when I embarked on this self-described marketing campaign I needed to define ourselves in terms of what's happening in the 21st century and not so much what happened back in 1790.
When I look at what's happening in the Western Hemisphere I begin with the roughly 68,000 unaccompanied minors who crossed our borders last year. They're fleeing countries that have been overrun by drug-trafficking organizations and have some of the highest crime rates in the world – Mexico, Guatemala, El Salvador and Honduras. In Honduras it's worse than Iraq was at the height of the insurgency. So the parents who can afford it are putting their young boys and girls in the hands of a human trafficker to get them out of harm's way and into the U.S. That's one challenge.
Then there's drug-trafficking itself. It's a $750 billion enterprise and over 450,000 Americans have died in this country due to drug violence and drug overdose since 9/11. That's something I need to be focused on because much of this commodity moves by water and that's the one place where traffickers are most vulnerable. And I have the ships and the planes to stop them.
The Arctic is beckoning as it has for some time. The Coast Guard finds itself as the lead in the maritime domain in the Arctic and then certainly in the cyber domain, whether it's a state or non-state actor trying to compromise critical infrastructure. And, yes, we will still save lives and be responsive to migrant flows.
So when I look at the context of the 21st century Coast Guard it's much different than the Coast Guard of 1790. Everywhere I look I see a greater need for more Coast Guard and not less, even though for some period of time we always used the motto, "We do more with less." And then some of our senior crusty petty officers would say, "We no longer do more with less. We do everything with nothing!" But we never reached that point, and we're beyond it now.
It's a new era, and we need to be a little bit smarter and a little bit more forward-thinking as we confront the challenges of the 21st century. And we're well on our way.
The opinions expressed herein are the author's and not necessarily those of The Maritime Executive.